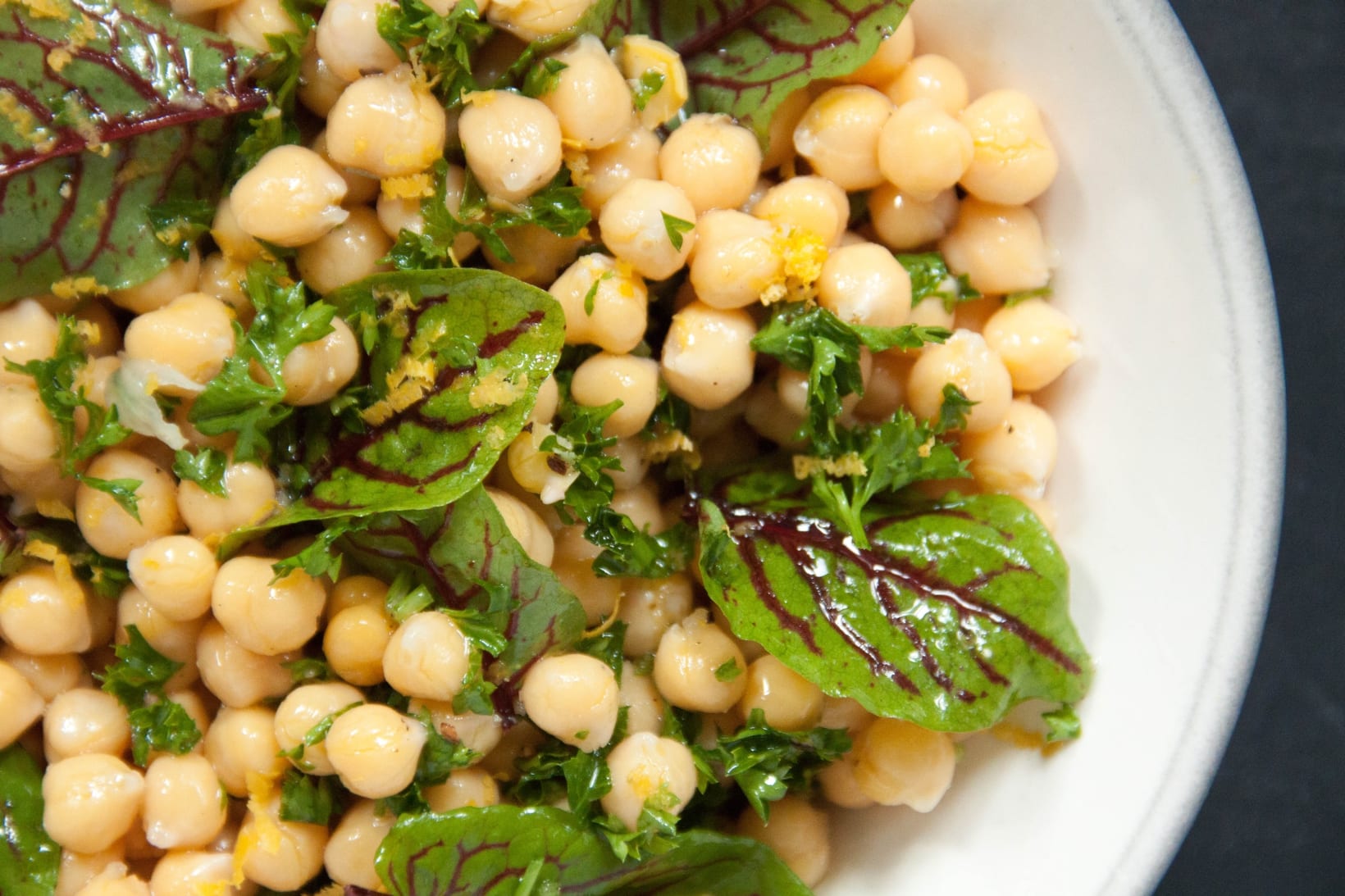 A Vegan and Zesty Dish
Now that you have read How to Grow Sorrel, I am sure you are wondering what do do with those tangy green leaves. Don't worry, we have your back. This three-step vegan chickpea and sorrel salad is the most straightforward recipe we have ever featured.
Time: 10 minutes or less Servings: 2
Chickpea and Sorrel Salad Ingredients:
1 1/4 cups cooked chickpeas
9 oz sorrel (I recommend the red-veined sorrel for this recipe)
2 tbsp fresh parsley chopped
4 tsp of your favorite hot sauce
juice of one lemon (about 3 tbsp)
1 tsp lemon zest
3 tbsp olive oil
1/2 tsp salt
1/2 tsp pepper
Instructions
1. If you use canned chickpeas, drain and rinse them well. If you use fresh chickpeas just make sure they are nice and cooked.

2. Add all ingredients except the sorrel and the parsley to a bowl. Mix well and let it marinate for at least 30 minutes in the fridge. You can skip this step if you are in a hurry but letting it marinade helps the flavors to develop.

3. When ready to serve mix in the sorrel and parsley and eat immediately.
Tips and Tricks
If you do not have any sorrel at home or have no access to it, then you can also use arugula. Or you might as well use the humble spinach in this recipe. It will lack the strong sour flavor of the sorrel, but you can compensate for it by adding the juice of half a lime to the dressing to recreate this chickpea and sorrel salad.
Enjoy your Chickpea and Sorrel Salad!
Kesy Curtis: I began my journey at Growing Spaces in 2007. I have worked in several departments over the years. I love working for a company that embraces the new business culture, supports sustainability, and enables people to become self-sufficient. Working at Growing Spaces has really helped me feel fulfilled in my passion for helping adults and children know what is in their food and where it comes from. I am a Colorado native and in addition to working at Growing Spaces, I own my own spa and pool business. When I am not working I enjoy spending time with my daughter and family, camping, fishing, and anything to do with the outdoors.
Join the Inner Circle
An exclusive place for year-round gardeners. Join us to receive our monthly newsletter, "The Happy Grower". In our newsletter we provide community stories, event updates, expert gardening tips, and exclusive offers.