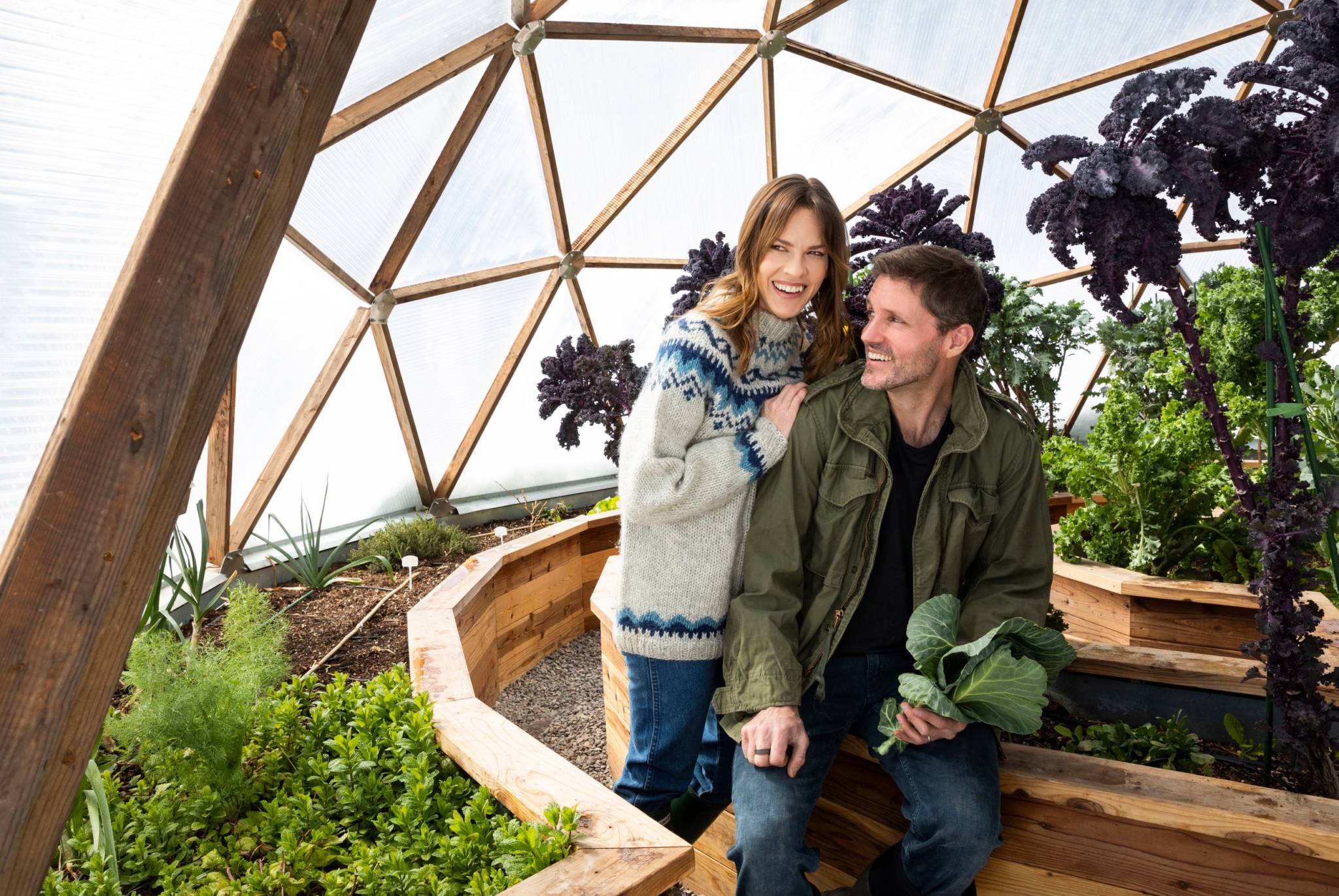 …and other Dome Greenhouse projects you need to see
Inside Hilary Swank's Private Colorado World (& Growing Dome)
Growing Dome Owner and Oscar Winner Hilary Swank, her husband Philip Schneider, and their pack of rescue dogs were featured in Architectural Digest recently. Hilary has an incredible new home in the southwest Colorado wilderness, with a sprawling 168 acres, incredible mountain views, and a 26′ Growing Dome Greenhouse. Swank's desire was to build a dream home that was sustainable, and blended into nature, with large-scale windows that would frame the expansive views of the mountains, and a place they could grow their own food.
Read the full article: Hilary Swank's Colorado Home and Growing Dome Greenhouse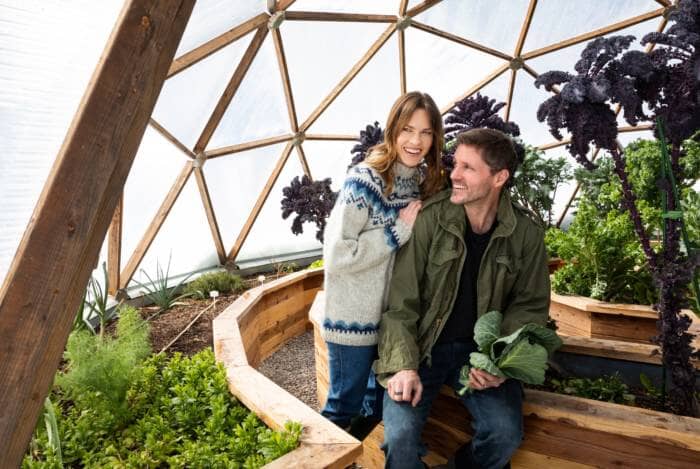 Van Wives Growing Dome Greenhouse
Catch up with @VanWives, Jaz and Crystal, after one year alone in the wilderness for a tour of their Growing Dome in Nova Scotia.
Growing Dome Updates from Shawnigan Lake School in British Columbia
The last time we caught up with The Shawnigan Lake School, they were getting very close to completing their project. They have come a long way since then. Check out the video below for updates on their project.
The Urban Farm Podcast
Growing Spaces has been featured in a unique series of five Podcasts by The Urban Farm. They start the series by hearing from the founders of Growing Spaces, then they have three episodes from people just like you that are using Growing Domes to grow food for their community, and they wrap up the week hearing the vision of the new owners. The podcasts are available on Apple Podcasts, Spotify, and on their website. See links and descriptions below.
670: Puja And Udgar Parsons On Growing A Green Business.
In the first of five episodes, we hear from Puja and Udgar Parsons, the founders of Growing Spaces. They give us a peek inside their geodesic dome greenhouse kits, detailing how they work and describing the features that improve upon a traditional greenhouse. https://www.urbanfarm.org/2022/04/13/672-andrew-trujillo/
671: Eric Andrews On Peace Tree Parks And Community.
We hear from Eric Andrews, who is using a forty-two-foot Growing Spaces Grow Dome to educate and inspire the members of his Detroit community. Eric's excitement is contagious as he shares the incredible story behind the nonprofit he co-founded and tells us how the dome will contribute to its mission in a new way.
672: Andrew Trujillo On Hobby Gardening In A Greenhouse.
We hear from longtime friend of Growing Spaces and Air Force veteran, Andrew Trujillo whose seeds of inspiration were planted in him as a child. When those seeds began to sprout as an adult, he watered and nourished them by connecting with and learning from lots of other gardeners.
673: Wallace Kirby And Boe Luther On Hustlaz 2 Harvesters.
We hear from Wallace Kirby and Boe Luther who have made it their mission to transform life and land. Their non-profit community garden in Washington D.C. is used as both an educational classroom and a way to increase the amount of food they can give back to the community. You will be inspired by their transformational stories, especially their own.
674: Liz And Lem Tingley On Geodesic Greenhouses Of Growing Spaces.
In the last of five episodes, we hear from Liz and Lem Tingley, whose passion for health and sustainability led them to Growing Spaces. They fill us in on how they came to be the new owners of the business, the amazing impact their geodesic Growing Domes are having on the communities where they are installed, and the sense of personal fulfillment they have experienced in running the business.
For other podcasts–>https://www.urbanfarm.org/
Growing Spaces in Home & Garden Colorado Magazine
President, Liz Tingley, and Marketing Director, Kenzie Jackson, were recently interviewed for an article in Home & Garden Colorado Magazine. Check it out!
https://hgcomag.com/garden-all-year-round-inside-a-growing-dome/
Our Growing Experiment's video: Starting A New Growing Season in the Dome
Check out Our Growing Experiment's video about Starting A New Growing Season in the Dome. Their mission is to become more self-reliant and establish food security. For more about what they are working on you can follow them on Instagram and Facebook @ourgrowingexperiment. Or you can listen to their podcast on YouTube.
Tahoe Food Club: A New Chapter
Tahoe Food Hub's mission is to provide a food system that supports regenerative and sustainable farming practices by increasing access to local food for North Lake Tahoe. This year, Tahoe Food Hub plans on relaunching its Farm to School program with a Growing Dome geodesic greenhouse at Truckee River Regional Park. Details on the project will be announced soon, according to the organization. To see the article in the SierraSun, click here.
The Amazing Growing Dome by Ron Young In Local Dirt Magazine:
Check out this issue of Local Dirt magazine where they discuss the Growing Domes and Arctic Acres, titled The Amazing Growing Dome, "We were able to Grow Veggies well in the late fall when our regular outdoor garden was long gone," Ron Young said about his Growing Dome. He also recalls Udgar Parsons description of the first time he set foot into a dome, "to hear him tell the tale is inspiring. He walked in to the bio-dome from the barren frozen landscape of the wintery Rocky Mountains….and into a tropical paradise." To see the article (page 32-33), click here. or follow them on Facebook.
Looking Back at Events from 2022
Metro Denver Green Homes Tour
When: Sat Oct 1, 2022 2 pm – 5 pm.
Hosted by New Energy Colorado, this all-day event is a tour of over a dozen green homes in the Denver Metro area. As part of the event, we will be showcasing our 26′ Growing Dome in Golden, Colorado.
For more information and to register for the event, visit https://www.newenergycolorado.com/home-tour.
Durango Farmers Market
This will be the fourth season Growing Spaces will be attending the Durango Farmers Market. We look forward to seeing everyone on 5.21.22, 6.25.22, and 9.17.22 from 9 am to 1 pm in the Durango TBK bank parking lot, downtown at 259 W 9th st, Durango, Colorado. Come swing by our booth to learn more about the wonderful world of Growing Domes and pick up some epic Growing Spaces swag.
3rd Annual Customer Appreciation Event 2022
When: September 10th, 2022 10 am – 4 pm
Where: Growing Spaces Greenhouses
Yahoo! It is finally here! RSVPs for our 3rd annual customer appreciation event are open! Join fellow Growing Dome Enthusiasts and us for a day of celebration. This will be a wonderful opportunity to socialize with current dome owners and meet people who are passionate about gardening.
We will be offering tours of all six of our Growing Domes, including our brand new 42′, along with Growing Dome gardening classes taught by experts on topics such as pond care, composting and subpods, DIY climate batteries, and pest control. We will be enjoying a catered meal, local craft beer, and playing horseshoes, air golf, corn hole, and music. We will also have limited edition Growing Spaces swag, and a whole bunch of prizes to give away.
Healthy Archuleta Food Coalition Community Meal and Celebration
Join Growing Spaces and Healthy Archuleta on Saturday 23, 12:30 – 3:30 pm, to celebrate and honor our beautiful community. There will be food trucks, booths, Folklorico performances, kids' activities, and Live Music featuring Los Mitotitos. Free tickets are limited; get your ticket on or before July 20th, 2022 at:
https://forms.gle/swWfTeSKGAWv1GKd6
For more information, contact: fsfearchuleta@gmail.com, visit https://www.foodcoalition4archuleta.org/community.celebration.
This is a private event. Please contact kenzie@growingspaces.com if you are interested in tickets.
"Festival of Flowers" Garden Tour
Gary and Cindy Mass will be opening up their 26′ Growing Dome for the "Festival of Flowers Garden Tour" hosted by the Longmont Symphony on June 1oth and 11th. The Mass's greenhouse sits on top of a climate battery system that they built themselves and hosts a variety of lush tropical plants such as bananas and papayas. The tour is open to Dome Owners and Happy Growers, but the tickets will go fast.
When: June 10th & 11th 9 am – 3 pm
Where: Flower Bin, 1805 Nelson Rd, Longmont, or the Longmont Symphony Orchestra Office, 515 Kimbark Street, Ste. 105, Longmont, Colorado.
For a list of gardens and more info, click here.
Colorado Home & Garden Show 2022
This is our very first event of the year and the biggest show we have ever participated in.
Entries are closed. The winners have been informed via email. Use the form below to RSVP in advance, and we will have a special gift for you at our booth (#156). We will be giving away 10 Free Pairs of Admission Tickets to 5 Growing Dome Owners and 5 Happy Grower subscribers who RSVP below before Feb. 8th.

Where: Colorado Convention Center, Booth (#1561) 700 14th St, Denver, CO 80202
Chaffee Home & Garden Show 2022
Proceeds fund student scholarships and grants to nonprofits!

When: Saturday, April 2 – Sunday, April 3, 2022
Where: Chaffee County Fairgrounds, 10165 CR 120, Salida, CO
Healthy Archuleta Colorado Food Summit
When & Where: April 8th 10 am We will be hosting a class on composting at Growing Spaces, 1868 Majestic Drive, Pagosa Springs, Co. 81147 & on April 9th, 2022 at the CSU extension office in Pagosa Springs, Co from 10:00 am – 4:30 pm.
Join us in this momentous event as we define and build connections throughout our region's food system in preparation for our engagement in the Colorado State Food Summit this November. We invite anyone connected with our local food system, which includes everyone, to be part of this exciting discussion.
For more information, click here.
Foothills Home & Garden Show 2022
Net proceeds are distributed as grants for charitable causes through the Evergreen and Conifer Rotary Foundations; more than $250,000 has been raised since the first show in 2005. To learn more about these great organizations, visit rotaryconifer.org.
When: Saturday, April 9th, 10 am – 5 pm & Sunday, April 10th, 10 am – 3 pm
Where: Conifer High School, 10441 County Hwy 73, Conifer, CO 80433 (Booth #51)
Earth day Pagosa Springs, Colorado 2022
The celebration to honor the planet will begin at 10 am and run until 1 pm and will take place along the Riverwalk in Centennial Parkggp this year, roughly between the two-foot bridges. Everyone is invited — every individual, church, business, or nonprofit that wishes to celebrate. Growing Spaces will have a booth next to the Geothermal Greenhouse Partnership (GGP) domes and will have Growing Spaces SWAG and will have seed planting for the kids. Hope to see you there!
Northern Colorado HBA Home Show
When: April 22nd – 24th, 2022
Friday: 10 pm – 5 pm
Saturday: 10 am – 5 pm
Sunday: 10 am – 5 pm
Where: The Ranch Events Complex, 5280 Arena Cir, Loveland, CO 80538 (Booth #262)

This event is in partnership with the Northern Colorado Home Builders Association
Four Corners home & Garden Show
The show also features a Silent Auction that allows show visitors to bid on items that have been donated by each of the show exhibitors as well as local businesses, and each year a raffle is held at the show. Proceeds from both the Silent Auction and Raffle are used to fund college scholarships, donations to local veteran's organizations, and to help fund community projects with labor and materials provided by the members of the Four Corners Builders Association. For more information about community giving by the Four Corners Builders Association, click here.
When: Friday, April 8, 2022 – 10:00 am – 7:00 pm
Saturday, April 9, 2022 – 9:00 am – 5:00 pm
Where: Montezuma County Fairgrounds, 30100 US-160, Cortez, CO 81321
The Self-Reliance EXPO
Where: Arapahoe County Fairgrounds
When: Saturday, April 30th, 9 am – 6 pm Sunday, May 1st, 9 am – 5 pm
Two greats in the self-reliance industry are partnering together for this expo; Prepper Podcast [The longest-running preparedness podcast] and The National Self-Reliance Project which allows them to bring a full immersion experience whether you attend in-person events or virtual.
---