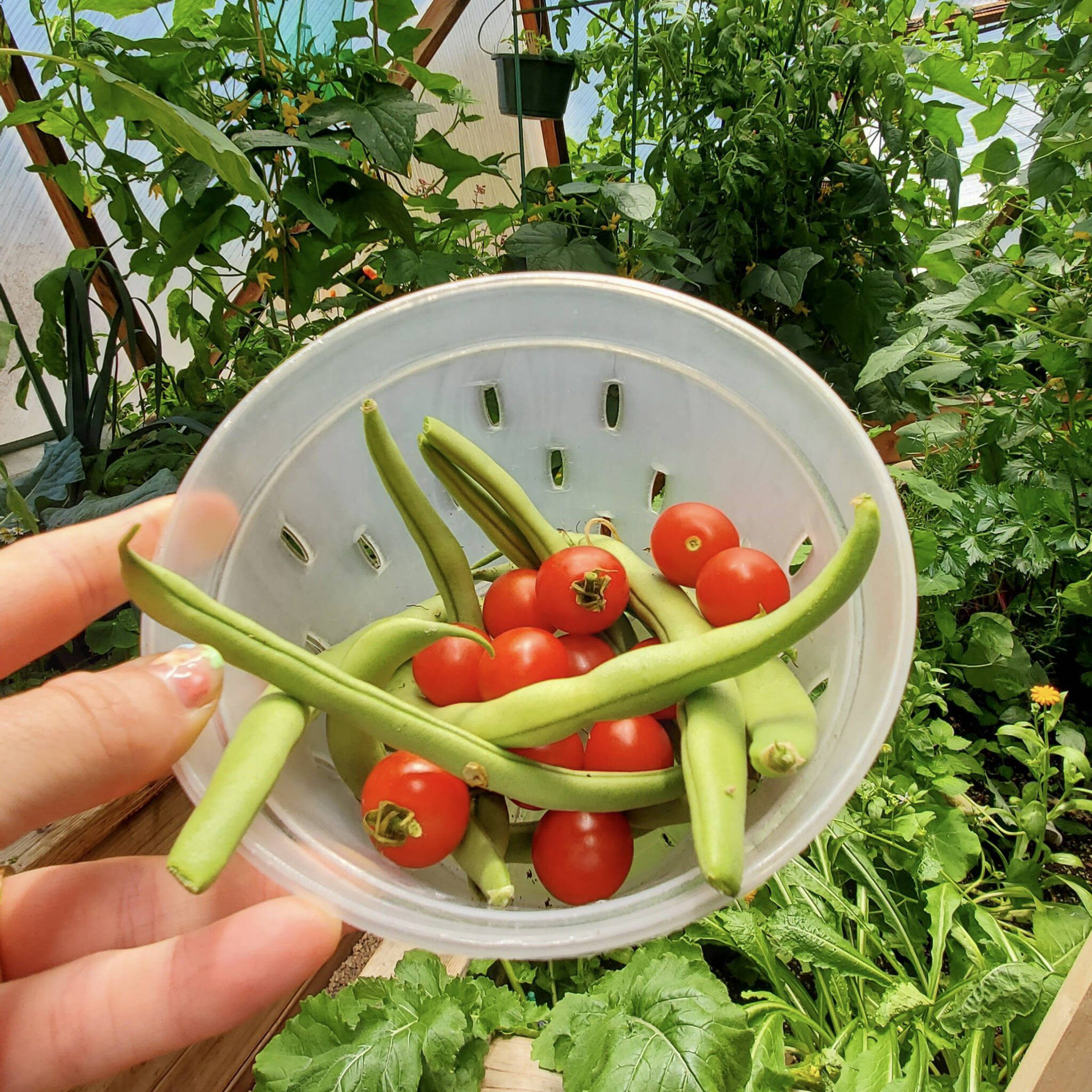 Our Fresh Bean and Tomato Salad showcases the crisp and tender bush beans freshly harvested straight from our summer greenhouse garden and brings to life the plump and flavorful cherry tomatoes, bursting with the sweetness of summer.
Whether working from home or needing a quick and nutritious lunch, this salad has got you covered. The beauty of our Growing Dome is that you can easily pick as few or as many ingredients as you like, making it a customizable lunch option that perfectly fits your appetite.
Once you've assembled your choice of ingredients, toss them with the vibrant colors of red onion, the briny notes of Kalamata olives, and the creamy richness of feta cheese. This medley of flavors and textures will transport you to the heart of your greenhouse oasis, making your lunchtime an experience of its own.
Drizzle the salad with a simple yet zesty dressing made with fresh herbs and a touch of olive oil to elevate the taste even further. This dressing effortlessly complements the exceptional taste of each ingredient, taking your homegrown harvest to new heights of delight.
Fresh Bean & Tomato Salad Ingredients:
Fresh bush or pole beans
Cherry tomatoes, halved
Red onion, thinly sliced
Kalamata olives, pitted and halved (We found this video on how to pit olives very helpful!)
Feta cheese, crumbled
Fresh parsley, chopped.
Red wine vinegar
Extra virgin olive oil
Salt and pepper to taste
Instructions for Making Bean and Tomato Salad:
Trim the ends of the bush beans and blanch them in boiling water for a few minutes until tender-crisp. Drain and transfer to an ice bath to cool. Drain again and set aside.
In a large bowl, combine the blanched bush beans, cherry tomatoes, red onion, Kalamata olives, feta cheese, and chopped parsley.
In a small bowl, whisk together red wine vinegar, extra virgin olive oil, salt, and pepper to make the dressing.
Drizzle the dressing over the salad and toss gently to combine. Allow the flavors to meld for at least 15 minutes before serving.
Next time you need a wholesome and satisfying work-from-home lunch, remember that your Growing Dome is there to provide you with a bountiful selection of ingredients, enough for one, or as many servings as you desire. Gather your chosen treasures from the garden, create a salad that suits your taste, and relish the rewards of your green thumb as you indulge in this delicious and nutritious meal. Bon appétit!
Be sure to subscribe to our newsletter, The Happy Grower, so you don't miss out on any of our favorite dishes like Chard is the New Kale: Chard, Bread Crumbs, Parmesan, and Lemon Salad, The Best Nasturtium Pesto Flatbread Pizza, and Spinach Loaf Recipe for the Kids.
Join the Inner Circle
An exclusive place for year-round gardeners. Join us to receive our monthly newsletter, "The Happy Grower". In our newsletter we provide community stories, event updates, expert gardening tips, and exclusive offers.