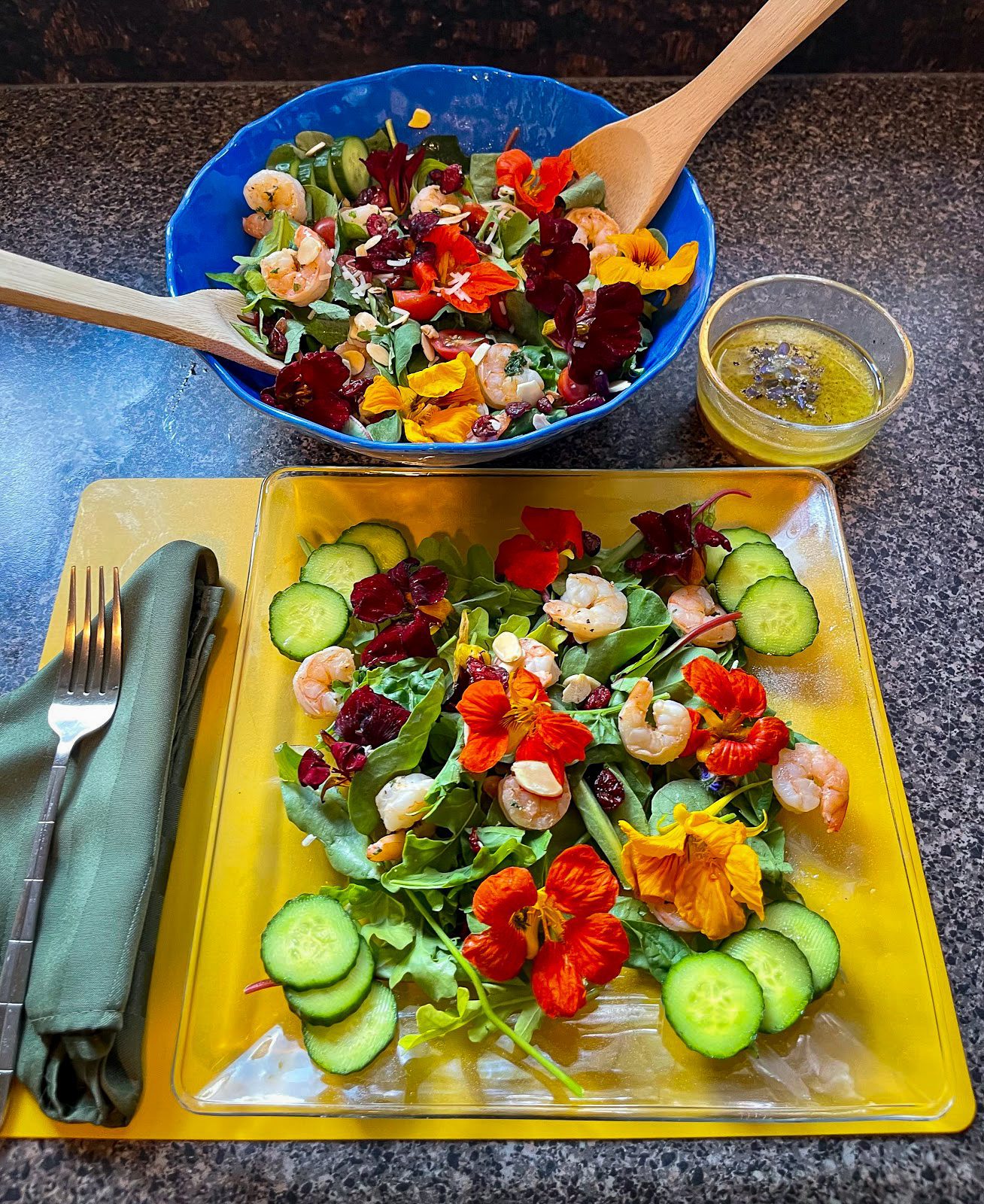 Preparation Time: 30 Minutes Servings: 8 as an appetizer, 4 as an entrée
Working at Growing Spaces for more than a decade has allotted me many exciting perks. The one I enjoy the most is having access to fresh produce, veggies, herbs, greens, and fruits all year round. For many years, I have walked into the Growing Dome like it was the grocery store at lunchtime and hand-picked my lunch. This shrimp and nasturtium salad is one of my favorite easy Dome Grown recipes.
We also have a vast variety of kale (none of which are sold in the local stores), one of the healthiest foods on the planet, loaded with tons of vitamins, antioxidants, and minerals not found in many other foods. It is the best way to power through your afternoon with a fresh, nutrient-rich, low-calorie, and, in this case, beautiful salad.
You can easily make this Shrimp and Nasturtium Salad vegan by omitting the shrimp, parmesan, and honey. I would also recommend reserving some dressing for your other salads (I like my salads lightly dressed).
Shrimp & Nasturtium Salad Ingredients:
25 nasturtium flowers
10-15 nasturtium leaves
10-20 large prawns or shrimp, peeled & deveined
1 large lemon
8 cups mixed greens and/or kale from your Growing Dome
1 tbsp fresh parsley
4 tbsp dried cranberries
1/2 cup shaved parmesan
3 tbsp pine nuts
1 tsp coconut or avocado spray
1 tbsp extra virgin olive oil
1/2 cup grape tomatoes or cherry tomatoes
***Salt and pepper to taste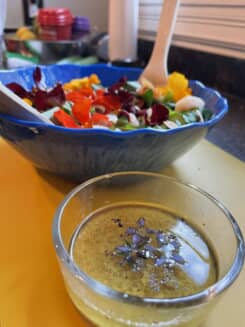 Shrimp & Nasturtium Salad Dressing:
2 large lemons

1 tbsp white wine vinegar

3 tbsp extra-virgin olive oil

1 tbsp agave or honey

1 tsp Dijon mustard
Prepare Shrimp & Nasturtium Salad
First thing, marinate your shrimp in lemon juice. Juice the lemon, make sure to remove seeds. Add 1 tablespoon quality organic extra virgin olive oil, 1 tablespoon chopped parsley, and salt and pepper. Marinate for about an hour. The longer, the better, but if you're short on time, 30 minutes will do.
The next step is to heat a sauté pan with a couple sprays of your choice of oil. I use avocado or coconut. Heat the pan. You want the pan really hot, enough to sear the shrimp. Drop your shrimp into a lightly greased pan, sear quickly on each side until bright pink. You can have this salad with cold or warm shrimp. If you want a completely cold salad, put the shrimp in the refrigerator for the next hour or so. If I'm in a hurry, I put it in the freezer for about 10 minutes.
Combine all salad ingredients in a large bowl and toss with the vinaigrette. Then add the shrimp, chop the nasturtium leaves and add to the mixed greens. The blossoms will go on top of the salad with shrimp, tomatoes, and pine nuts. They are such a beautiful combination. The nasturtium flowers themselves are almost like a radish or horseradish. They are peppery, beautiful, full of nutrients, and they give the salad a wonderful new element that you can add to any salad of your choice.
Check out some of our other Dome Grown recipes.
---
Join the Inner Circle
An exclusive place for year-round gardeners. Join us to receive our monthly newsletter, "The Happy Grower". In our newsletter we provide community stories, event updates, expert gardening tips, and exclusive offers.