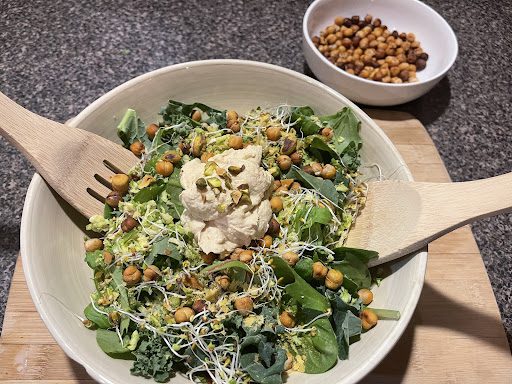 Time-30 minutes Serves-4 (VEGAN-GLUTEN FREE)
Everyone loves a good Caesar salad. When I first started cooking more plant-based and vegan recipes I struggled to find a Caesar salad that had the crunch, punch, and protein of a traditional Caesar salad. This recipe has double the crunch, and double the protein, with a nice punch in the dressing without all the fat, and no oil.
What you need:
6 cups fresh leafy greens from the Growing Dome
2 cups fresh kale
1- 8 oz can organic chickpeas
¼ cup pistachios, cut in halves or smaller
½ cup sprouts
1 tsp liquid smoke
For the dressing:
⅓ cup tahini (without the oil or mixed)
3 tbsp lemon juice
1 tbsp nutritional yeast
½ tbsp apple cider vinegar
1-3 tbsp non-dairy sour cream or yogurt (depending on how thick you like it)
Preheat the oven to 425 degrees Fahrenheit. Drain the chickpeas. Place in a small bowl and add liquid smoke, salt, and pepper mix. Then place chickpeas on a baking sheet. Let roast for 15 minutes, turning once. They are finished when they turn a deep brown. Set aside.
Prepare the dressing. Combine tahini, lemon juice, vinegar, and sour cream, or yogurt. Whisk until smooth. Add nutritional yeast. Place in the fridge to chill.
Combine the rest of the salad ingredients. Dressing can be combined with the full salad or served on the side depending on your preference and thickness. The perfect warm winter Caesar salad for a main course or a fantastic side dish.
Check out some of our other Dome Grown recipes.
---
Join the Inner Circle
An exclusive place for year-round gardeners. Join us to receive our monthly newsletter, "The Happy Grower". In our newsletter we provide community stories, event updates, expert gardening tips, and exclusive offers.