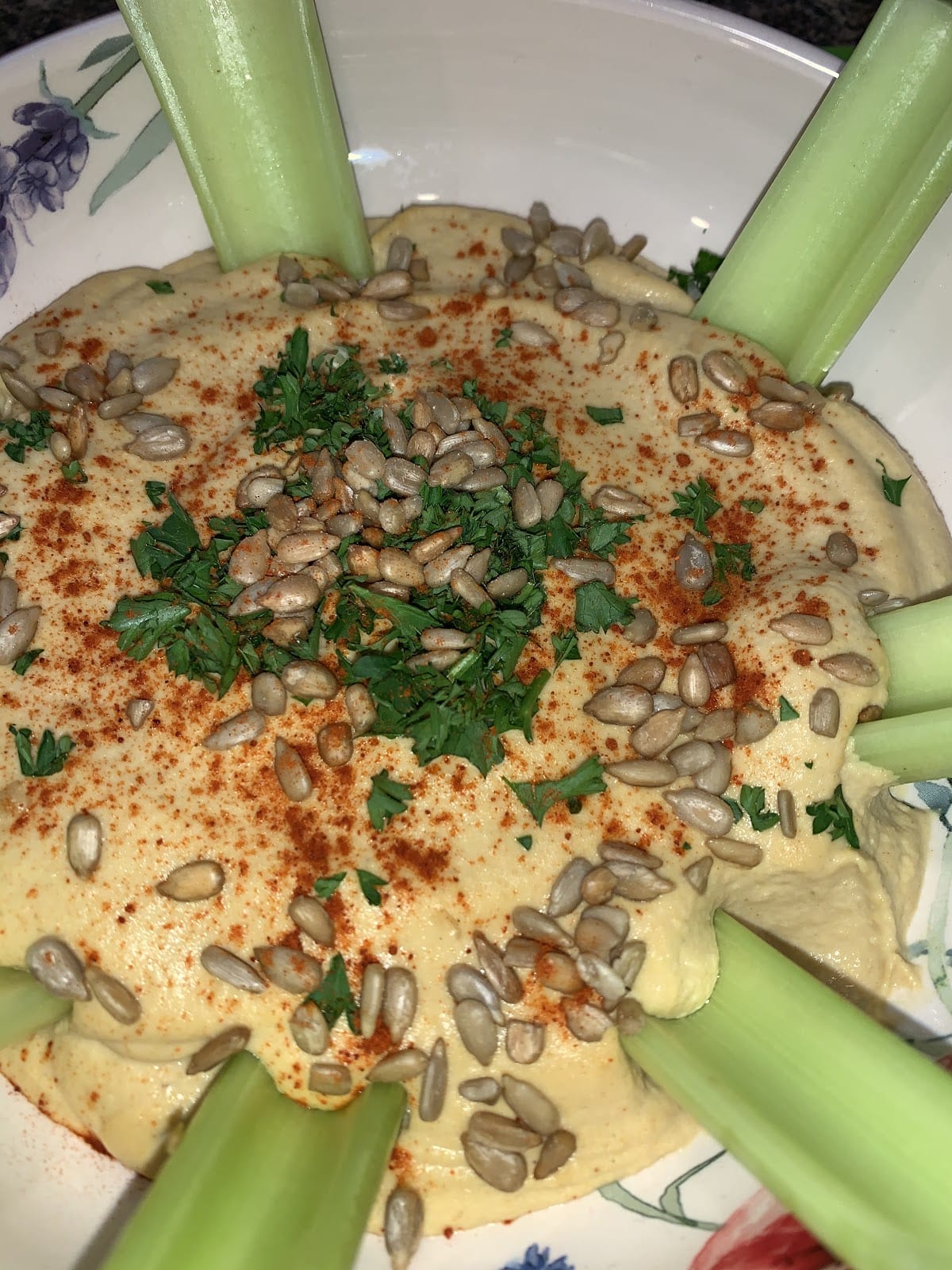 An Easy Hummus Dip
Total Time: 15 min Servings: approximately 12 1 ounce servings
Hummus is something I've made in my kitchen for the last 10 years. Honestly, there is no way I would survive as a vegan without it. I know that it is a simple dip to most, but it is a healthy protein source.
It's easy to make and delicious on just about any vegetable, cracker, pita chip, or toast. You can add just about any herb, spice, or vegetable you like to adjust the taste. Bonus points if it was grown in your Growing Dome.
I like to make it at home to save money and control the amount of olive oil used. Many hummus companies, like the ones you might see in the grocery store, choose lower quality oils and add more oil than necessary to make it taste better. I hope this great tasting recipe encourages you to make your own smooth and creamy hummus!
Hummus Ingredients:
1 15 ounce can organic cooked chickpeas (garbanzo beans)

1/3 cup organic tahini

3 cloves garlic from your Dome's winter harvest

1/2 tsp Himalayan pink salt or sea salt

3 tbsp lemon juice, freshly squeezed

1 tbsp extra-virgin olive oil

1/2 tsp ground turmeric

1/2 tsp ground cumin

2 tbsp water

***Optional: sunflower seeds, smoked paprika, and parsley sprigs for garnish. You can also swap any of the above to roasted red peppers or pine nuts.
How to make Classic Hummus
Preheat oven to 400 °F.

Get out your food processor, drain chickpeas and rinse.

Add chickpeas, tahini, lemon juice, salt, olive oil, cumin, turmeric, garlic, and water.

Process until blended to a smooth texture and your desired consistency.

Garnish with parsley or other fresh herbs from your growing dome, sunflower seeds, and paprika. Voila! 6 dollars back in your pocket! Without all the unnecessary fat and calories from oily hummus.

Not full yet? Check out some of our other recipes or share yours with us in our Facebook Group Growing Dome Enthusiasts.
Recipe By: Kesy Curtis
---
Join the Inner Circle
An exclusive place for year-round gardeners. Join us to receive our monthly newsletter, "The Happy Grower". In our newsletter we provide community stories, event updates, expert gardening tips, and exclusive offers.