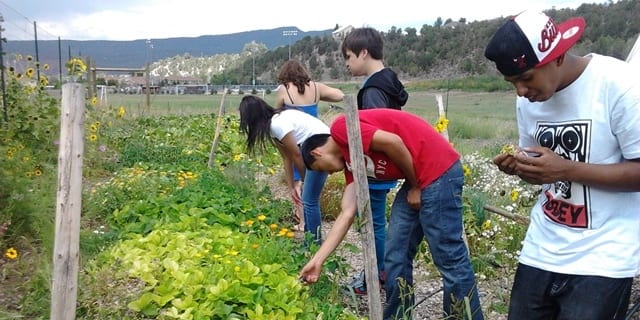 Examples of how some communities have used garden grants to build a community garden greenhouse
Community gardens create a wonderful space where neighbors and families can spend time outdoors, get good exercise and good food, and, most importantly, connect with each other. They also provide access to gardening for people who might otherwise not have the opportunity to nurture a seed from start to harvest. Sure pots on windowsills or in patios can bring the fun handful of cherry tomatoes, but there is something about putting a shovel in the ground and growing an entire row of beans that is ultimately satisfying.
When growing in a group garden the culmination of everyone's individual knowledge comes to bear. Now a few years of gardening experience multiplies into many decade's worth. The collective patchwork of plots creates a feast for the eyes and gardeners help motivate each other to get out there and take advantage of the season. We obviously can't say enough great things about community gardens and are excited to be a part of both community and educational garden projects.
If you have your own garden and don't have time to nurture another garden plot, but you'd like to have more community in your gardening lifestyle, the best thing to do is join a local garden club. For a directory of local garden clubs you can check out the Garden Club of America.
The popularity of community gardens has waxed and waned over the centuries, but regardless, they've always been around. Some city community gardens in the United States are over 30 years old. If you are looking to join a community garden you can start searching on the American Community Gardening Association directory. To find a group of people to start a community garden with we recommend finding a local garden club to connect with (see link to the Garden Club of America directory above). If you are already part of a garden or are looking to start one with some friends funding may be available for projects such as yours. The GCA and the ACGA may be able to direct you to grants. Websites such as www.kickstarter.com allow you to start fundraising on your own.
The Rodale Institute formerly had the "Your 2 Cents Grant". They awarded this grant to Truckee Community Farm in 2012 to help support their Tahoe Food Hub project that includes a 33' Growing Dome. Visit their website for grant opportunities.
To read about the Truckee Community Farm/Tahoe Food Hub visit:
Truckee Community Garden/Tahoe Food Hub .
Many community gardens are grown exclusively for donations to help families in need. The Harvest Center in Woodland Park, CO boosts around one hundred members and donates hundreds of pounds of food a year to families in need. To read more about their efforts visit:
https://growingspaces.com/the-harvest-center-makes-news/
Here at Growing Spaces we host two community gardens. We have a Growing Dome garden where staff tend and work their very own beds and we host a Growing Dome garden for the Pagosa Springs Nurturing Family Center where families in need can come to have the experience of gardening and can harvest food to bring home. Read more at:
https://growingspaces.com/nurturing-families-in-our-community/
We'd love to know more about your community garden and we may even feature it in a future article. Please post a comment below telling us about your community garden and make sure to include a link to any photos, videos, social media pages or webpages about the garden.
For a full list of school, non-profit and community garden grants see our list here.
Or to see opportunities to donate to school, community or non-profit garden greenhouse fundraisers see our list here.
Join the Inner Circle
An exclusive place for year-round gardeners. Join us to receive our monthly newsletter, "The Happy Grower". In our newsletter we provide community stories, event updates, expert gardening tips, and exclusive offers.