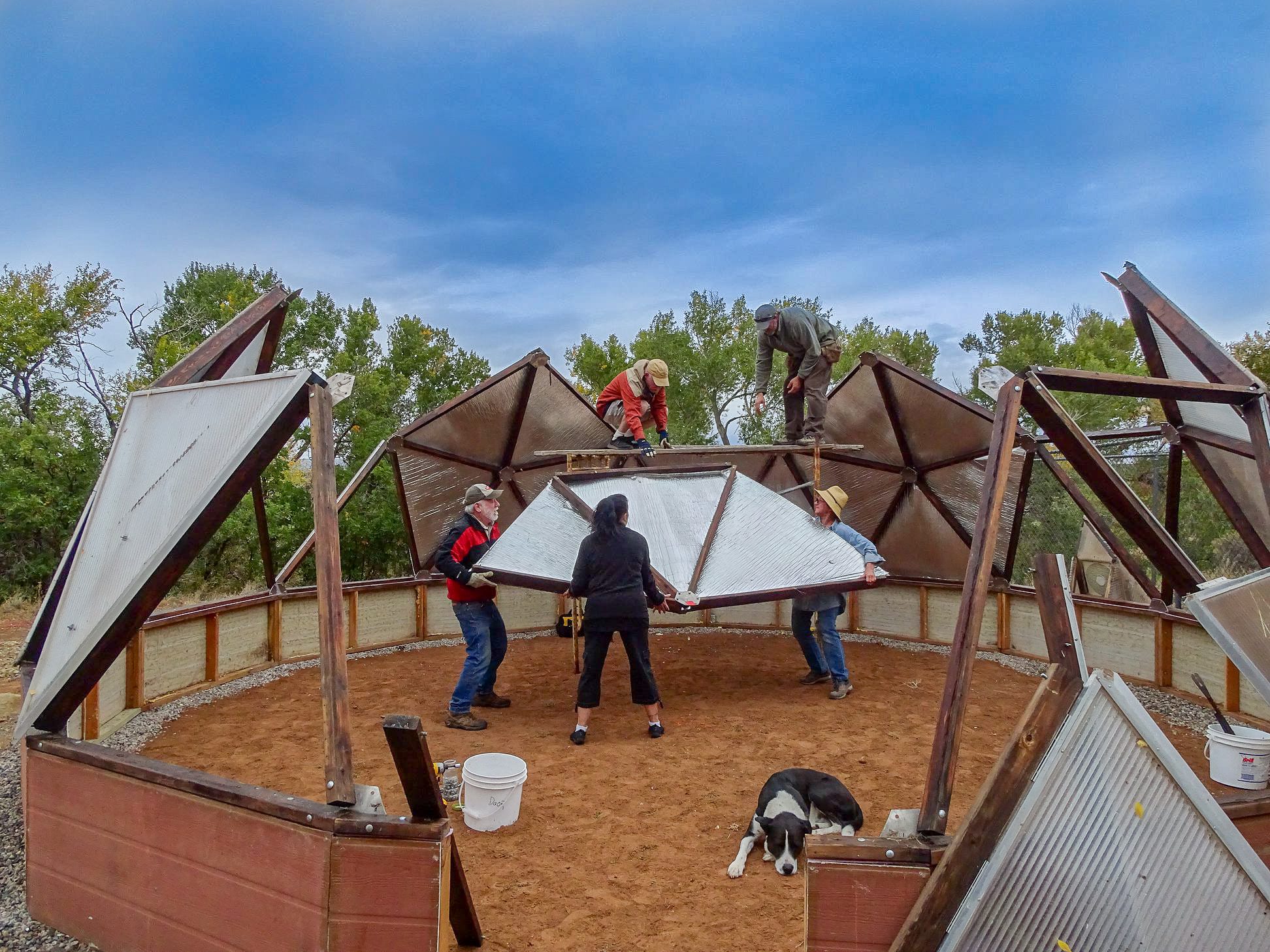 We want everyone to enjoy our DIY Geodesic Greenhouse Kits
At Growing Spaces, we love the do-it-yourself (DIY) mentality. It is what this company was founded on, and with a little help from Buckminster Fuller, inventor of the geodesic dome, is what created the first DIY Growing Dome Geodesic Greenhouse Kits 30 years ago. But since then the design has been continuously improved and refined, with a focus on optimizing cost and quality. Our original founder, Udgar Parsons' goal was to create an affordable, high-quality solution for the short growing seasons experienced in many parts of the US and Canada. Over the years we've optimized our kits for both DIY installations and those who want us to take care of everything!
"30 years of trial and error went into refining and perfecting our 6 sizes of Growing Domes. It was a labor of love and am joyful that so many people are able to garden year-round in harsh climates." – Udgar Parsons, founder of Growing Spaces
As Growing Spaces grew, so did our purchasing power for many of the components we source for the Growing Dome kits. This is especially true for the high-quality polycarbonate we use. A full truckload of 4' X 24' and 6' X 24' sheets of 5-wall polycarbonate arrives at our dock weekly. Hundreds of templates are stocked and ready to cut the polycarbonate to the precise dimensions needed for every shape and size that goes into the kit. We also custom build precise vents with rain sheds for every kit, and include reinforced automated vent openers that are not available in retail stores.
We source only #1 select Douglas Fir and safe pressure-treated wood for the greenhouse kits. Since the lumber is structural and visible from the inside of the dome, we do not accept any large knots, warping or visual defects on our lumber. This quality of lumber is hard to find at your local hardware store. The Douglas Fir is dipped in a non-toxic wood stain that is friendly to plants, animals, and people.
All of the hardware sourced for the Growing Dome is pre-kitted, labeled, and ready for assembly. We also get significant volume discounts from our US-based hardware suppliers. As an example, our entire 26-foot Growing Dome kit consists of 120 unique components.

Will your DIY Greenhouse stand up to the weather?
Google "DIY geodesic greenhouse" and you'll find a plethora of low-cost ways to build a do-it-yourself greenhouse, but these will all be built from lower quality components and will not stand up to wind, snow, hail, and cold temperatures. As you can see, the Growing Dome is truly a structure that will enable you to grow fresh, organic produce year-round for many years to come. And the investment you make will pay off in the years of savings from buying organic produce and making multiple trips to the store. Not to mention the satisfaction you will receive from building the kit yourself.
It's like paint by numbers, but greenhouse style.
To sum it up, while we offer many different installation options, DIY'ers usually opt for our self-install option. The geodesic dome greenhouse kit will arrive color-coded with step-by-step instructions. Assembling the dome feels like a barn-raising of sorts, and when you put the last struts in place at the top of the dome you can feel the strength of the structure as Bucky and Udgar intended!
Please contact us if you'd like to get more information on Growing Domes. Or to receive more informative gardening and Growing Dome articles, please sign up for our monthly Newsletter "The Happy Grower".
Join the Inner Circle
An exclusive place for year-round gardeners. Join us to receive our monthly newsletter, "The Happy Grower". In our newsletter we provide community stories, event updates, expert gardening tips, and exclusive offers.