Polycarbonate is the best greenhouse covering due to its performance in extreme climates like wind, hail, snow, and extreme temperatures. Growing Spaces® offers two types of glazing for the Growing Dome® polycarbonate greenhouse kit to accommodate different climates. 5-Wall glazing (16mm thick) is the standard for all our kits because it will perform well in all climates. Twin-Wall glazing (8mm thick) can be used if your average minimum winter temperature is 15 to 20 °F, or warmer (USDA climate zone map). Twin-Wall polycarbonate glazing is only available for the 15', 18', 22', and 26' Growing Dome Greenhouse Kits.
Our polycarbonate glazing is 100% recyclable and manufactured in the US. Our kits have also been designed to reduce waste by optimizing the dimensions to match the polycarbonate sheets. We also financially invested in a custom part that the manufacturers use in order to reduce extra waste when fabricating the polycarbonate.
---
Side by Side Comparison of Polycarbonate Greenhouse Glazing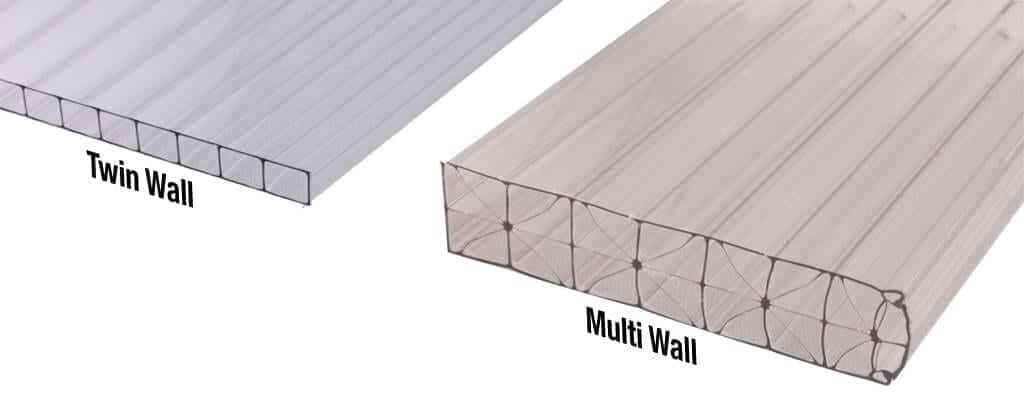 | | | |
| --- | --- | --- |
| | Gallina® Twin Wall | Gallina® Multi Wall |
| Thickness | 8mm or 5/16in | 16mm or 5/8in |
| Wall Type | Twin | 5-Wall X |
| R-Value | 1.724 | 2.778 |
| Light Transmission | 81% | 65% |
| Solar Heat Gain Coefficient | 0.82 | 0.68 |
| Warranty | 10 year pro-rated | 10 year pro-rated |
10-year pro-rated warranty
Advantages of polycarbonate greenhouse panels
This greenhouse covering resists breakdown by ultraviolet light and harsh weather impacts, like hail. The greenhouse polycarbonate glazing has a life expectancy of over 20 years and comes with a 10-year pro-rated manufacturer warranty for yellowing and hail damage. You and your plants will love the soft, diffused light inside our Growing Dome greenhouses.
Great light transmission (perfect for greenhouse gardening)
Light diffusion/even light distribution – no harsh light or burning
Made in the U.S.A.
Resistance to U.V. rays
Hail proof
Energy saving
Economical
Versatile, lightweight, and easy to install or replace
Product contains pre-consumer recycled content
May qualify for LEED Tax Credits based on your area
Product is recyclable
Durable and long lifespan if properly cared for
10-year pro-rated warranty
High impact resistance (200 times greater than glass)
RDC (Reinforced Double Co-extrusion) construction of 5-wall only
Classified in accordance with ASTM-E84 and -D1929 standards

Our polycarbonate greenhouse panels have been referred to as "virtually unbreakable!"
Polycarbonate Fact Sheets:
Sealing the Polycarbonate Triangles – Advantages of polyurethane tape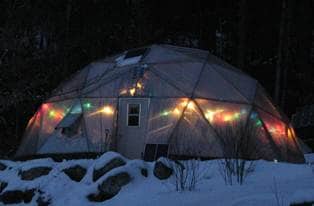 Before January 1, 2021. the polycarbonate seams were sealed with a 3M™ Polyurethane Protective Tape 8672. It was an 8 mil, leading-edge erosion protection tape comprised of a tough polyurethane backing and an acrylic adhesive.

In 2021 Growing Spaces switched to a thicker, longer-lasting aircraft tape manufactured by Berry Global and used by Boeing. The new tape is 8210 Patco Tape. It resists punctures, tearing and abrasion, and resists ultraviolet light. It can withstand a wide variety of difficult conditions, including rain, snow, hail, and sand erosion. This tape is qualified for aerospace specifications.
Formulated for resistance to ultraviolet light
Tough, thermoplastic polyurethane elastomer has a high peel strength and is abrasion, scratch, erosion, tear and puncture resistant.
Thin and conformable tape is easy to apply and conforms over curved surfaces.
Acrylic adhesive adheres to a wide variety of substrates and retains a constant level of adhesion over time, yet removes easily when necessary.
The tape is intended to prevent leaks in your Growing Dome. Some small leaks are acceptable, and you may also see drips caused by condensation inside the dome. But if you see a consistent leak, you may want to inspect your tape to make sure it is sealed properly and doesn't show signs of degradation. In most conditions, the tape will only need to be replaced every 10 years as the UV protection wears off. Refer to our Maintenance Procedures.
Our Growing Dome greenhouse is perfect for home gardening. Its technology allows you to extend your growing season.
More articles you might be interested in aluminum frame vs. wooden greenhouse.