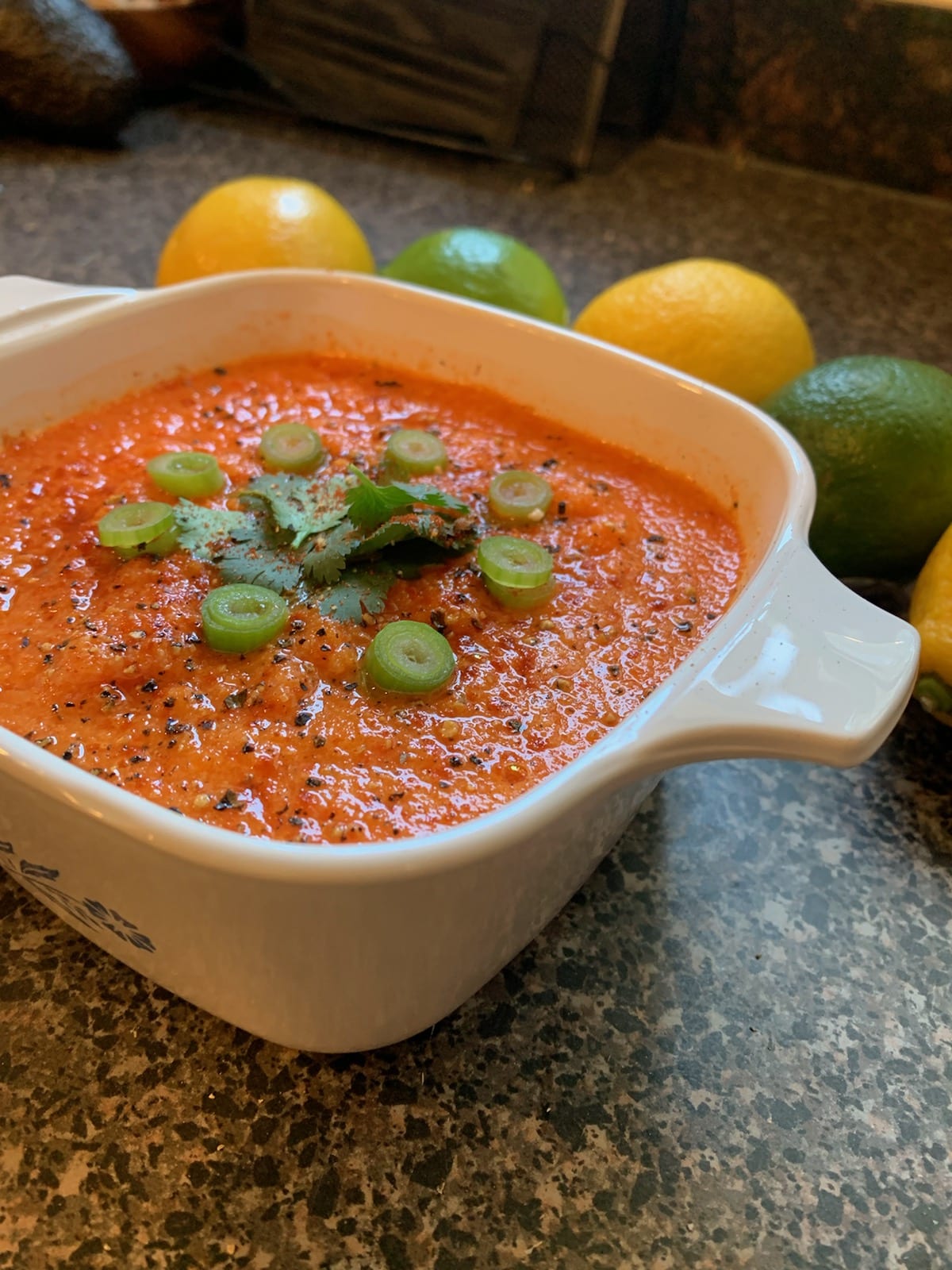 An unconventional family garden-grown recipe!
Total Prep and Cook Time: 1 Hour Serves: 6 large bowls or 12 small side dishes
This cold soup recipe came to me through my maternal Grandmother. She is an avid gardener, hiker, cross country skier, chef, nurse, and artist. It is tradition to get original, heirloom comfort recipes handed down in families. My Grandmother has always thought outside the box, she was the first woman in our family to graduate from college, and she has 6 children.
She really helped me be a more confident chef, harness my inner artist through my culinary abilities, and express and show my love through cuisine. She cultivated my confidence to use rare, versatile, fresh, and innovative cuisine from all over the globe and make it my own.
This recipe originated from the many rivers trips we take every summer as a family here in Colorado. This soup is an absolute necessity for long trips. My grandma always said, "there's nothing like being out in the hot sun baking on the river all day and then being able to have a cool, refreshing, vivacious, and flavorful soup," it satisfies her thirst and her appetite. It is easy to store, tastes great hot or cold, and doesn't take up much room in your cooler.
Fresh Dome or Garden Grown Cold Soup Ingredients:
6 large red bell peppers, stemmed, cored, cut lengthwise, and pressed flat
1 tbsp extra virgin olive oil
4 shallots peeled, chopped
1 tsp salt
1/4 tsp cayenne pepper
1 quart vegetable broth or skimmed chicken broth
1 head cauliflower (dome grown, garden grown, or organic store-bought), thoroughly washed and cut into florets
1 tsp sugar
Roasted Red Pepper and Cauliflower Soup Garnish Options:
fresh coarse ground pepper (to taste)

fresh Herbs

extra-virgin olive oil (for a drizzle garnish)

chopped fresh green onions

lemon wedges
Method to the Soup Madness:
**No immersion blender necessary!
Preheat broiler to high. Arrange bell peppers with skin side up on a large baking sheet. Broil, then monitor carefully until skins are blackened (12-16 minutes, the better the sear, the easier to peel).
Remove peppers from the oven and allow them to cool. Peel over a bowl to collect juices. Set peppers and juices aside.
Next, in a large pot over medium-high heat, warm olive oil, add shallots, salt, cayenne pepper, and cook stirring until soft. This will take approximately three minutes. Add broth gradually and then the cauliflower. Bring to a boil and lower heat to a simmer.
Cover and cook 20 minutes, add peppers with juices and cook covered until cauliflower is tender, which will take about 10 minutes.
Purée in batches in a blender and add sugar, then ground pepper to taste. You can serve this soup cold or hot, garnish with a small drizzle of extra virgin olive oil, chopped chives, cilantro, and a squeeze or two of lemon juice to balance the flavors.
Have cold soup recipes in your family? Please share them with our Facebook Group.
Check out some of our other Dome Grown recipes.
---
Join the Inner Circle
An exclusive place for year-round gardeners. Join us to receive our monthly newsletter, "The Happy Grower". In our newsletter we provide community stories, event updates, expert gardening tips, and exclusive offers.