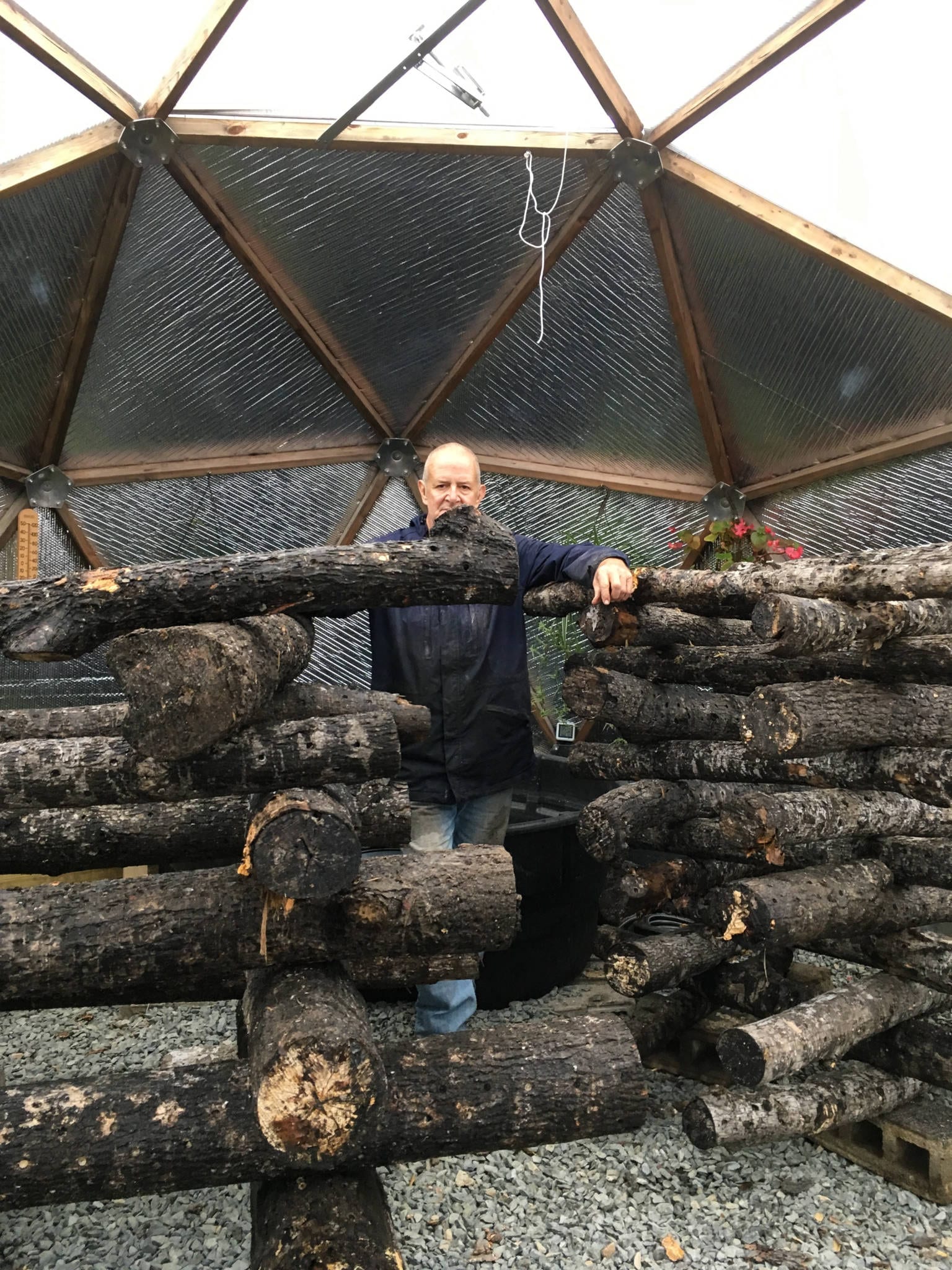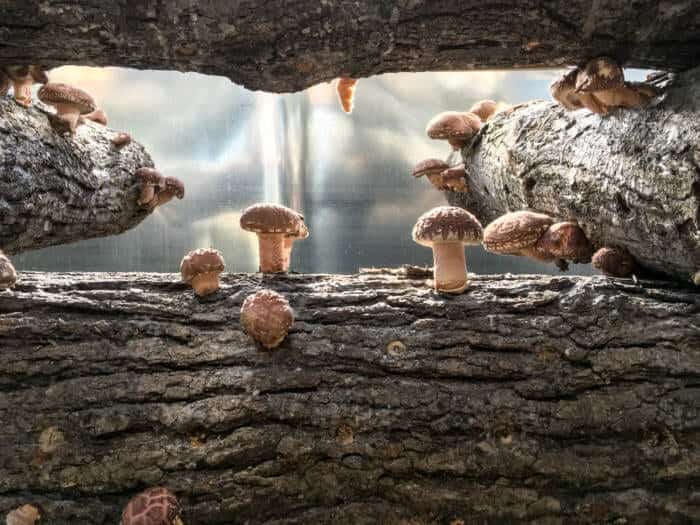 Growing Shiitake Mushrooms and Other Specialty Crops
My husband, Rex Inman, and I own Fogwood Food, LLC. We specialize in growing specialty crops, things like asparagus, ghost peppers, oyster mushrooms, shiitake mushrooms, and baby ginger…but, particularly Shiitake mushrooms. When we began growing shiitakes in 2004, we sold them at farmers' markets from spring to fall. The market allowed us to educate folks about the wonderful flavor and health benefits of shiitake mushrooms.
We grew our small farm business part-time until our retirements in 2013 when we were able to devote all our energies to the company. During that time, our customer base grew and transitioned from farmers' markets to restaurants and stores. It was apparent that we needed the capability of producing mushrooms year-long—including the cold winter months. That's when we decided that a Growing Spaces Geodesic Dome Greenhouse would be the perfect environment for our winter production. So, in 2016, we purchased our very own 18-foot dome kit, and by the fall of 2016, we were ready to introduce shiitake mushroom logs into our cozy Dome. Since then, we have been thrilled with the resulting production of mushrooms. I am excited to share some of the things we have learned throughout the years with other Growing Dome Enthusiasts.
The Shiitake Set Up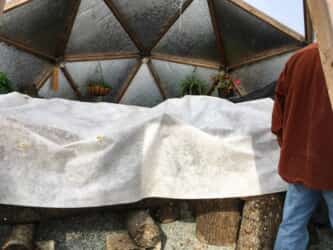 Unlike many other mushrooms that grow on compost or manure-based potting media, shiitake mushrooms grow on logs. We grow our Shiitake mushrooms in hardwood logs that Rex harvests from our property each January. The best logs are from hardwood trees, particularly oak and sugar maple. Fun Fact "shii" is "from hardwood trees" in Japanese.
In February and March, we inoculate the logs with mushroom spawn (see Field and Forest for great supplies!). This means that we drill dozens of holes into each log about three inches apart, fill the holes with a sawdust medium that contains mushroom spores, and then cover the holes with hot wax. You can use cheese wax (available from cheese companies or online suppliers), beeswax (which can crack in very low temperatures), or paraffin. While sealing the holes, we also seal any areas missing or damaged bark that could allow other fungi to enter. You should then lay four logs horizontally in 80 percent to full shade, then another four on top in the other direction, and so on. This is called "crib stack" If your Dome is sunny, consider an area on the north side, install a shade cloth, or try covering it with a burlap sack. Don't use an impermeable cover such as plastic.
Crib stacks in the Dome
Cultivating Shiitake Mushrooms
This spawn will "colonize" throughout the grain of the logs over the next six months. This process is called a "spawn run". These logs are ready to begin producing/fruiting mushrooms by October of the same year. Mushrooms will pop through the bark of the log and quickly be ready to harvest. A single log will keep producing mushrooms until the log is literally a pile of mulch!
Left naturally, most logs will produce mushrooms in the spring and fall. In order for us to attempt to regulate the production and keep a steady supply for stores and chefs, we soak a few logs each and every day by submerging them in a vat of water overnight. This process is called "shocking", and it helps "force" the log to produce. Transferring logs in and out of the Dome in cold winter months to have a warm environment helps us keep that regular supply of mushrooms for our customers.
Why a Growing Dome?
The Growing Dome is perfect for winter production because the temperature inside is much warmer—suitable for mushroom growth. The large pond that comes standard in every Growing Dome adds humidity that mushrooms love. In addition to fresh mushrooms, we also dehydrate slices and make mushroom powder to sell. The Dome has made a significant difference to our farm and food business! If you are interested in learning more about our experience with a Growing Dome, you can visit our website and watch this YouTube video.
Do you grow mushrooms in your Growing Dome? Share a picture with us in our Growing Dome Enthusiasts Facebook Group.
Written by: Brenda Sutton owner of Fogwood Foods in Reidsville, North Carolina. Fogwood Food is dedicated to the promotion of wellness through lifestyles that incorporate healthy and safe local foods. We specialize in professional consultations and presentations centered around local food promotion; seasonal food preparation demonstrates; teaching and proctoring exams for ServSafe and other local food promotions.
Join the Inner Circle
An exclusive place for year-round gardeners. Join us to receive our monthly newsletter, "The Happy Grower". In our newsletter we provide community stories, event updates, expert gardening tips, and exclusive offers.