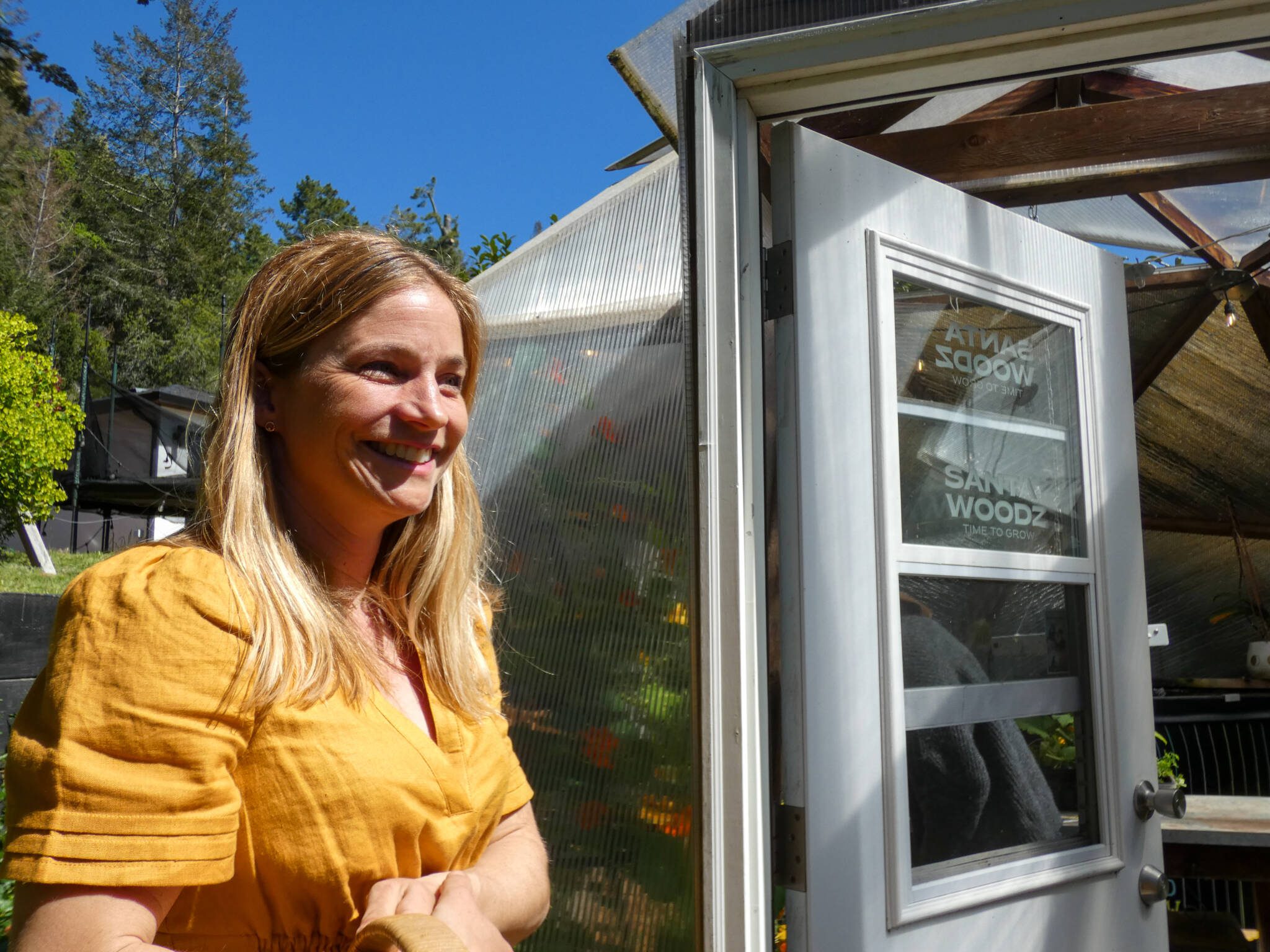 Over the hills and through the woods to a modern homestead we go! Taking winding HWY 17 through the Santa Cruz mountains showed just how extreme the weather can be right along the California coast. Crews were still cleaning up downed trees and evidence of the atmospheric river that poured through the region a few weeks ago was evident around every bend. Then almost like a fairytale, we arrived at the storybook setting that is the home of Angela and Frederik Pferdt and all the chaos of weeks of rain and extreme weather vanished. Modern homesteading does not require 40 acres and a mule, just a bit of determination and a lot of heart!
The Modern Homestead Comes Together
Sitting atop a 2-acre parcel of land rests not only their home, but also a pool, a-frame cabin, glamping dome, trout pond, terrace gardens, and their 18' Growing Dome. You see the Pferdt's are forward thinkers (Frederik is Google's first and former Chief Innovation Evangelist and Adjunct Professor at Stanford University). When 2020 hit and the pandemic panic was in full swing, Angela realized that she needed to be able to provide nutritious food for her family of 5 and also the space to create, live, and work within the otherwise urban area in which they live. Thus the Santa Woodz project was born, and a modern homestead began to unfold.
Solutions to Nature's Challenges
Angela's goal was to not only be able to provide for her immediate family, but also to inspire others to live a more nature centric life. She started taking master gardener classes to hone her skills and develop a plan. She decided not just to focus on gardening for food production, but to look at the entire food system that she wished to create. From looking at the soil and how she could replenish the earth, to creating a habitat for pollinators and becoming a beekeeper, to digging a trout pond to provide her family with fresh protein (and great fertilizer for her gardens), to selecting a variety of plants to nurture her family and friends, she really thought of everything. There was just one challenge. GOPHERS!
That is what led Angela to the Growing Dome. She needed protection from not only the gophers, but also the wild deer and turkeys that roam the neighborhood. About one acre of the Pferdt's land is undeveloped hillside that acts as a refuge for the local wildlife. While they love seeing these beautiful animals out and about, they don't love it so much when they eat all their hard work. The Pferdt's installed not one, but two, layers of hardware cloth under the structure. In addition to the hardware cloth the Pferdt's have installed an owl box on their property in hopes of attracting a Barn Owl to help control the gopher population.
Working with Nature on a Modern Homestead
Looking at the system as a whole and trying to find natural solutions to what others may consider "problems" is something that Angela and Frederik have excelled at. Angela was quick to admit that while gophers can be a nuisance, they also serve a purpose in the system. The gopher holes and tunnels actually helped them during the extreme rain events they received because the water was actually able to penetrate the earth instead of washing away their hillside.
---
The Growing Dome's Role
The Pferdt's 18' Growing Dome is our twin-wall 8-mm polycarbonate option, great for those in more mild climates. The Growing Dome acts almost as a nursery since they live in zone 9b. Angela has a potting table in the center where she starts her seeds in trays and small pots then once they mature enough to be resilient in the outdoors she will transplant them outside. There are some staple crops that stay within the Dome, a bright orange and yellow nasturtium trellises up next to the door and a few types of herbs and succulents line the raised beds. However, most crops are rotated based on seasonality and outside conditions. She is looking to learn more about how to utilize the above ground pond for food production to maximize her growing space.
The Growing Dome extends the Pferdt's growing season year-round. Yes, even in the Golden State there is a growing season. Angela will bring her frost sensitive crops, like basil, inside the Growing Dome during the winter months to keep them thriving all year long. When and if the time is right, she will place them back outside. I noticed pots inside the main growing space in the Dome and asked the purpose. "Anything invasive, I put in a pot or hanging basket," said Angela. This also makes it easy to move things in and out of the Dome depending on the season.
Construction and Compromise
When I asked Angela if she had made any special changes to the Dome, she replied with a little giggle, "It was an accident, but we have 4 vents now – two on top and two below". That is what we call a happy accident! Extra ventilation is almost always a good thing. The Pferdt's constructed their Dome with the help of 5-6 friends. The same friends that helped them assemble their glamping dome, so they had a bit of experience with the shape and general idea of how the pieces should come together.
They assembled the struts in sub-units and then connected them all together. When it came time to install the vents, their friends put two vents on the top and one vent on the bottom (on a standard 18' Dome there are two lower vents and one upper vent). Instead of removing the vent and repositioning it, they decided to purchase an extra and keep moving with the assembly. Angela did say that it does get quite hot in the summer, so the extra vent was a good addition!
Challenges and Opportunities
One thing that challenges Angela is the amount of light that she receives in her Dome. There was really only one location where they could put the Growing Dome due to the hillside on which they live and it receives maybe 5 hours of sunlight per day. Angela has made do with supplemental grow lights which she has suspended from the hub hangers provided in the Dome kit. She had originally planted a passion fruit tree in the Dome that was beautiful and thriving, but ultimately created too much shade so she moved it outside.
Creating a Modern Homestead with What You Have
Santa Woodz is more than just a modern homestead; it is a lifestyle. Angela stated that this project has created a shift in her and her family's mindset. Their motto is "Time to Grow", both literally growing things in the earth but also growing mentally and as humans. Learning to slow down, be patient, and appreciate all the things that nature provides for us. Realizing that we are just a small part of the larger system that we live within and that if we can learn to live and work within nature instead of against it, we will be blessed in a multitude of ways.
Angela had one final message to our readers and that is to do what you can with what you have. Try to repurpose something and give it a new life. One man's trash is another man's treasure. The thrift store is a gold mine filled with things that can be repurposed. Neighbors are often willing to trade or just give away things that they are no longer using. Old tires can be used to create planters, that old rickety table can be fixed up to make a potting bench, those jars can be repurposed for seed storage! Case and point, the game her kids created out of the crate that the Growing Dome was delivered in. They cut a few holes and turned it into soccer practice. Ingenuity is the key to our future. Never stop creating!
Be sure to follow Angela on Instagram @Santa_Woodz to watch how this passion project and modern homestead continues to evolve. If you have a modern homestead of your own, we would love to see it!
Join the Inner Circle
An exclusive place for year-round gardeners. Join us to receive our monthly newsletter, "The Happy Grower". In our newsletter we provide community stories, event updates, expert gardening tips, and exclusive offers.