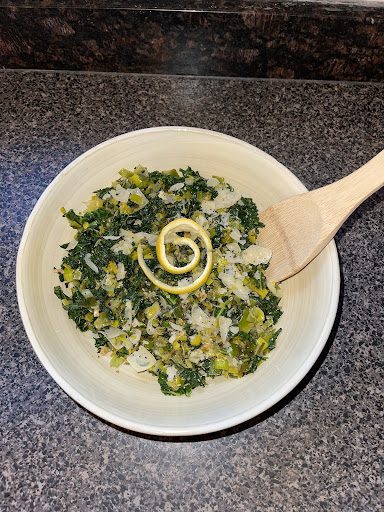 Leek Sauté – Total Cooking Time – 30 minutes Serves-6 Vegan-GF
Spring has sprung here at Growing Spaces and we are excited to be transitioning to our spring garden. This month we decided to make something delicious with what was left in our domes from our winter garden: Leeks! The recipe idea came from the last batch of fresh winter vegetables that we just finished harvesting and from our horticulturist Heather Gray. This Leek Sauté is simple, clean, aromatic, full of flavor, and mouth-watering.
Have you ever heard of potato leek soup? We thought so! But how often do you use leeks in other types of recipes? Leeks are the titan of the onion family. You can eat the whole veggie, however, most people stick to the white and light green parts, although the darker green segments have plenty of flavor and can be cooked longer to tenderize. We use them often to make a rich veggie stock for soups. You can use leeks in warm or cold salads, rice, risotto, pizza, pasta, omelets, eggs, and Asian dishes. Think of them like a massive green onion! They can be substituted in any recipe that uses other alliums like shallots or onions. Leeks are sweeter than onions and you don't have to cry every time you use them! You can grill them, roast them, sauté or steam them. They are superbly versatile and bring a lot of flavor to the table.
Leek Sauté Ingredients:
2 large leeks
1 bunch your favorite kale (about 2 cups)
2 tbsp butter (you can use non-dairy)
½ cup water for steaming
3 cloves garlic, chopped
1 tbsp fresh squeezed lemon (no seeds)
¼-½ cup fresh parmesan cheese
Cracked black pepper
Leek Sauté Preparation
First, wash your vegetables and dry them. Dirt tends to stick in between the leek stalks, so they need to be thoroughly cleaned. We suggest using a paper towel or cheesecloth to dry them off. Slice the leek in half lengthwise. Cut the thick green tops off (you can save these for later to use in stock) and the stringy roots at the base. Lay the leeks cut side down, chop into half moons then dice. You may see additional dirt at this point, rinse with water again in a colander if needed.
Next up, devein the kale and loosely chop. You will need a large deep skillet. Turn on the stovetop to medium-high heat, melt butter, and sauté the leeks and the garlic until light brown and aromatic, about 8-10 minutes. Steam the kale separately, the steaming will condense the kale. Add kale to the leek mixture, lemon juice, then the shredded parmesan cheese and fresh cracked pepper until coated or your preference. Serve as a side dish to your favorite protein or as a nutrient-packed lunch.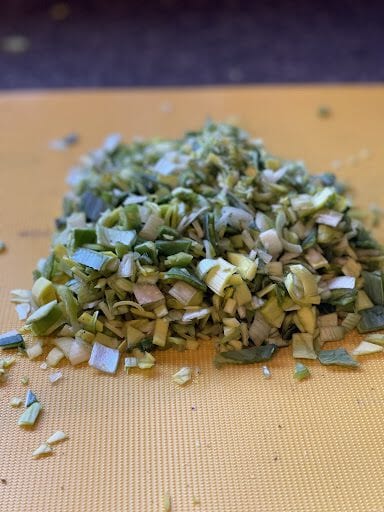 ---
Check out other Growing Dome Recipes.
Join the Inner Circle
An exclusive place for year-round gardeners. Join us to receive our monthly newsletter, "The Happy Grower". In our newsletter we provide community stories, event updates, expert gardening tips, and exclusive offers.