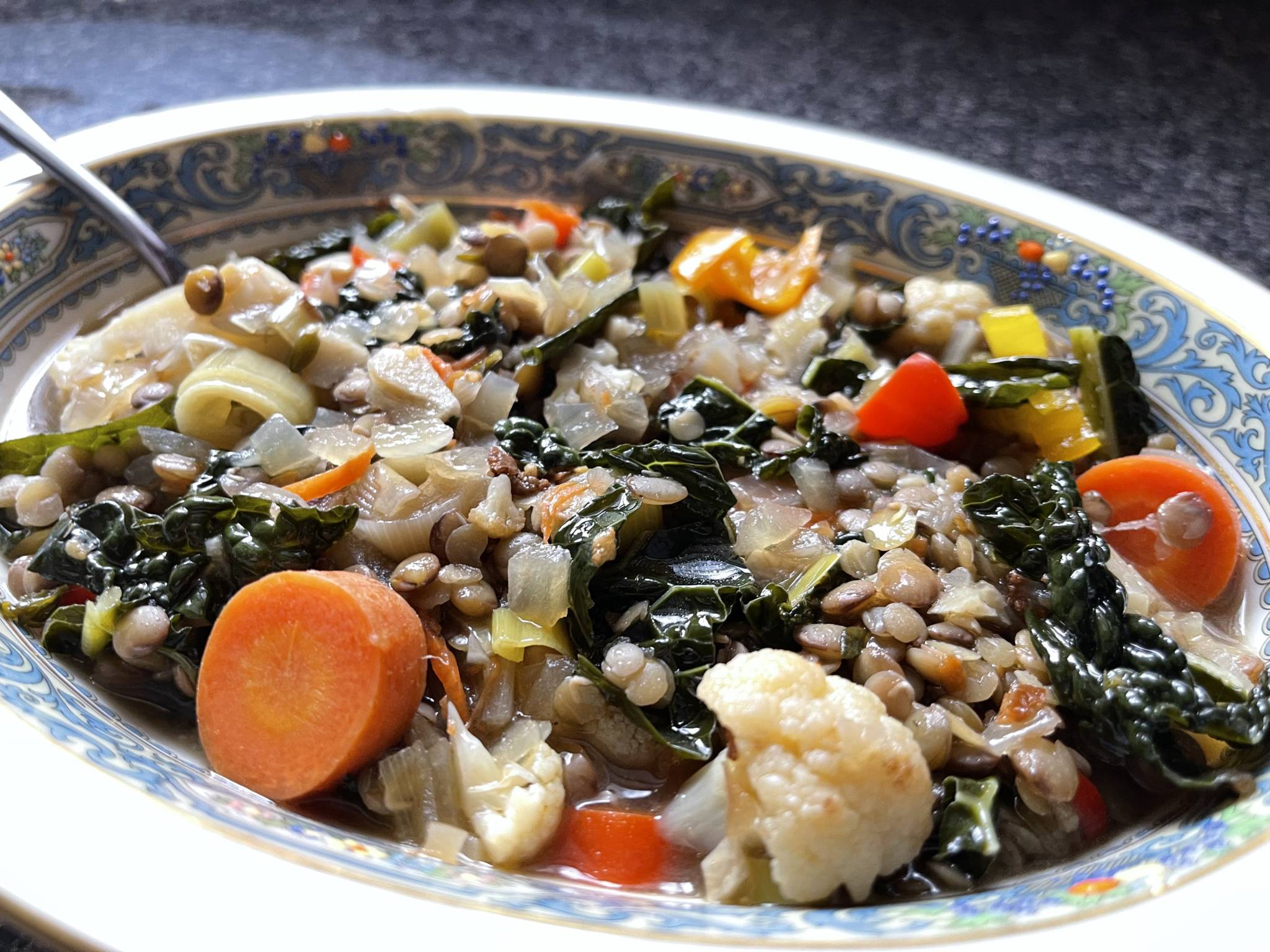 Kitchen Sink Soup Total Cooking Time: 45 minutes Prep Time: 15 minutes Serves: 5+
Warm, Delicious Way to Use All the Leftover Veggies in your Garden & Fridge
We call this Kitchen Sink Soup because we take everything leftover from our fall & early winter Growing Dome harvests& whatever we have in the fridge to make the soup. We put everything in but the kitchen sink!
As Cicely Tyson said in the classic movie Fried Green Tomatoes, " the secret's in the sauce". Well, our secret is in the broth of this because it's all about that base! The secret to a flavorful and aromatic base is adding lots of allium varieties, herbs, and spices, then allowing them to roast and simmer to release all their robust flavors.
You may have a variation of these ingredients. The key is to have veggies, herbs, a grain or carbohydrate, and different types of alliums. You can mix and match to use up whatever you have. It is a great way to not let anything go to waste. We harvested celery, tomatoes, leeks, peppers, thyme & rosemary.
Kitchen Sink Soup Ingredients
8 cups of vegetable bouillon broth
1 onion
1 shallot
3 cloves of garlic
2 cups of lentils
1 head cauliflower
Red chili flakes & pepper
Dome Grown-
2 leeks
3 carrots
4 small tomatoes
3-5 small Peppers
2-4 stalks of Celery
Sprigs of Thyme & Rosemary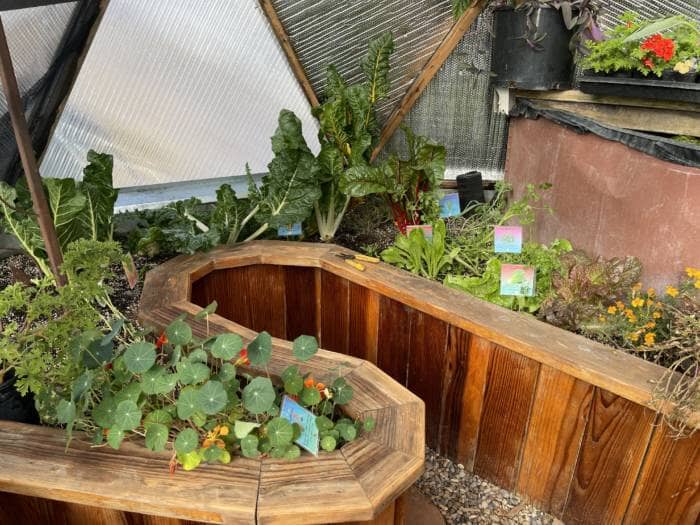 Kitchen Sink Soup Preparation
In a saute pan add a tsp of olive oil and heat. Prep and chop onion, leeks, shallot, and garlic. Saute on medium-high heat until slightly brown. Add these to the broth and stir. Add thyme and rosemary. Let simmer on low.
The first and most important part of this dish is the stock or broth. You can get so much flavor and aroma into a good broth. It can make or break a soup. I use 8 cups of vegetable broth base, boil, and let simmer. Wash and add lentils to the broth.
Roast your veggies. In a large skillet over medium-high heat, add a small amount of olive oil, add cauliflower, and peppers cook until caramelized and lightly brown. Add vegetables to the soup broth. Add carrots, celery, tomatoes, chili flakes, and pepper to broth cover, and simmer.
This soup is the perfect way to warm up after a long winter day. It is one of those recipes that both feels good and is good for you. Using healthy, organic Dome-grown veggies makes this taste even better because you put your love in – from seed to soup! If you make this dish, or an inspired one, share it with us on Facebook @GrowingSpacesGreenhouse or Instagram @GrowingSpaces.
Make this recipe? Tag us on Facebook or Instagram and use the hashtag #DomeGrownRecipe.
Check out other Growing Dome Recipes.
Join the Inner Circle
An exclusive place for year-round gardeners. Join us to receive our monthly newsletter, "The Happy Grower". In our newsletter we provide community stories, event updates, expert gardening tips, and exclusive offers.