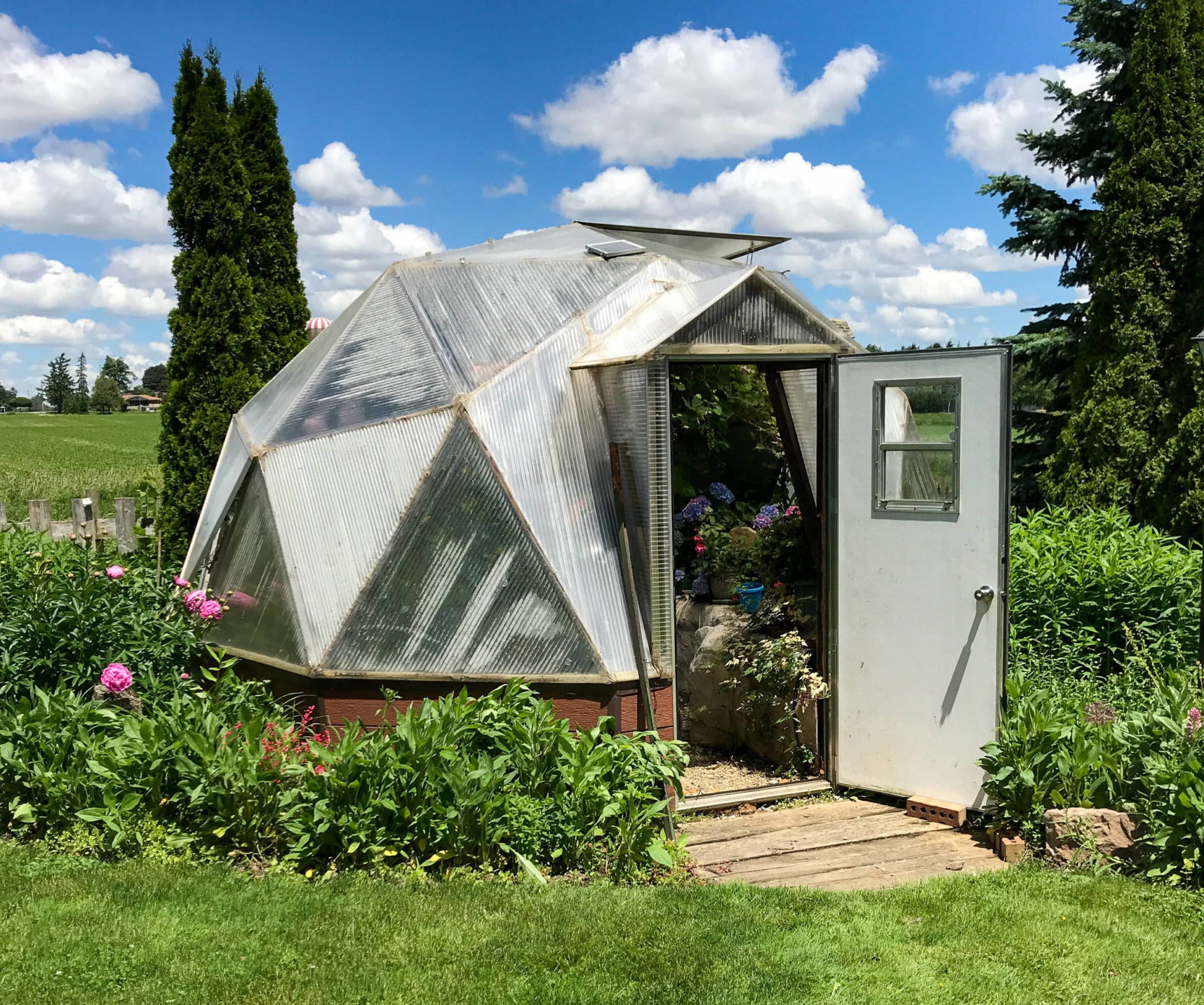 A 15′ Greenhouse in Ontario, Canada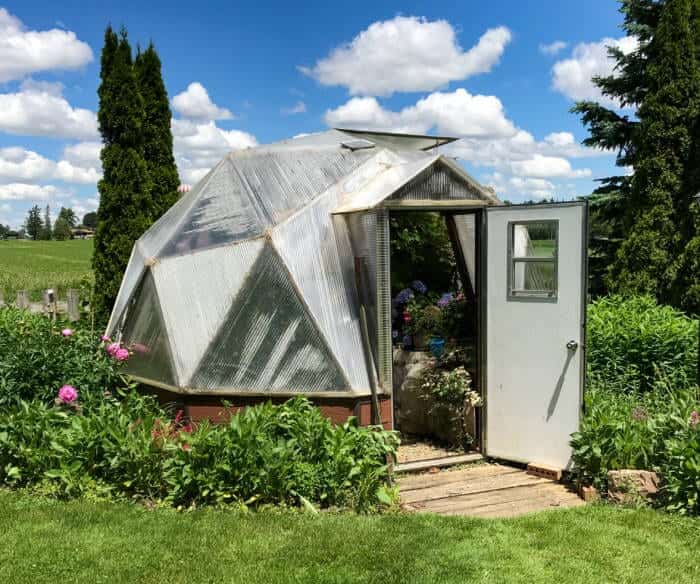 March Dome of the Month – Ron Cole
March's Dome of the Month features a 15′ Growing Dome in Ontario, Canada. Ron Cole, built his greenhouse with our 15′ Geodesic Dome Greenhouse Kit in October of 2014 to experiment with plants he can't usually grow. The 15′ Growing Dome may be our smallest greenhouse kit, but Ron makes excellent use of his space.
Why a Growing Dome?
Ron has always been an avid gardener. With the chilly winters and crazy weather in Canada, he knew that he wanted a greenhouse. Initially, Ron purchased plans for a standard English style greenhouse, but when he came across the Growing Dome, his plans changed. He did so much research on different types of greenhouses and knew a geodesic dome greenhouse was his best option. At the time, the price of our Domes made it just out of reach of Ron so he had to save a little more for him to purchase a 15′ Growing Dome. We don't want our customers to have to wait too long, so also check out our greenhouse financing options.
Building his Dome
Ron received his greenhouse in October, an odd time of year in Canada for gardening. It rained nearly every day, but he was persistent. He worked on it every weekend in the rain with one other friend until the second weekend in November. By this time, it was snowing outside! When I asked him what he thought of the building process, he said, "It wasn't easy, but it wasn't hard. At the very end, when we placed the final panel and it fit perfectly, we were surprised. I thought it wasn't perfect, but it turns out we did pretty well."
His Raised Beds and Extra Pond
When I first saw pictures of Ron's Greenhouse, I was immediately intrigued by his unique use of space and custom beds. When I asked him why he chose to go that route, he said: "I wanted something different and natural-looking." He used wire mesh to create the tape, then covered it with concrete until they seemed to be the right shape. His first attempt he made the beds just a little too wide and had to chisel some off to reach the back for planting. Along with the beds, he added an extra pond made of the same material to the right of the standard pond because he doesn't get much sun in that area. He also wanted to put koi in it and separate them from the goldfish in his standard pond. Along with the custom beds and pond Ron also add electrical and string lights turning the Dome into a bright globe at night.
Growing in his greenhouse
The Growing Dome was a perfect fit for Ron's love of gardening experiments. It allows him to grow all sorts of things that he can't manage outside. In his first few years with the greenhouse, Ron focused on veggies but soon realized he had a real opportunity to grow all kinds of other things. He is particularly proud of a peach tree that flourished for several years. He said he will never forget when it first started to flower. He was out there every day, hand pollinating with a paintbrush. Everyone wanted to come over to see his tree and enjoy fresh juicy peaches.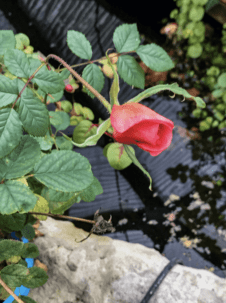 Right now, it is the end of winter in Ontario. Winters can get quite chilly with temperatures reaching as low as -20 to -30 degrees Celsius (-4 to -22 degrees Fahrenheit). Ron said this winter has been unusually light. He uses a small oil heater at a low temperature to keep his greenhouse warm enough for flowers to bloom. He is currently growing grapevines, a large fig tree, hydrangeas, and gerbera daisies. This past year he has roses that grew from seed to bloom on Christmas Day.
His Advice to Future Dome Owners
"Be creative. Even a 15′ Growing Dome can be really rewarding. Don't get discouraged if something you plant doesn't succeed and never settle with what has always worked. Keep experimenting. You will be amazed at what you can grow inside a Growing Dome Greenhouse." On rainy days Ron likes to relax in his greenhouse and appreciate his flourishing garden. His dream is to add a hammock for afternoon relaxation.
Show off your greenhouse!
All of our Featured Growing Dome's are highlighted in our monthly newsletter "The Happy Grower," on our social media platforms (Facebook and Instagram), and in our blog. At the end of the year, we will be creating an annual calendar that includes every Dome of the Month. This will be sent to all Dome of the Month participants, along with another bag of Growing Spaces goodies! Apply here. Have questions about a small greenhouse? Send an email to info@growingspaces.com
Join the Inner Circle
An exclusive place for year-round gardeners. Join us to receive our monthly newsletter, "The Happy Grower". In our newsletter we provide community stories, event updates, expert gardening tips, and exclusive offers.