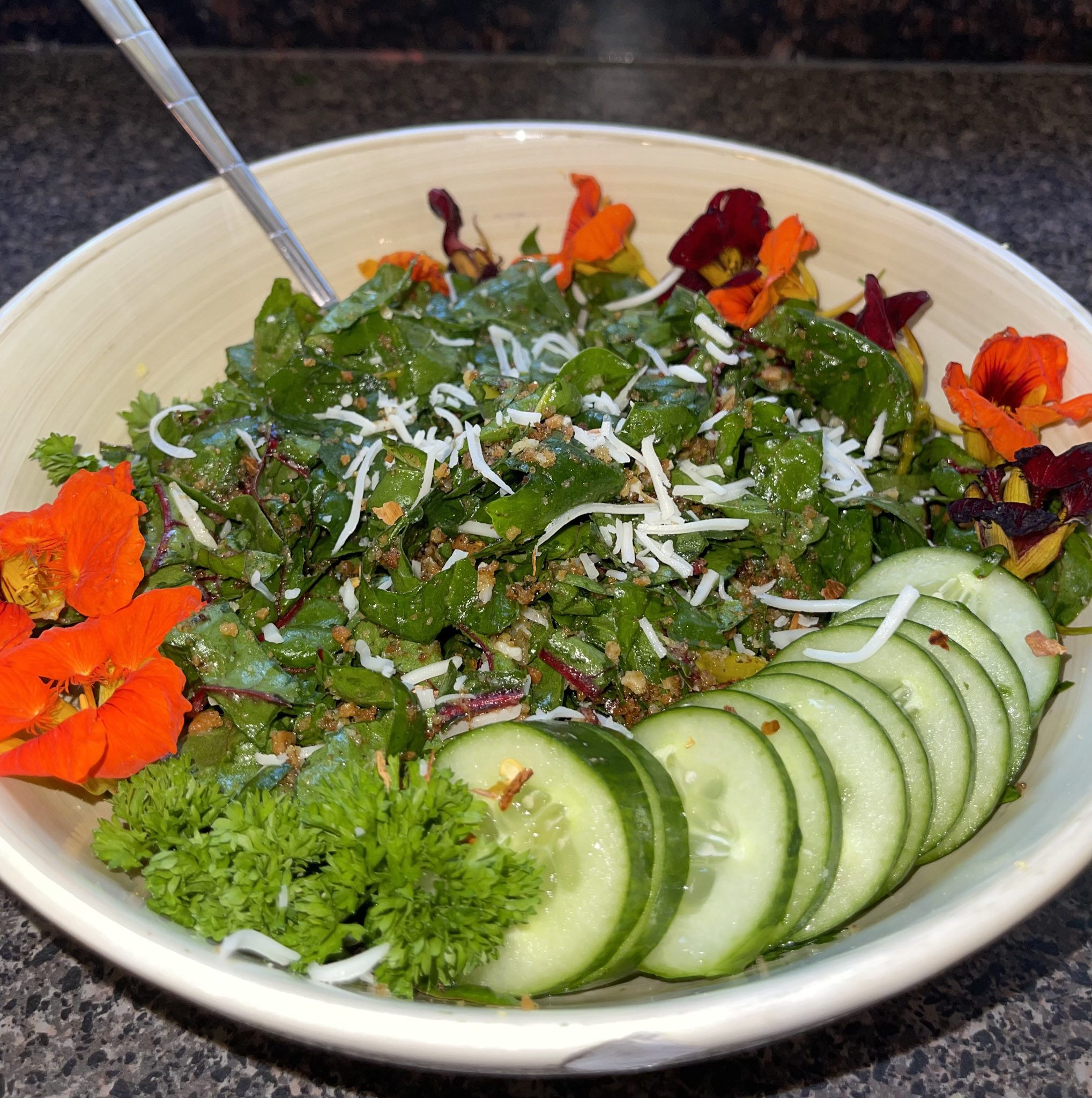 Healthy, Vibrant, Delicious, Chard Salad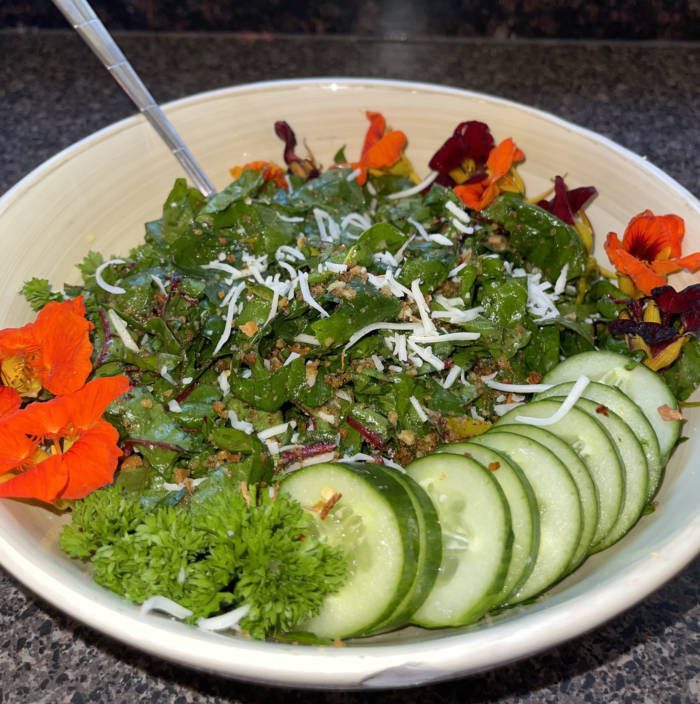 Total Cooking Time: 30 minutes Prep Time: 15 minutes Serves: 3-4 Vegetarian
This rainbow & swiss chard salad is delicious and a fantastic way to use fresh, vibrant, and sometimes underutilized vegetables.
Move over, kale! Chard is the new super green! Chard is known to be bitter, so it is often left out of raw, cold salads. However, combining it with lemon zest, Parmesan, and olive oil relaxes the chard and takes away the bitterness. Give it a try. This summery, satisfying salad just might become your new go-to!
Harvesting Ingredients
Rainbow chard's bright leaves and colorful stems make it both pretty to look at and nutritious. As it does not ship well, you are unlikely to find this at your local grocery store. You will have much better luck at your local farmers' market or, better yet, in your garden.
Fun Fact: In growing environments such as a Growing Dome that never experience a hard freeze, swiss chard can behave like a perennial, living for several years.
We harvested about 12 large pieces of chard from our 15′ and 42′ Growing Domes in Pagosa Springs, Colorado, along with some cucumber, parsley, and nasturtium. The flowers are mainly garnish, but they also give the salad a peppery kick.
Swiss Chard Salad Ingredients
1 bunch swiss or rainbow chard (about 12 stalks) from your Growing Dome
½ cup extra-virgin olive oil, divided
1 ½ cups fresh breadcrumbs
1 clove minced garlic
1 tsp red pepper flakes
1 large lemon
¾ cup grated parmesan or pecorino
*sliced cucumber, nasturtium, and fresh parsley are optional.
Preparation
First things first-
Wash the chard thoroughly with water. Then remove the stems, use your hand and pull the leaves upward and off. Stack the leaves in a pile. You can do about five or six at a time. Roll them like a burrito tightly, then chop them into ⅛-inch sections. Make sure to shred all of the chard into bite-size pieces. Set aside.
In a skillet over medium heat, add ¼ cup of olive oil and garlic. Get it hot, and add the bread crumbs. Stir the breadcrumbs frequently until they are browned. Then add red pepper flakes. Remove from heat and set aside.
While your bread crumbs cool, add lemon zest to the bowl of chard and toss.
For the dressing, juice the lemon into a small dish or cup, then slowly whisk in the remaining olive oil (about a ¼ cup). Add salt and pepper to taste. Then dress your salad and toss until combined.
Add the parmesan and bread crumbs and continue tossing until chard is thoroughly coated. Garnish with whatever your heart desires or whatever is extra in the garden. We used fresh cucumber, parsley, and edible flowers. Enjoy!
---
Make this recipe? Tag us on Facebook or Instagram and use the hashtag #DomeGrownRecipe.
Check out other Growing Dome Recipes.
Join the Inner Circle
An exclusive place for year-round gardeners. Join us to receive our monthly newsletter, "The Happy Grower". In our newsletter we provide community stories, event updates, expert gardening tips, and exclusive offers.