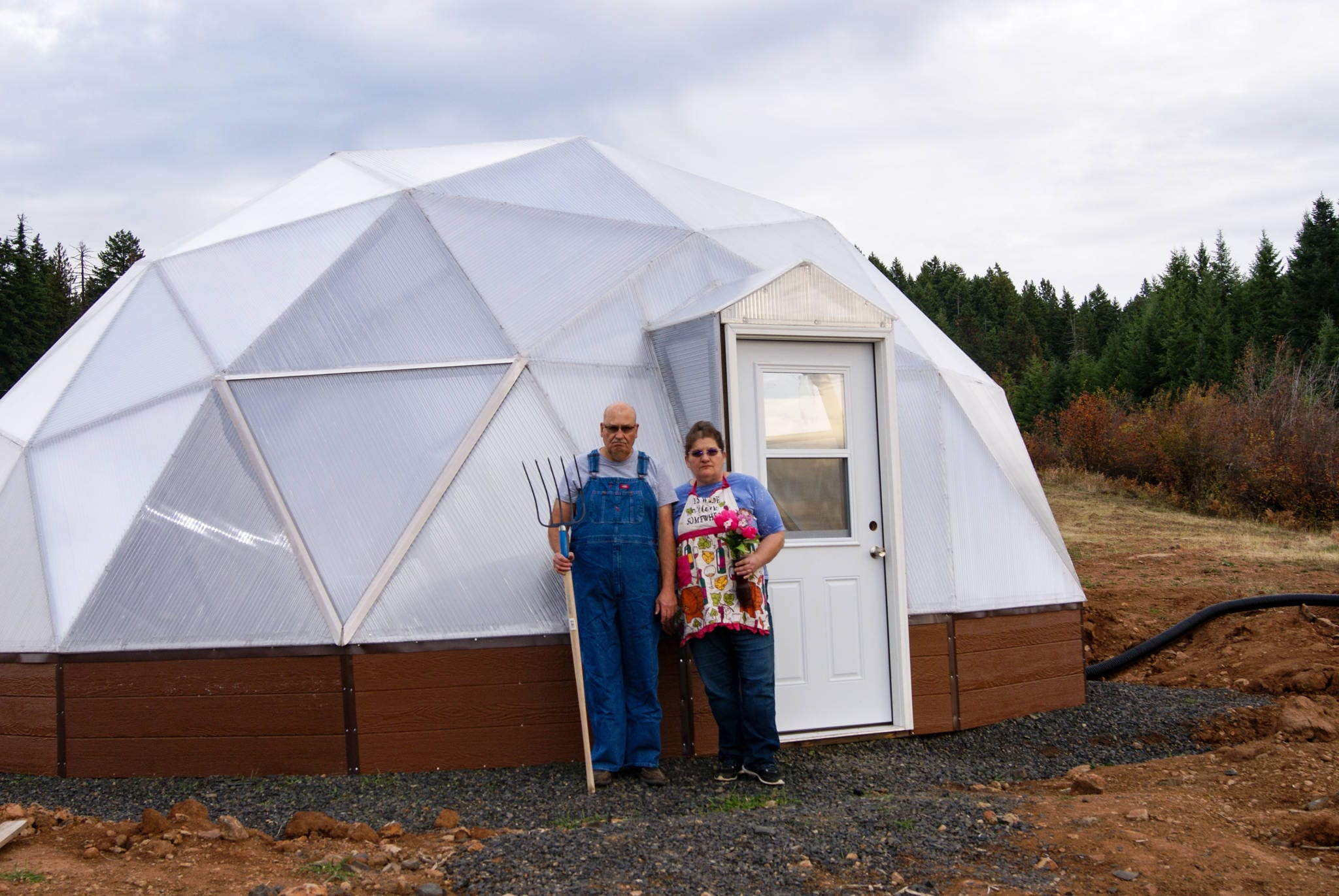 The Rigby's Backyard Greenhouse
Paula & Keith Rigby's backyard greenhouse in Kamiah, Idaho, sits on their new retirement property. The 26′ Growing Dome Greenhouse is nestled in behind the new home they are building. Yes, they did build the greenhouse first! Before moving to Idaho, Paula and Keith lived 580 miles away in Salt Lake City, Utah, where Paula worked for Medicaid and Keith in software engineering. Not exactly the traditional farmers from American Gothic, but they are doing their best in retirement!
Fresh Food is Better
Paula always knew she wanted a greenhouse in retirement. She grew up on her family's 8-acre farm eating food fresh from the vine regularly. Paula is diagnosed with Crohn's Disease. The medications she took for Crohn's Disease were effective but had many side effects. Where most people with Crohn's Disease struggle eating veggies, Paula is the opposite. So, she decided to become a vegetarian. Instead of living a life of prescription medications, she switched to a diet of all vegetables.
They purchased their backyard greenhouse kit in September of 2018 after visiting a friend's Growing Dome® in Utah. When we asked Paula if the fresh veggies are making a difference with her Crohn's she said "It is too soon to tell but you can taste the difference between store-bought food and food fresh off the vine. My husband was shocked to taste the difference, especially in the tomatoes."
Building their 26′ Backyard Greenhouse
With help from Paula's brother who makes a living installing homes, they built the greenhouse kit themselves. Keith traveled back and forth from Utah to help. He said the hardest part of assembling the greenhouse was "putting together the large pieces." He said, "it was very helpful to have a third person when holding up the pieces." Keith and his brother in law also utilized our new installation videos and 24-hour helpline whenever necessary.
Despite being in Northern Idaho, it is still considered a hot-summer continental climate in Zone 7a. But they have large fluctuations in temperature, so we still recommend our 5-wall polycarbonate and automatic opening roof vents for ventilation. The Growing Dome Greenhouse is designed to maintain a steady climate despite the large temperature fluctuations.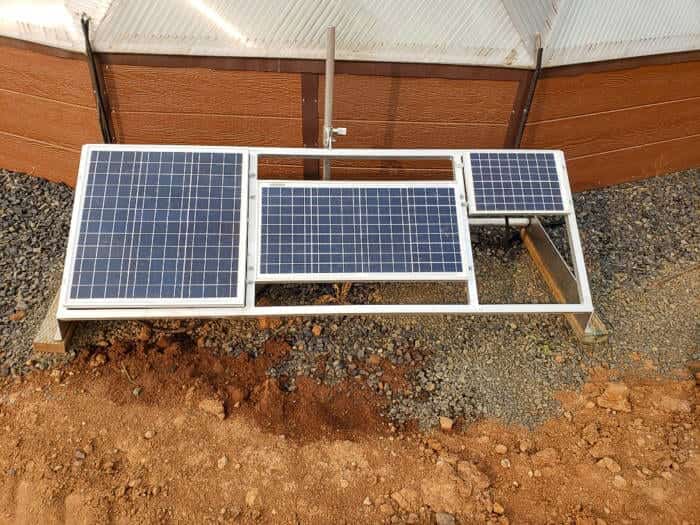 Some of their customizations made to the Dome include electricity, a screen door, and a custom made solar panel set up. Instead of mounting the panels on the roof of their Dome, they had a swiveling heavy duty metal stand made. This allows Paula and Keith to adjust the panels for optimal sunlight, and allow for more passive solar energy on the south side of the dome.
How has their Greenhouse Grown
Today they live on their property in Idaho full time although Keith isn't quite retired yet. Walk in their greenhouse and it is growing everything from vegetables to fruit trees. Some of Paula's thriving plants include Thai basil, cucumbers, okra, squash, gypsy peppers, kale, swiss chard, 2 olive trees, 2 avocado trees, a key lime tree, and a Meyer lemon tree. She said her first season in the dome was all about "trial and error". This upcoming winter they are planning to add additional heat for their fruit trees using an electric fireplace. 
Future Plans
Keith and Paula are looking forward to spending some time in the backyard greenhouse this winter. They hope to add some nice landscaping and a 100 x 100 fenced area with fruit trees and berry bushes. Paula wanted to share an open invitation to visit her greenhouse. Anyone from Idaho or the bordering states of Washington and Oregon are welcome to visit their backyard garden greenhouse anytime. Contact kenzie@growingspaces.com to arrange to tour with the Rigby's.
---
You can find all of our Featured Growing Dome's highlighted in our monthly newsletter "The Happy Grower," on our social media platforms (Facebook and Instagram), and in our blog. At the end of the year, we create an annual calendar that includes every Dome of the Month. We send them to all Dome of the Month participants, along with a gift of Growing Spaces gardening goodies! Apply here. Have questions about a high altitude gardening? Send an email to info@growingspaces.com.
Join the Inner Circle
An exclusive place for year-round gardeners. Join us to receive our monthly newsletter, "The Happy Grower". In our newsletter we provide community stories, event updates, expert gardening tips, and exclusive offers.