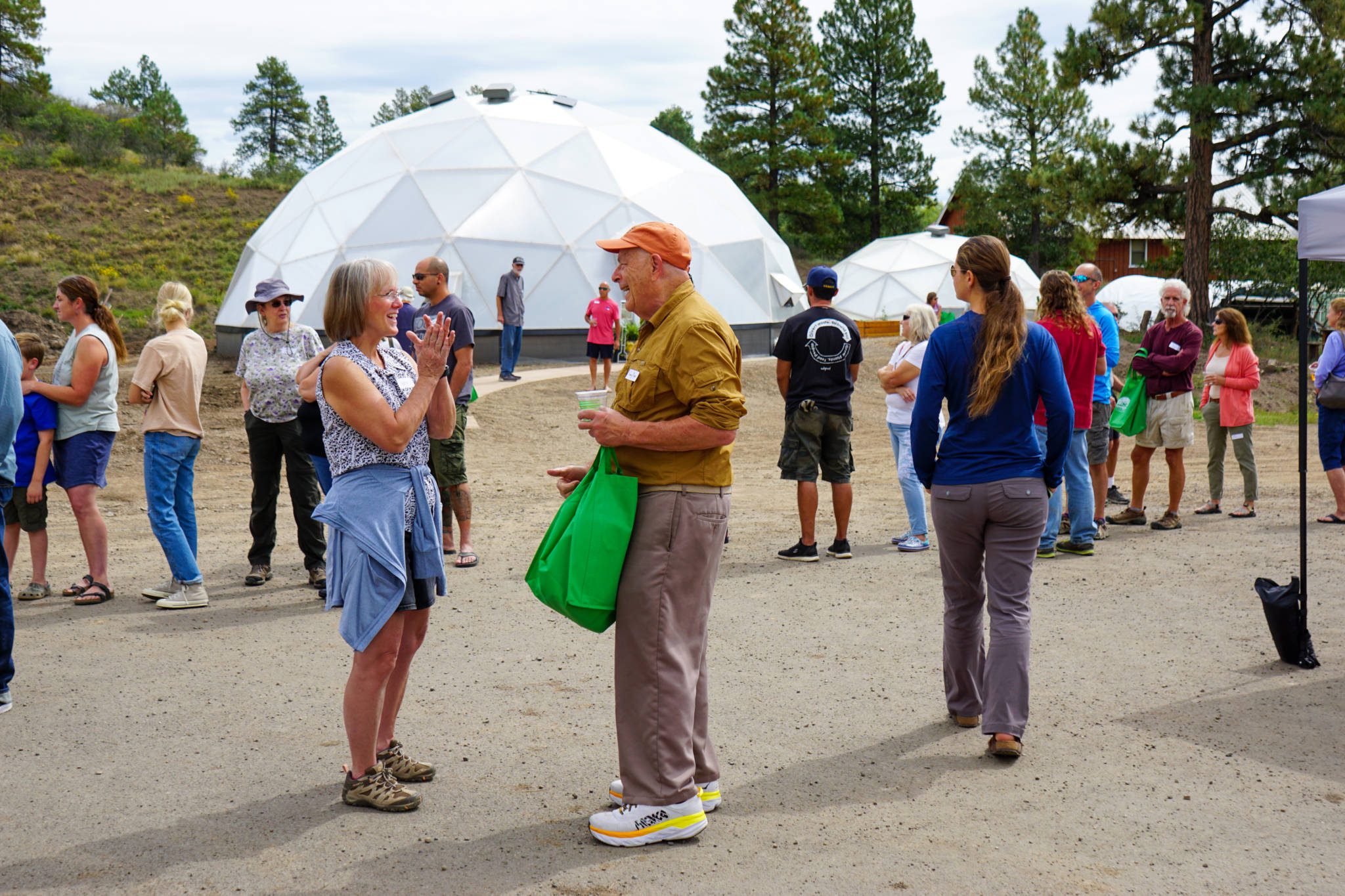 2022 is quickly coming to an end and we wanted to take some time to reflect on how we have grown. This year was filled with twists and turns that both grounded us and propelled us into action. Giving back to our community and getting involved is something that we felt was desperately needed after the two years of isolation we all endured.
New On-Site 42′ Growing Dome Greenhouse:
In April the Growing Spaces installation team constructed a new 42' Dome at our facility. This Dome showcases the many different options and upgrades that we offer. We opted to install the two standard electric fans and two standard solar attic fans that come with our 42' Growing Dome kit. Additionally we also added two solar cooling fans, two solar water features, and a solar irrigation system. This Dome adds 1,385 square feet of growing space to our 2,197 square feet of the existing Domes on site. All of this extra space allowed for us to donate over 600 pounds of fresh produce to our local food coalition from the 42' Dome alone.
Donations to Healthy Archuleta Food Coalition (FSFE):
The mission of the Healthy Archuleta Food System Food Equity program is to learn about and provide community-based food production, healthy food access, food waste prevention, and food entrepreneurship. As we mentioned, this year the 42' Dome was able to produce approximately 600 lbs of fresh produce. To break it down we grew and donated 100 lbs each of chard, cucumber, kale and celery; 60 lbs of tomatoes; 50 lbs each of beets, carrots, and Japanese eggplant; and 40 lbs of fresh herbs. This produce was primarily distributed by Restoration Fellowship Church to over 2,000 residents of Archuleta County.
Grant Winners:
Growing Spaces is proud to have been able to provide Growing Domes to two non-profit organizations this year. Harlem Grown, a non-profit founded in 2011, whose mission is "to inspire youth to lead healthy and ambitious lives through mentorship and hands-on education in urban farming, sustainability, and nutrition" received a 26′ Growing Dome. They are transforming the urban landscape of their community by renovating vacant/abandoned lots in Harlem, NY into community gardens.
Valor Point Domiciliary Care for Homeless Veterans in Lakewood, CO is currently in the permitting process to build their 26' Growing Dome. Originally founded in the 1860s to provide a "Soldiers' Home", the Domiciliary has evolved to become an active clinical rehabilitation and treatment program for male and female Veterans. The Dome will allow them to extend their existing gardening programs and growing season to year round.
We are accepting applications for our 2023 grant program. Please contact us if you are interested and check out all of the various gardening grants that are available nationwide!
Customer Appreciation Event:
This year we were able to host over 100 Growing Dome owners and enthusiasts from across the country. There were multiple classes taught by Growing Dome owners. If you missed the event we are publishing videos on the topics that were covered to our YouTube channel. Check out Pragmatic Gardening Tips with the founder of Growing Spaces, Udgar Parsons, and subscribe to our channel for future videos. Coming together at this event is something that we have come to look forward to every year. You all are truly inspirational!
New Products and Services:
Growing Spaces is always looking for ways to improve on our existing product. We are continuing to update our installation and maintenance resources and videos to make building and taking care of the Dome easier for our growers.
This year we began our partnership with Backyard Boxes. They offer 100% cedar raised bed kits for all Dome sizes with 14 non-toxic stains to choose from. With perimeter only, interior only, or the combination of both, there is an option for everyone. The sections are partially assembled for easy self-installation. If you need a helping hand, delivery and installation options are available. This service is free for those within 100 miles of the Denver Area if the raised beds are purchased before February 28th, 2023! They can ship nationwide. Contact Jameson to find out more.
We are excited to be rolling out a new fan option in early 2023 for the 15'-26' Growing Domes. This fan manufactured by QuietCool is solar powered with a built-in inverter, so it can also run on electricity if desired for 24/7 operation. This fan is slightly larger than our previous option at 14" and thus moves 1,486 CFM compared to 900 CFM. It also comes with a 15 year manufacturer warranty.
There are two new programs for our customers to look forward to for the upcoming year. The first is our Ambassador Program. This program will allow us to have a network of "Show Domes" across the nation making touring a Dome easier for those not close to Colorado. The second is our Ask an Expert program where Dome owners and enthusiasts can submit questions via our website to have an expert answer their questions biweekly on our YouTube channel.
We greatly appreciate all of the Dome owners and enthusiasts for your continued support. The Growing Spaces team looks forward to continuing our mission to give back in 2023. If you have been waiting for the right time to join our community, now is that time! Please continue to share your wonderful photos, questions, and commentary to our Growing Dome Owners and Growing Dome Enthusiasts Facebook groups, Instagram, TikTok, and Pinterest accounts. 
Happy growing!
The Growing Spaces Team
Join the Inner Circle
An exclusive place for year-round gardeners. Join us to receive our monthly newsletter, "The Happy Grower". In our newsletter we provide community stories, event updates, expert gardening tips, and exclusive offers.