The Growing Dome® is the best greenhouse for aquaponics systems since it includes an above-ground pond for year-round growing
Why Aquaponics Greenhouses are the Future of Sustainable Agriculture
Aquaponics greenhouse systems have captured the imagination of farmers, gardeners, and sustainability enthusiasts worldwide. They offer a sustainable, soil-less approach to growing crops while conserving water resources. Within these closed ecosystems, edible and ornamental fish coexist with lush plant life, benefiting from each other's presence.
The Perfect Aquaponics Environment: Geodesic Dome Greenhouses
Aquaponic systems require a controlled environment, making Growing Dome greenhouses an excellent choice for housing them. The above-ground pond that comes with every Growing Dome greenhouse kit serves as an ideal home for your fish tank, enhancing energy efficiency and water conservation.
Growing Dome Greenhouses with Aquaponics Systems
We have lots of examples of folks practicing aquaponics in Growing Dome greenhouses but one of our favorite examples is The Aquaponics Project a Growing Dome at the Chesapeake Bay Environmental Center in Grasonville, Maryland.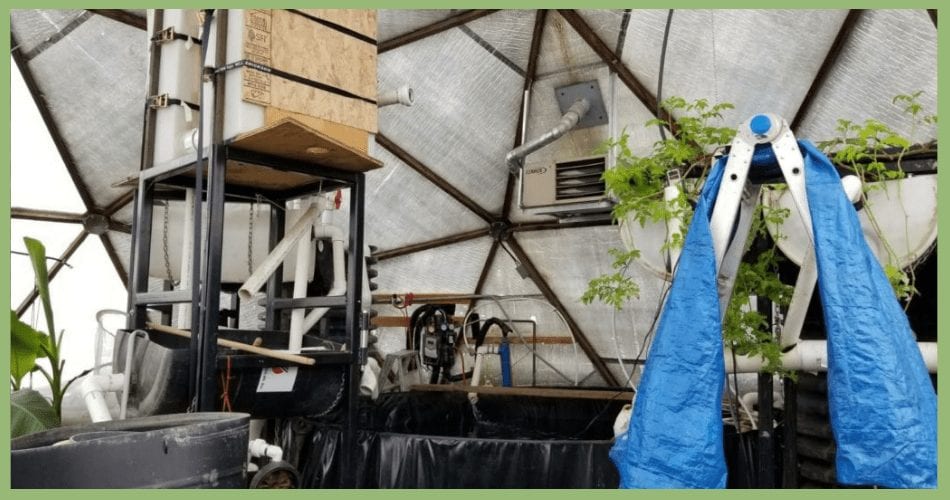 Another great example is Lacombe Composite High and EcoVision Club's project: Lacombe Educational Aquaponics Food System (LEAFS). here students raised Tilapia fish in an above-ground tank within a geodesic dome greenhouse. This initiative significantly reduced greenhouse gas emissions and implemented an ingenious water-recycling strategy, cutting water usage by 70%. Today, Lacombe uses the harvested produce and fish in their school cafeteria and supplies surplus to seven local businesses, showcasing the positive environmental and community impact of aquaponics.
Harvesting Edible Fish in Your Dome
Whether you have an aquaponics system or not, Growing Domes offers opportunities for harvesting edible fish. Tilapia, a popular choice that is used by both examples in the paragraph above, requires proper oxygenation and a minimum tank temperature of 50 degrees to thrive. Learn more about harvesting edible fish in a Growing Dome by watching interviews with experts like Eric Highfield from Santa Fe Community College in the video below.
Types of Aquaponics Systems
Stand-Alone System
A self-contained, stand-alone aquaponics system works very well in the protected environment of the Growing Dome. It will contain a fish tank, raised aquaponics bed, media to fill the bed, water pump, aerator, and all plumbing. Places like the Aquaponics Source specialize in these kits.
Modular System
Individual aquaponic components and filters can be combined with the fish tank in your Growing dome. It is best to plan this in advance when building your Growing Dome, but can also be retrofitted to an existing tank. Pumps, various filtration, and even a Koi toilet can be added to the tank to convert ammonia to nitrates to help fertilize your plants. You can use aquaponic media beds or water your soil beds with a drip irrigation system.
Butch Weaver and the Milk and Honey Farm at the Jewish Community Center in Boulder show us the Aquaponics System in their 42-foot Growing Dome Greenhouse.
Custom System
Growing Spaces can also refer you to resources to help design a fully custom aquaponics system for your Growing Dome.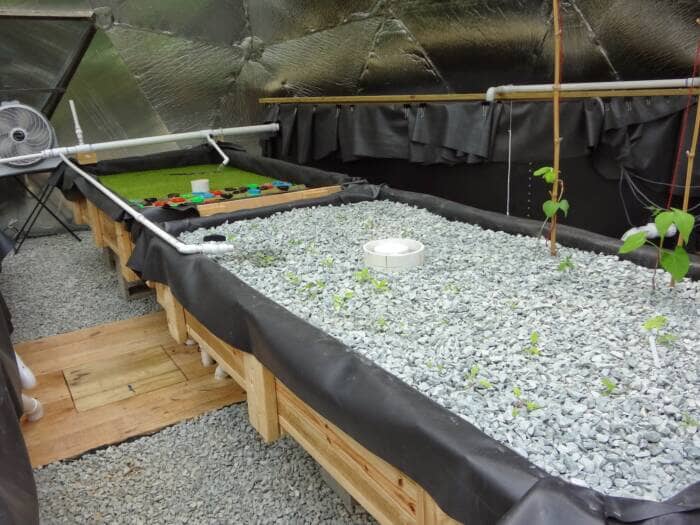 Also, watch this video from Santa Fe Community College about harvesting edible fish in an aquaponic greenhouse.
Want to learn more about aquaponics greenhouses? Download our aquaponics links and resources here.
New to Aquaponics? Download our Beginners Guide here. 
Aquaponics greenhouses open up a world of sustainable agriculture possibilities. Whether you're a seasoned gardener or just starting, the synergy between fish and plants in a controlled environment like a Growing Dome® greenhouse offers a rewarding and eco-friendly path to abundant harvests. Embrace the future of agriculture with aquaponics, and let your Growing Dome be the canvas for your green dreams.
Join the Inner Circle
An exclusive place for year-round gardeners. Join us to receive our monthly newsletter, "The Happy Grower". In our newsletter we provide community stories, event updates, expert gardening tips, and exclusive offers.