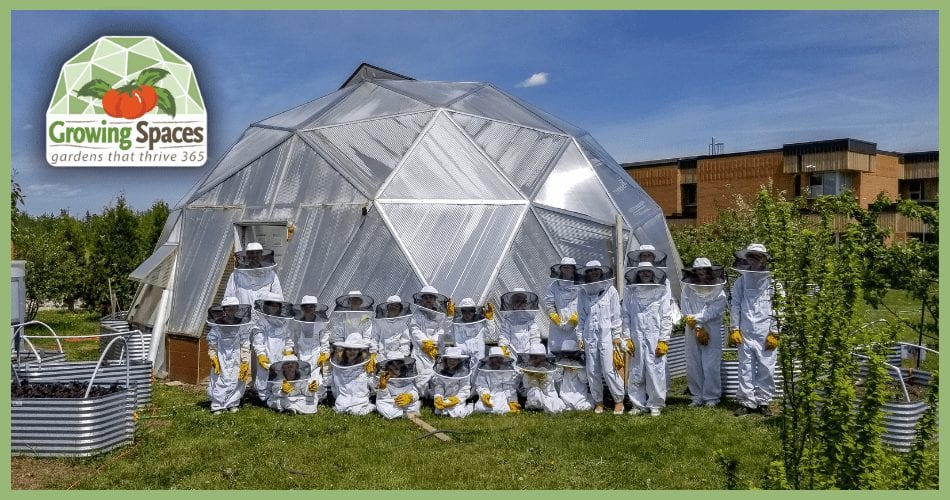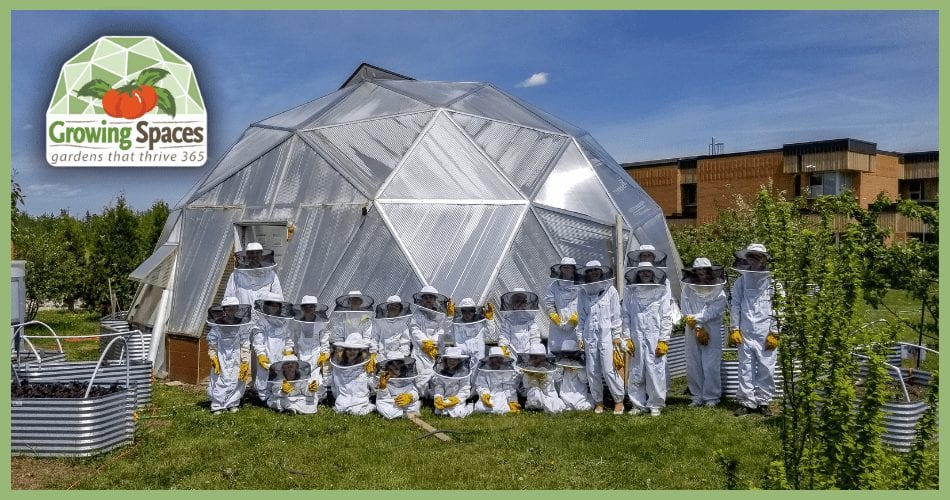 Stories From Growing Domes Across the Globe
Lacombe Composite High School's Geodome Greenhouse Story
August 2019 Growing Dome of the Month
Lacombe Composite High School was the very first commercial Growing Dome Greenhouse that we installed in Canada. 
Their journey began in 2009 when their EcoVision Club wanted to get solar panels installed as a more sustainable energy source. After only a few short months their idea became a reality. However, on September 27, 2010, all 830 students and 70 staff were evacuated from the building when their roof caught fire. Unfortunately their solar panels were completely destroyed. Club director Steve Schultz remembered the moment as being completely devastating. While the rest of the children rejoiced at an unexpected holiday, his EcoVision Club was in tears over the loss of their hard work. 
Rising From The Ashes
The club decided that their new motto would be, "Out of the ashes we will rise," and rise they did! The students realized that they wanted to dream bigger than solar panels. Instead, they wanted a fully operational geodome greenhouse, which is how they came across Growing Spaces.
As a student lead program, the club was in charge of doing all of the work involved in getting their geodome greenhouse operating. They had to conduct all the research, find the funding, and get approval. After two years of grant research and contracting issues, the students were finally able to purchase their 33-foot, energy-efficient geodome greenhouse.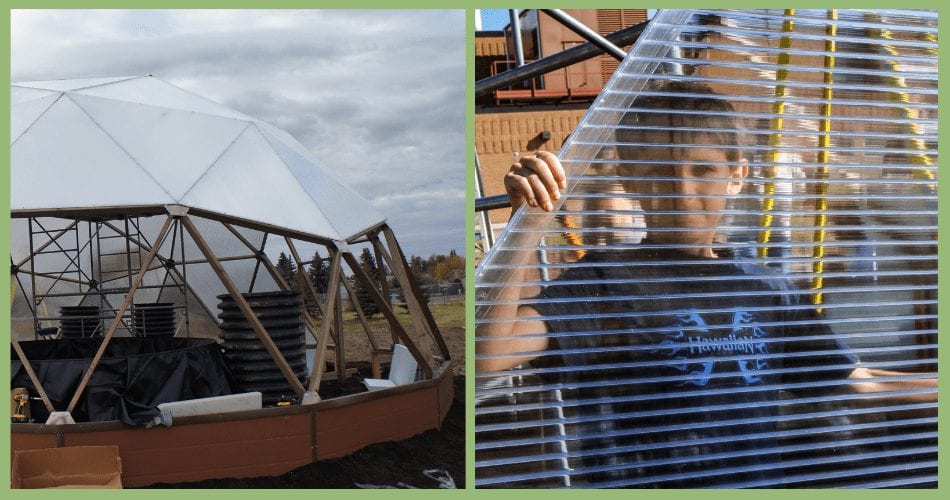 What are they growing?
The construction of their greenhouse was a school-wide effort with students contributing from all grades. It took them three weeks to build the structure. With the help of Jerome at Rocky Mountain Permaculture, the students were also able to add a climate battery. Their geodome greenhouse is currently filled will tropical fruits and veggies such as pineapples, sweet potatoes, bananas, figs, and lemons.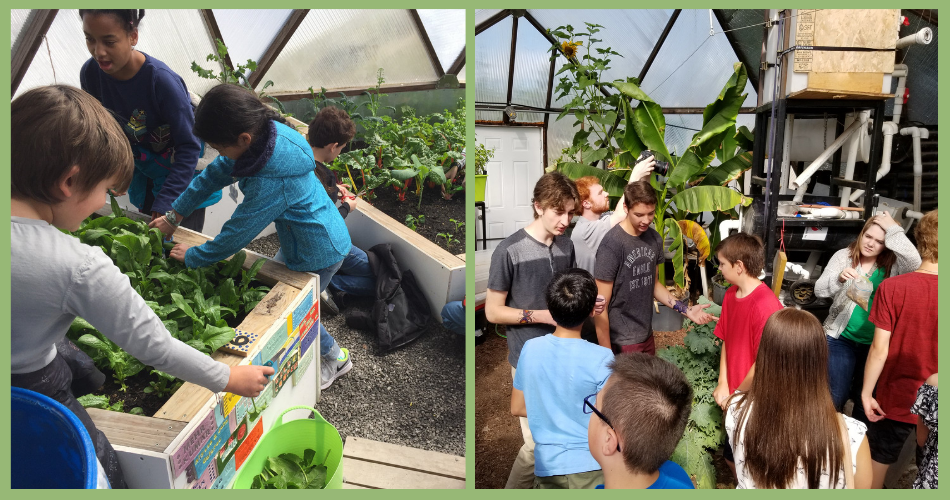 What projects have they initiated?
In 2015 the EcoVision Club started a new greenhouse project, spearheaded by 12 students, called the Lacombe Educational Aquaponics Food System (LEAFS). By raising Tilapia in our above ground tank, the students were able to reduce their greenhouse gas emissions. LEAFS also began reusing the water from their tank to water the plants in their dome. The project was able to eliminate 70% of water use by implementing this system into their growing cycle.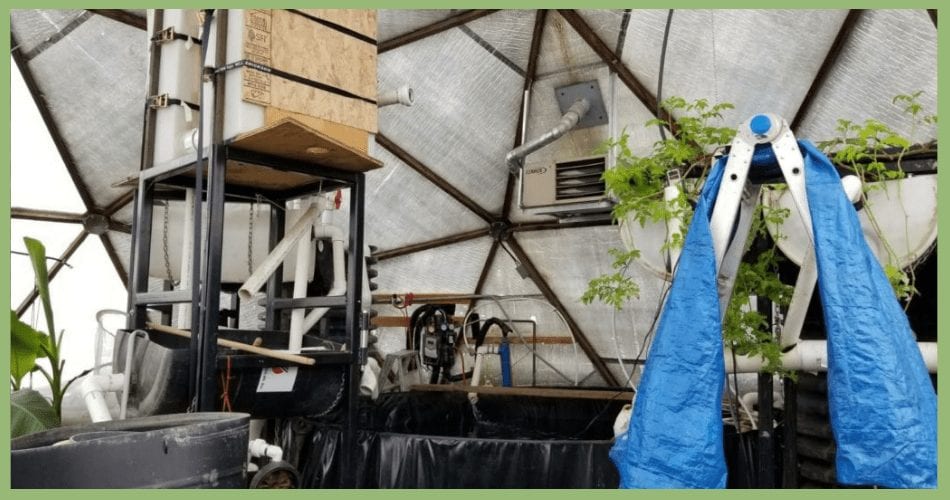 What are they up to now?
As of today, Lacombe Composite High School uses their produce and fish to supplement food in their cafeteria. What is not used in the cafeteria is sold by their Small Business Class Leaders to 7 local businesses. A number of students also decided to sell their produce at the Lacombe Farmers Market. By selling at the market, the students are learning about budgeting and interpersonal skills.
Lacombe Composite High School has also received multiple awards such as the 2014 Central Alberta Caring For Our Watershed Competition, The Greenest School in Canada Award, and The Prestigious Emerald Award, as well as a BPA+ Energy Grant. Steve also received Prime Minister's Award for Teaching Excellence, as apparent in his dedication to the school and his students.
We cannot wait to see the other amazing things that Lacombe Composite High School in Canada will do with their Growing Dome Greenhouse in the future!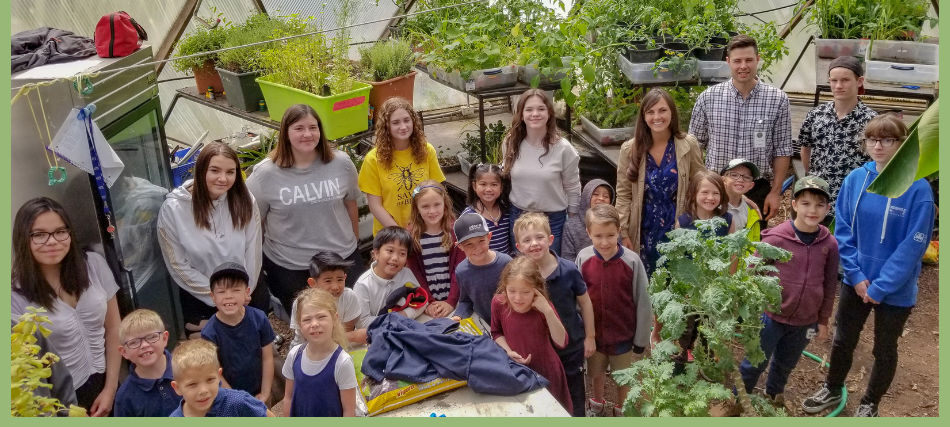 Show off your Geodome Greenhouse
All of our Featured Growing Dome's are highlighted in our monthly newsletter "The Happy Grower", on our social media platforms (Facebook and Instagram), and in our blog. At the one year mark of our newsletter, we will be creating a yearly calendar that includes every Dome of the Month. Apply here.
Join the Inner Circle
An exclusive place for year-round gardeners. Join us to receive our monthly newsletter, "The Happy Grower". In our newsletter we provide community stories, event updates, expert gardening tips, and exclusive offers.