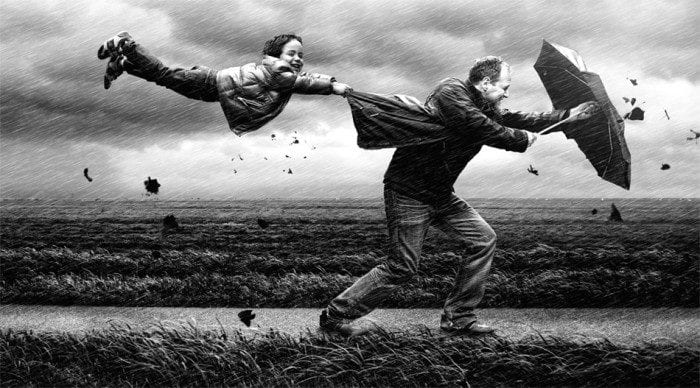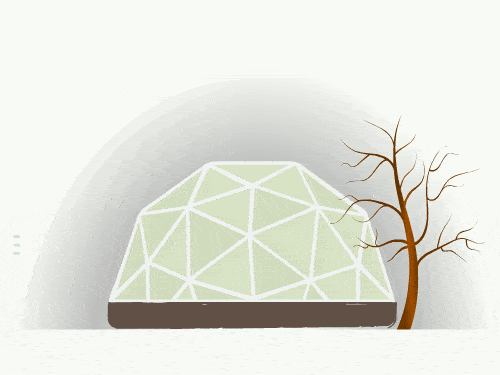 Growing Dome® Known to Withstand Hurricane Force Winds
The strong, wind resistant structure of a geodesic dome greenhouse is inherently wind proof, which is why the Growing Dome is the best greenhouse for wind and extreme weather, hands down! Google best greenhouse for wind and you'll find best practices and conventional wisdom for protecting your greenhouse from wind.
But you shouldn't need to protect your greenhouse from the wind. You should invest in a greenhouse that is naturally wind proof. Consider for a moment: "An 80 mph wind can produce a pressure of 16 pounds per square foot (psf). For example, the 10′ by 100′ sidewall of a gutter-connected greenhouse would have to resist a 16,000 pound force."- UMass Amherst
"I've seen high winds lift an entire greenhouse and dump it 3 plots away, the glass in shards and the frame looking like a giant has tied knots in it."- Allotment and Garden
Why a Growing Dome is the Best Greenhouse for Wind
With a Growing Dome, you don't have to protect your greenhouse from the wind. You can rest assured your garden is safe. You protect your plants without worrying about your greenhouse.
The Growing Dome is incredibly windproof. It doesn't give the wind anything to resist.
It's the difference between flow and impact. Wind simply flows around a Growing Dome. Instead of wind impacting a large surface area – like the broadside of a rectangular greenhouse – it flows around the geodesic shape – distributing the forces back towards the ground.
There are no large flat surfaces for the wind to push against.
A traditional greenhouse structure has a point of weakness that buckles under the strain of the wind.
A Growing Dome distributes stress evenly throughout all points of the structure.
The glass walls on a traditional greenhouse often go all the way to the ground. A solid foundation does not support the wall of glass. A Growing Dome fastens to a foundation wall with an engineered anchoring system.
The foundation wall also serves as the exterior wall for the indoor grow beds. Grow beds filled with 4-10 tons of soil depending on the size of the beds. When high winds impact the surface area of a traditional greenhouse, it wants to push the structure sideways. It will usually buckle at the structural point of weakness.
With a Growing Dome:
No large flat surface area.

No point of weakness. Stress distributes evenly across the structure.

The Dome securely anchors to a foundation wall, which holds tons of soil.

The foundation wall securely anchors to the ground.
Furthermore, a Growing Dome comes with an Above Ground Pond – the power pack temperature regulator. Filled with water, it also secures to the foundation wall, and adds another anchoring device, further strengthening the stability of the Growing Dome.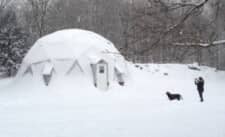 Your Growing Dome is protected from high winds, hail and heavy snow loads!
Growing food in a greenhouse protects your plants from wind. Outdoor gardening is challenging in windy areas.
Wind negatively affects plant growth by:
Burning and breaking leaves

Stunting plants and leaving them lopsided

Shaking roots

Snapping trunks and stems

Lowers air temperature

Dehydrates

Damages flowers and fruits

Disrupts pollination
A safe and protected indoor space helps you successfully grow, especially if you live in a windy area. It used to be there were windy areas. Now, more and more people tell us they live in a windy area. Places traditionally not thought of as windy. Click this link for wind map.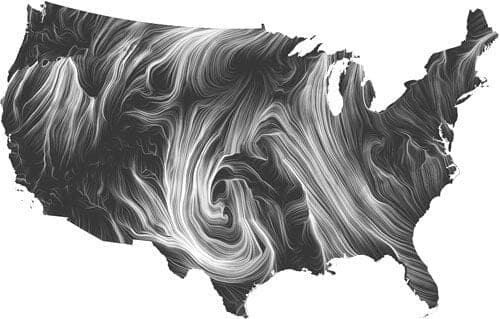 Is wind becoming more severe? Is nature becoming more violent? I don't know for certain, but I do know greenhouses are supposed to be safe havens. Safe havens for our gardens. We want to protect our gardens from undesirable outside influences – like wind, snow and hail. But end up worrying about the safety of our greenhouse.
What about Wind Missiles?
With a traditional glass greenhouse, it is imperative you keep surrounding areas clear of objects, which might smash through the glass when picked up and hurled by the wind.
The polycarbonate on a Growing Dome can withstand a 16 lb. weight dropped from 25 feet with no breakage. Those figures come from testing on 8mm polycarbonate. Many dome owners choose 16mm. Its impact resistance would be much higher. See the post Best Greenhouse Covering for Unpredictable Weather for the benefits and strengths of polycarbonate as a greenhouse covering.
However, just because your Growing Dome can handle wind borne yard missiles, please keep surrounding areas clean. You never know who or what else might be in the crossfire!
The Growing Dome is engineer rated for 90 mph winds and has the ability to be engineered higher. We've received numerous reports of Growing Domes withstanding up to 130 mph in Montana, Alaska, and the front range of the Colorado Rockies.
15′ Growing Dome Greenhouse Survives Hurricane Force Winds in Pine, CO
The dome owner writes – "I just wanted to let you know that our dome survived the recent hurricane force winds and all the flying debris such as broken tree branches. We had gusts of winds measuring up to 115 mph (but that is as high as the anemometer will register). All around the dome there was destruction and chaos of debris. The dome survived beautifully. Thank you for providing such a quality product. I love my Growing Spaces Dome!"
Traditional greenhouses have a point of weakness. Glass breaks. Flexible coverings flap and abrade in the wind and eventually wear out. The Growing Dome's geometry and strength provides flow, traditional greenhouses provide area for impact.
With a Growing Dome, there is nothing for the wind to push against. It secures to a foundation wall with an engineered anchoring system. The foundation wall secures to the ground with an engineered anchoring system. The weight of the soil beds and the above ground pond add further strength and stability.
The wind is going to blow. Chances are it's going to blow hard. In addition, you probably live in one of those "windy areas."
If you want to protect your garden without worrying about protecting your greenhouse. If you want the best greenhouse for wind, the Growing Dome delivers the safe haven.
Please contact us if you'd like to get more information on Growing Domes. Or to receive more informative gardening and Growing Dome articles, please sign up for our monthly Newsletter "The Happy Grower".
Join the Inner Circle
An exclusive place for year-round gardeners. Join us to receive our monthly newsletter, "The Happy Grower". In our newsletter we provide community stories, event updates, expert gardening tips, and exclusive offers.