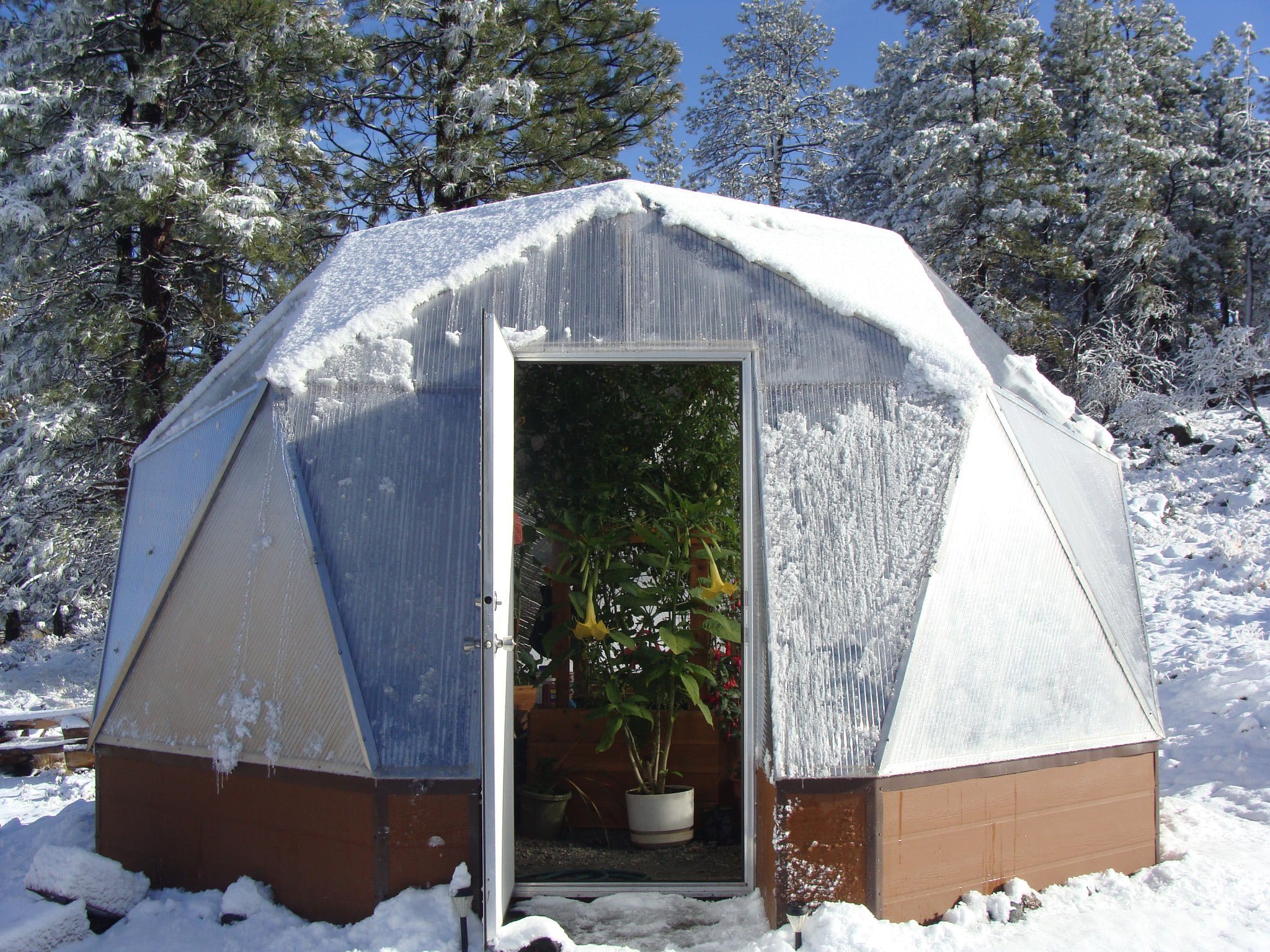 Winter Gardens:
The Only Suitable Response to Punxsutawney Phil
The most wanted groundhog in America, maybe the most wanted groundhog in the history of mankind, makes a case for winter gardens.
No other groundhog sees tens of thousands of people gathering to hear the final say on the conditions of their next six weeks. The crowds gathered on Gobbler's Knob like they've done since 1887 and the verdict is out.
He saw his shadow. Winter is here to stay. Some people are mad. They're tired of winter and ready for it to be done. But I like winter.
I'm with the skiers and plow truck drivers. I celebrate winter.
If I could, I'd bribe that little guy every year to run back into his hole. Not because I like cold, snow, heating bills, and my car in a ditch.
I Like Winter Because I Like Gardening
Paradoxical statement?
I believe gardening is a revolutionary act and makes the world a better place. So why not garden all year-round? Why not grow winter gardens?
Not many people talk about growing food in the winter. But that's kind of our thing. We grow food in winter.
For people who want to grow all year-round, regardless of the predictions of Punxsutawney Phil, the Growing Dome® creates an amazing advantage. It's a powerhouse for growing food during any season, but winter is when it really shines.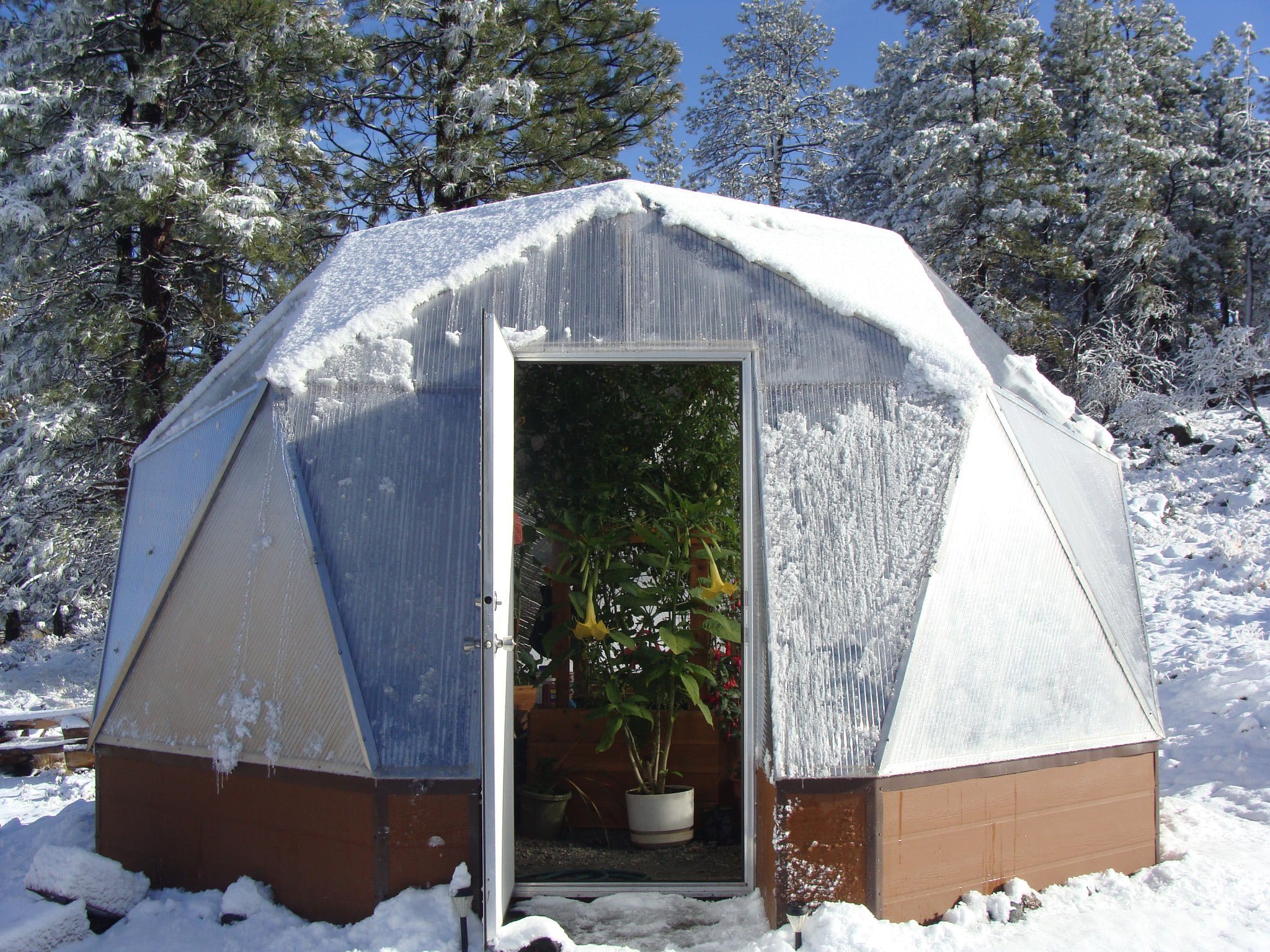 Winter is typically the bane of the year-round gardener. And now, our notorious whistle pig weather predictor gave us six more weeks of it to rob our garden sanctuaries.
Grocery store produce aisles bear witness to the saddened faces of gardeners with no dirt in their fingernails. They buy limp grocery store carrots because they think they have to – not because they want to. They falsely assume there are no other options for growing food in the winter.
A Growing Dome Outperforms a Traditional Greenhouse Spring, Summer, and Fall. But Come Winter…
Thanks to the visionary insights of leaders like Buckminster Fuller, John Denver and the Windstar Foundation, and Growing Spaces® founder Udgar Parsons, a geodesic dome evolved into a bio-dome that matured into a Growing Dome. A garden sanctuary suitable for your backyard.
Suitable for, no, extraordinary for winter gardening.
A Growing Dome outperforms a traditional greenhouse Spring, Summer, and Fall. But come Winter, when temperatures plummet outside, and snow piles high, and seasonal affective disorder kicks in, the Growing Dome passively regulates its own temperature, and creates a safe indoor garden sanctuary.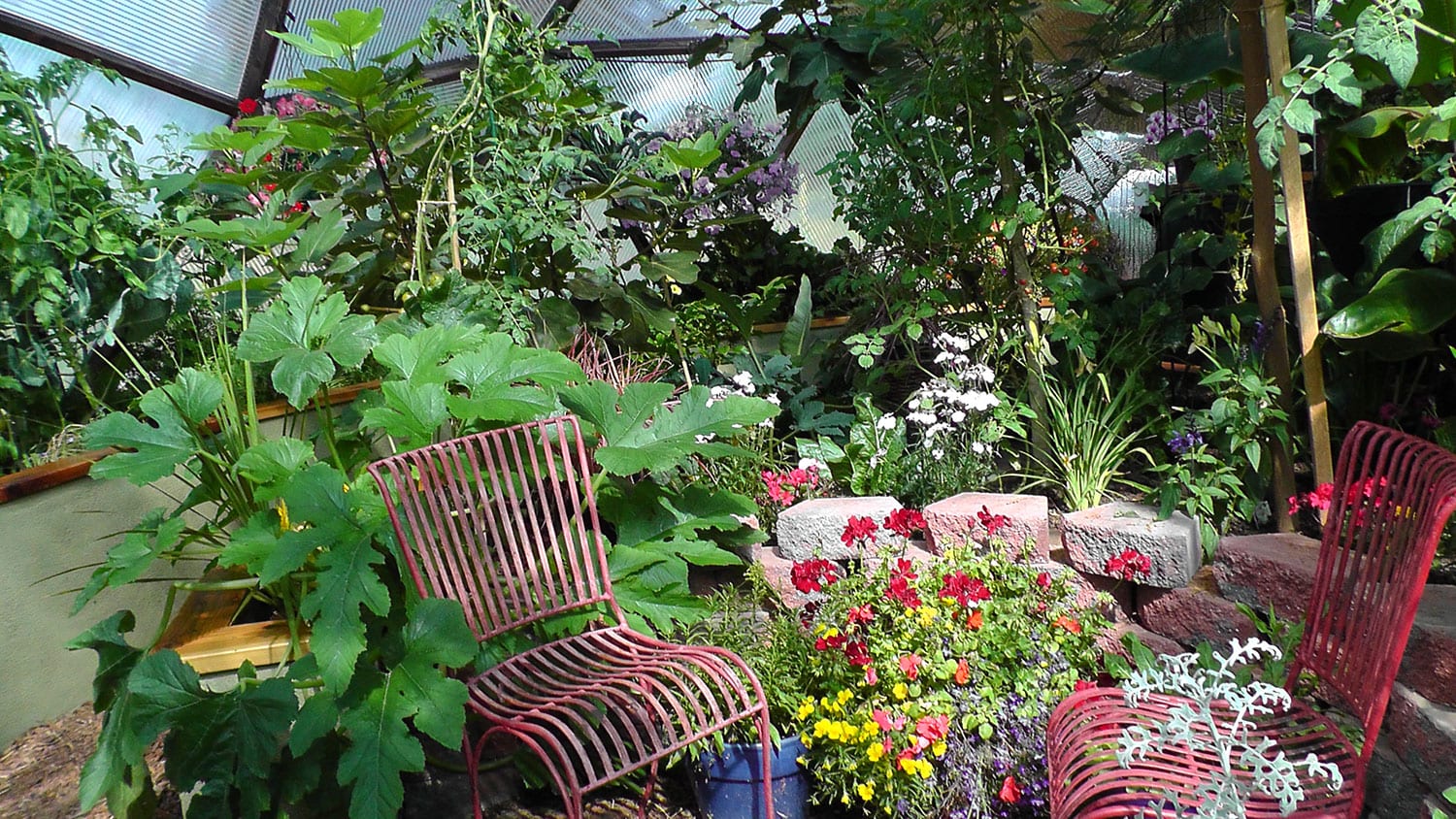 If you play your winter cards right, you can cross country ski during the day, have hot chocolate with a significant someone next to the fireplace in the evening, and then drop into your Growing Dome winter garden to harvest your dinner salad.
The Growing Dome is Made For Winter Gardens
See, I like Punxsutawney Phil and his shadow. I celebrate winter as a time for Growing Domes, winter gardens, and a growing food revolution.
Some things are simply made for certain circumstances. Stock cars are great for the race track. They could serve as a commuter, but it's probably not the best choice for back and forth to the office.
You can make do with a washtub.
It's possible to wash your clothes by hand. In fact, I think it's romantic in a nostalgic, desire to have a low impact, kind of way.
But a washing machine makes it faster, easier, and more effective. If we could only get them hooked up to solar panels we would be doing great.
The Days Between December Solstice and March Equinox, The Growing Dome Keeps On Growing.
The Growing Dome makes winter gardening possible. More than possible, it is like the washing machine?
No, I don't really want to compare a Growing Dome to a washing machine, or a race car, but you get the point. This thing is made for winter growing.
It makes winter gardening easier, predictable, and enjoyable.
If you want a dependable, reliable winter garden.
If you want to snub your nose at the groundhog meteorologist, then do yourself a favor and investigate the Growing Dome.
Explore the sizes and prices of a Growing Dome and see if it's a good fit for you. Then read about the return on investment for year-round, homegrown food.
You can custom build your dream Growing Dome online to tally up costs and shipping. There is no obligation, or strings attached whatsoever, to use this feature.
Winter is here to stay. Phil saw his shadow and says six more weeks of winter. I say bring it on.