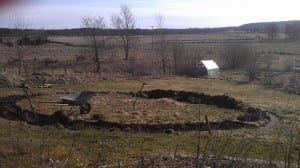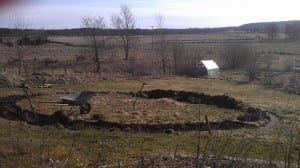 Many of us can look at this photo and envision what will be a great adventure. Site selection, solar orientation, leveling the ground, leveling the ground, leveling, leveling, and more leveling. You get the picture, but wait…
Where in the world is this future 26′ Growing Dome site? These iconic photos have become the feature of a little contest I came up with called " Where in the World". Submit your guesses to where in the world you think this may be by simply submitting a comment to this blog post with the continent, country and region or town by April 30th, 2012. I'll select the 1st, 2nd, and 3rd closest winners and contact them by email. As a reward for your great guesswork, Growing Spaces will send out organic, heirloom vegetable seed packets, my choosing, to our three winners.
Hint! Hint! It's not in Colorado, USA.
Enjoy, Richard the Growing Dome Vent Maker