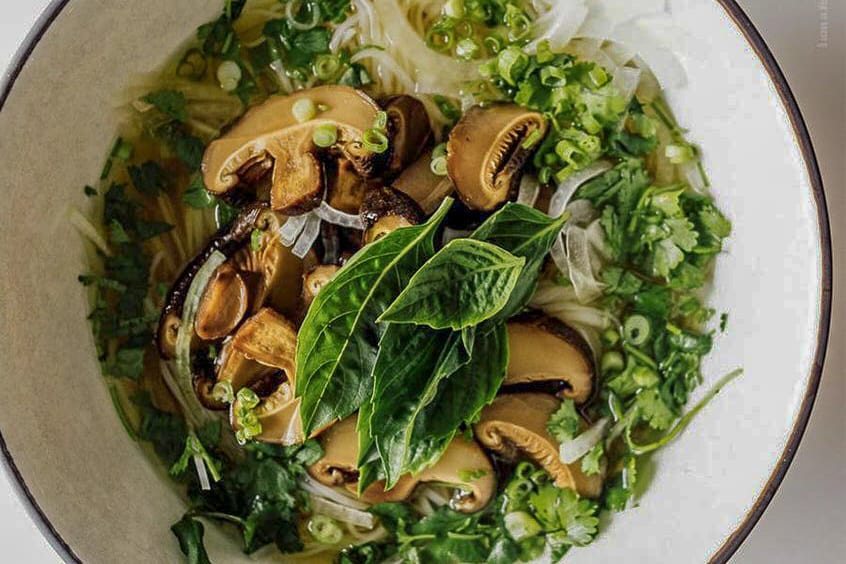 Fully Loaded Feel Better Vegan Pho
I took a class with vegan chef Tess Challis to learn how to make this dish specifically, and I have simplified and streamlined it here for you. This is a comforting dish from a food culture that I incorporate into my everyday lifestyle. The secret to making delicious vegan pho is layering different flavors to create a rich and fragrant broth.
Pho is a traditional Vietnamese soup that is pronounced "FUH" even though I always say FO (faux) and then correct myself. I have heard all the jokes on the pronunciation but it's time to put that to rest and give this recipe a try!
Pho is traditionally served with pork, so you omnivores can add pork, chicken, beef, seafood, or tofu for even more depth of flavor that will soothe your mind, soul, and body.
Makes: 4 bowls Total Time: 2 hours
What you need:
INGREDIENTS:
Broth
6 cups vegetable broth (I use a bouillon)
¾ cup shiitake mushrooms (I like fresh but you can use dried)
1 cup onion, chopped
6 cloves garlic, minced
¼ cup ginger, unpeeled and chopped
2 star anise pods, dried
4 tbsp tamari
¼ cup basil and stems, chopped
¼ cup cilantro and stems, chopped
¼ cup leeks or green onion, chopped
2 tbsp sesame seeds
1 tsp red chili pepper flakes
¼ tsp smoked paprika
white or black pepper to taste or your preference
Noodles
8 ounces of wide brown rice noodles (i.e.: like the ones for Pad Thai)
Toppings
1 cup sautéed shiitakes

sesame oil


As much as you would like of the following:

jalapeños, sliced

edamame, shelled

red pepper flakes

cilantro leaves

basil leaves and stems, chopped or whole

bean sprouts

mint

lime wedges

leeks, chopped

pruned bok choy or green onion

sriracha
Prep & Cook:
First set your oven to broil and slice your onion in half.


Take a pastry brush and brush the fresh-cut face side of onion with sesame oil or olive oil (or your favorite).

Place the onion on a baking sheet and broil for 7-15 minutes so that the onion is brown and charred.

Bring the 6 cups of vegetable stock to a boil in a medium-size pot along with all of the other broth components:

¾ cup of shiitake mushrooms (I like fresh but you can use dried), 1 cup of chopped onion, 6 cloves of minced garlic, ¼ cup of unpeeled chopped ginger, etc.)

Reduce heat to simmer and then cook for 45 minutes to an hour. *Stir with a wooden spoon on occasion. It will become very fragrant.

Prepare the noodles according to the package. *I usually make them al dente because they will be permeating in the rich broth.
*A little dash of salt and oil will keep them from over boiling and sticking.

Last remove the broth from the heat. Strain the broth out, I know it is counterintuitive but save the broth and discard the rest.
Don't let autopilot take over on this step!

Add the noodles and broth to each bowl individually. Then you can garnish place each topping in separate bowls and let your crowd garnish themselves.

We all like it different. I like mine spicy. Serve it up and squeeze on your lime juice and sriracha.



ENJOY.