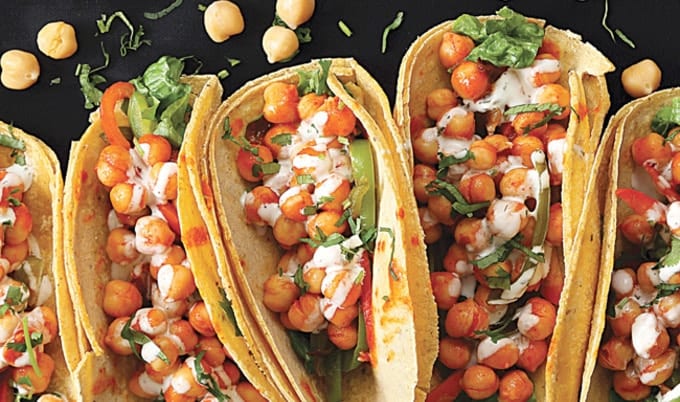 Vegan Buffalo Chickpea Tacos
Spice up your next taco night with food from your dome and an easy-to-follow recipe from peppers and chickpeas combined with a spicy buffalo sauce and a cooling drizzle of ranch in this flavorful take on traditional tacos.
Serves 4
What you need:
⅓ cup hot sauce
3 tbsp sriracha sauce
2 tbsp extra virgin olive oil or melted non-dairy butter
1 tsp distilled white vinegar (optional)
2 to 2½ cups cooked chickpeas, drained, rinsed, and cooled
1 cup vegan ranch dressing, divided
1½ cups celery or cucumber, finely chopped
1 tsp organic safflower or other neutral oil
1 medium green bell pepper, thinly sliced
1 medium red bell pepper, thinly sliced
½ teaspoon salt, divided
8 to 10 tortillas or taco shells
2 cups baby spinach

What you do:
1. Into a medium-sized bowl, combine hot sauce, sriracha, olive oil, and vinegar. Add chickpeas to sauce, then set aside. Into another bowl, combine half vegan ranch dressing with celery. Into a third bowl, thin other half of dressing with water, if needed.
2. Into a large skillet over medium-high heat, add safflower oil, green bell pepper, red bell pepper, and ¼ teaspoon salt. Cook until bell peppers are golden, 4 to 5 minutes, stirring occasionally. Warm tortillas, if desired.
3. Add baby spinach, roasted bell peppers, celery, and remaining ¼ teaspoon salt to taco shells. Top with chickpeas and a generous drizzle of ranch dressing to each taco, and serve.
Written By: Kenzie Jackson, our Director of Marketing. With a degree in Marketing and Communications, she has spent years perfecting her art of storytelling. When she's not working on marketing campaigns for Growing Spaces, she is adventuring in Colorado's high alpine. The rest of the time you will find her working on her passion project Colorado Adventure Babes.