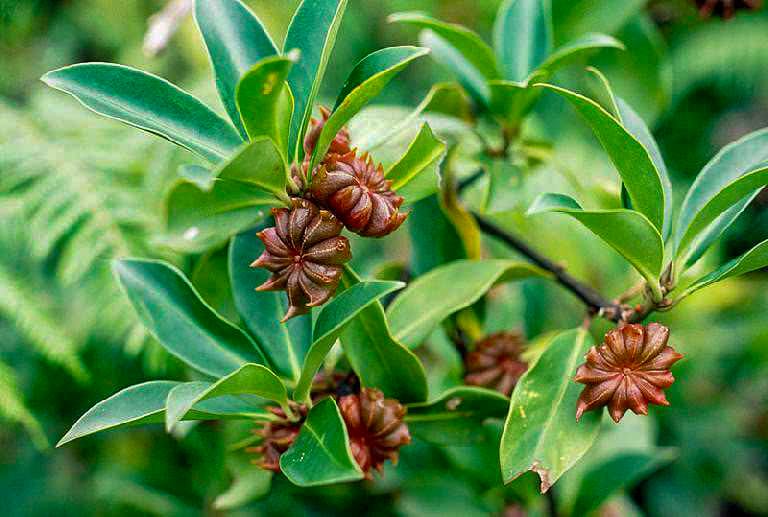 It's here, the dreaded cold and flu season. I got an early start this year after countless hours in the airport traveling back and forth from Thailand. After two weeks of spicy flu fighters and immune boosters in Asia, I was inspired to come home and share them with you. So, here they are, my top 5 plants that fight the flu and how I prepare them at home. If you are a dome owner, you have the added luxury of pulling these herbs right from your greenhouse.
I prefer to use the following herbs in various forms of tea. Not only is it delicious with a little bit of honey, but a hot herbal drink will aid in clearing your throat and sinuses.
Star Anise
Also known as the ultimate flu fighter, Stair Anise is native to China and is a critical part of ancient Chinese medicine. This fruit grows from a tropical evergreen tree that thrives in temperatures that never drop below 15F. For those gardeners who live in a colder area below USDA zone 9, you can plant your tree in a pot inside of your Growing Dome. Today it is the main ingredient in common over the counter flu medicines like Tamiflu.
The taste is similar to that of black licorice. Star Ansie is one of the most common ingredients in curry. While in Thailand, I ate so much Massaman curry. I am excited to make it at home. Although I must admit, I have had my fill of curries for a while. If you are not a fan of spicy food, might I suggest giving this Cinnamon Star Anise Green Tea recipe a try? Pro Tip: add extra honey.
Turmeric
Turmeric contains a powerful antioxidant and anti-inflammatory called curcumin that is used to fight the flu and prevent it. A typical teaspoon of ground turmeric contains 200 milligrams of curcumins. 500 to 1,000 milligrams of curcumins are recommended daily to get the benefits of their anti-inflammatory properties. Although it is seen in grocery stores as yellow/orange powder, it grows as a root and thrives in warmer climates. With a little extra work and the power of a Growing Dome greenhouse, the rhizomes can be nurtured in USDA zones lower than 7. Turmeric is used in all sorts of recipes such as curries, meat dishes, and my personal favorite Golden Milk Turmeric Tea. If you feel a cold coming on, this recipe is critical. It can be made as many as five days in advance.
Ginger
Similar to turmeric in many ways, ginger also grows as a root in warmer climates but can be easily cultivated in various zones. Ginger contains gingerol; not only does gingerol give the root its pungent smell, but it is also an anti-inflammatory. Hence its ability to calm an upset stomach, loosen up congestion due to a cold and reduce nausea. I'm sure it's not a surprise to see it on this list. I'm a big ginger fan. I drink it in kombuchas, eat it on chicken, and have a million tea recipes that revolve around it. Lemon ginger tea tops them all! When my throat is bothering me, I drink it warm but I enjoy it even when it's freezing outside.
Fresh Garlic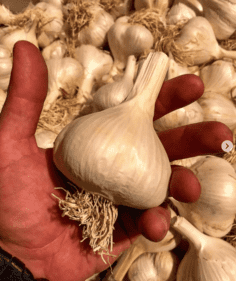 I am frequently described as the person who puts garlic on everything. I found myself saying, "I wish this curry had garlic in it" more often than not while I was on vacation. A fun fact that you probably didn't know is that in order for the cold-fighting compound, alliin, found in garlic to do its job, it has to be converted to allicin by getting crushed, chewed or sliced. Garlic might be the only plant on this list that can be grown in colder climates outdoors. Although there are many recipes for garlic teas on the internet, I have never tried one, nor do I intend to. Instead, I will stick with my weekly consumption of roasted garlic.
Cloves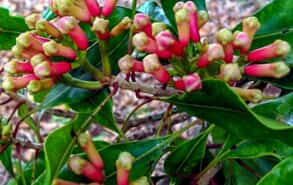 Not unlike most of this list, cloves require a hot and humid climate. Luckily those of us who are not fortunate enough to live in a tropical place can create this type of climate inside of a Growing Dome. Cloves are another superhero anti-inflammatory. They are great for kicking the common cold as well as any respiratory infection. My recipe for cloves is easy. I add two cloves and a dash of cinnamon to my coffee on mornings I am feeling down.
I am by no means a culinary expert or a doctor. These are just the things that work for me. Interested in more organic remedies? Check out our article 5 Garden Herbs for Flu Season. Share your recipes with me and sign up for our newsletter below to get monthly dome grown recipes from my coworker and vegan queen Kesy!
Join the Inner Circle
An exclusive place for year-round gardeners. Join us to receive our monthly newsletter, "The Happy Grower". In our newsletter we provide community stories, event updates, expert gardening tips, and exclusive offers.