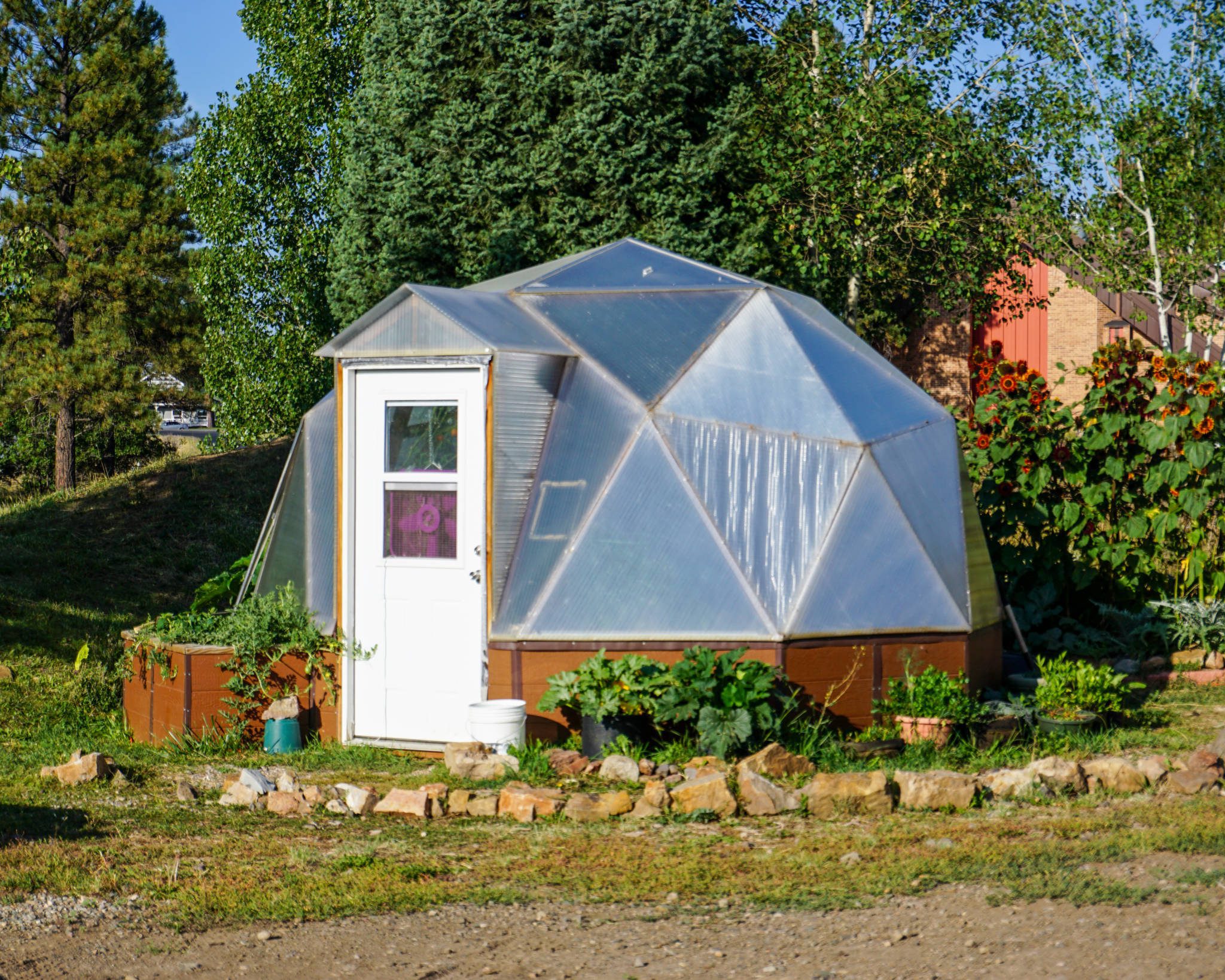 As a conscious consumer, I care that the companies I invest my hard-earned money into value the same things I do, specifically that they are making conscious choices to achieve a sustainable future. I want to know that they are walking the walk, not just talking the talk. 
In my three years with Growing Spaces, I can confidently say that we are walking our walk. We have made changes from small everyday decisions like reusing packing materials and recommending new uses for shipping crates.
Sustainable Solar Power
Our domes are entirely solar-powered by design, and so are our offices. In fact, our original facility has run primarily off of solar power since 2011. More recently, we installed solar-powered panels on the rooftop of our new 7500 square foot building. We also added a solar powered car charger in 2023 for our customers to charge up as they tour the greenhouses on site! Our forklifts are solar-powered as well, and they aren't wimpy; they lift heavy loads. Our staff also participates in energy-saving activities that help us make the most of the solar power we have. We minimize our phantom loads by routing all computers through power strips and turning power strips off each night.
Recycled Polycarbonate & Off Cuts
Our five-wall polycarbonate glazing is 100% recyclable and manufactured in the US and Mexico. And our greenhouse kits have been designed to reduce waste by optimizing the dimensions to match the polycarbonate sheets. To go even further, whenever we cannot use a full polycarbonate sheet, we safely store the off-cuts for community members to pick up for FREE. Come by our shop and see what is available!
Help Make The World Better One Gardener at a Time
Growing Spaces' goal is to support people who want to live sustainable lives by relying less on fossil fuels and growing organic fruits and vegetables. Fossil fuels are widely relied upon for transportation in our country, and foods are shipped worldwide to our markets. In addition, many of these foods are peppered with fossil fuels in the form of pesticides, herbicides, and fertilizers. However, Growing Spaces' product allows individuals to grow their own food year-round in their backyards.
Chief Growing Officer, Lem Tingley, did the research and found that growing your own food can help save 1.5 tons of CO2 per person per year. Our dream is to help create a world where everyone can grow their food efficiently and reliably, but we know realistically that is not possible for everyone right now. So, if you can't cut out the middle man (aka grocery stores) just yet, we hope our video encourages you to try some of the other ways to reduce, reuse, and recycle at no cost to you.
Join the Inner Circle
An exclusive place for year-round gardeners. Join us to receive our monthly newsletter, "The Happy Grower". In our newsletter we provide community stories, event updates, expert gardening tips, and exclusive offers.