Servings: 12 (one serving per stuffed shroom)
Growing up, one of my favorite dishes was my Nana's stuffed mushrooms. Her recipe, inspired by our family's Sicilian heritage, featured caprino cheese and spinach. To recreate this beloved dish, I've made a few adjustments, as caprino cheese can be hard to find locally. I opted for organic creamy goat cheese from a nearby natural grocery store instead. The addition of Swiss chard brings a fresh twist to the recipe, infusing it with unique flavors and added nutritional benefits.
All Swiss Chard & Goat Cheese Stuffed Mushroom Ingredients:
12 large button mushrooms
1 tablespoon olive oil
1 small onion, finely chopped
2 cloves garlic, minced
1 bunch Swiss chard, stems removed and leaves chopped
6 ounces of goat cheese
2 tablespoons grated Parmesan cheese
1/4 teaspoon red pepper flakes (optional)
Salt and pepper, to taste
Mushroom Stuffing Instructions:
Preparation time: Approximately 20 minutes | Cooking time: Approximately 15-20 minutes
The preparation time includes tasks such as cleaning the mushrooms, chopping the ingredients, and preparing the filling. The cooking time refers to the baking time in the oven to cook the stuffed mushrooms until the mushrooms are tender and the filling is lightly golden.
Please note that the time can vary depending on individual cooking skills and equipment used. It's always a good idea to keep an eye on the mushrooms while they are baking to ensure they are cooked to your desired level of tenderness.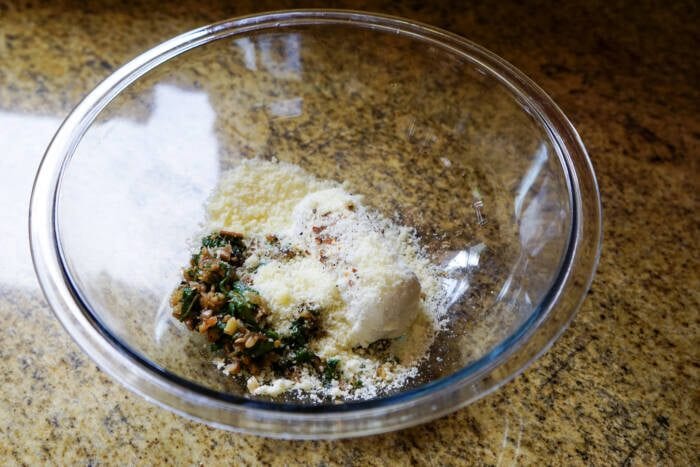 Preheat your oven to 375°F (190°C). Lightly grease a baking sheet or line it with parchment paper.
Clean the mushrooms by wiping them with a damp cloth. Remove the stems and set them aside. Arrange the mushroom caps on the prepared baking sheet, hollow side up.
Finely chop the mushroom stems.
Heat the olive oil in a skillet over medium heat. Add the chopped onion and minced garlic, and sauté until the onion becomes translucent and fragrant about 2-3 minutes.
Add the chopped Swiss chard leaves and mushroom stems to the skillet. Sauté for another 3-4 minutes until the Swiss chard has wilted.
In a mixing bowl, combine the sautéed Swiss chard mixture with the goat cheese, grated Parmesan cheese, red pepper flakes (if using), salt, and pepper. Mix well until all the ingredients are evenly incorporated.
Spoon the Swiss chard and goat cheese filling into the mushroom caps, pressing it down gently to fill the cavity.
Place the stuffed mushrooms on the baking sheet and bake them in the preheated oven for approximately 15-20 minutes, or until the mushrooms are tender and the filling is lightly golden.
Remove from the oven and let the stuffed mushrooms cool for a few minutes before serving.
Arrange the Swiss Chard and Goat Cheese Stuffed Mushrooms on a serving platter and garnish with fresh herbs, such as parsley or thyme, if desired.
These Swiss Chard and Goat Cheese Stuffed Mushrooms make for an elegant and flavorful appetizer, perfect for entertaining or as a tasty addition to any gathering. Enjoy their savory and creamy combination with a touch of Swiss chard goodness!
Are you interested in more Swiss chard recipes? We recommend this Swiss chard salad.
Join the Inner Circle
An exclusive place for year-round gardeners. Join us to receive our monthly newsletter, "The Happy Grower". In our newsletter we provide community stories, event updates, expert gardening tips, and exclusive offers.