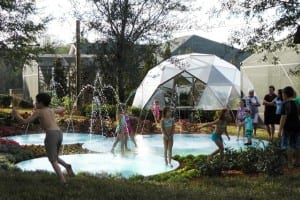 FOR IMMEDIATE RELEASE
SUBJECT: Geodesic Greenhouse Manufacturer to Appear on HGTV Backyard Makeover Show
Growing Spaces is proud to announce their upcoming appearance on an episode of My Yard Goes Disney. The series features families who win a surprise backyard makeover that is Disney themed and is in its second season on HGTV (Home and Garden Television). With around million viewers in the first season, My Yard Goes Disney has added additional episodes this year. The Epcot Inspired Backyard episode will feature a 22' diameter Growing Dome® greenhouse manufactured and constructed by Growing Spaces® LLC of Pagosa Springs, Colorado. It features a family from Orlando, Florida and will air on Friday, June 22nd at 8pm e/p on the HGTV cable station.
"Up to now, Florida was the only state in which we have not had a Growing Dome. This exciting opportunity for this family completes our desire to have a Growing Dome in every state across the USA. We are celebrating that more and more people want to grow their own fresh, organic food. We are thrilled to be at the forefront of education about healthy, green lifestyles," says Udgar Parsons, co-owner and founder of Growing Spaces. Udgar Parsons will be on the show with certified Growing Dome installer and founder of Global Children's Gardens Alan Werthan to orchestrate the Growing Dome greenhouse build and to share his vision of eco-friendliness.
The lucky family chosen to receive this makeover specifically requested a Growing Dome to represent Disney's Epcot Center. "The owner's choice to have this is showing people's trend toward being more self-sufficient and proactive about their nutrition," says Udgar Parsons of Growing Spaces.
The family saw the greenhouse as an image of their love of science and as a way to grow their own food. This family of five had unsuccessfully tried to grow food in their backyard before the makeover and lost all of their crops to wildlife grazing. Concerns over food safety and a desire to provide healthy food for their children lead the parents to their dream of a Growing Dome. This dream comes true in the My Yard Goes Disney episode airing on HGTV on Friday, June 22nd at 8pm e/p.
About Growing Spaces®: Growing Spaces' energy-efficient geodesic greenhouse design gives the ability to grow organic food year-round, especially in a four season climate, using solar power. Aiming to be a part of the 'solution' to the problems of our times, Growing Spaces models the success of economic viability and social responsibility along with eco-friendliness. Initially designed and built in the Rocky Mountains, Growing Domes® are now found in all 50 states and in 14 countries. The Growing Dome greenhouse is a solution for sustainable projects that are private and public, and acts as a centerpiece for many schools and institutions that model holistic health. Growing Spaces has been manufacturing Growing Domes since 1989. growingspaces.com
About the My Yard Goes Disney episode: My Yard Goes Disney Season 2, Episode 5
With Questions Contact: Stacey L. L. Couch
stacey@growingspaces.com or (970) 731-2120 ext. 205