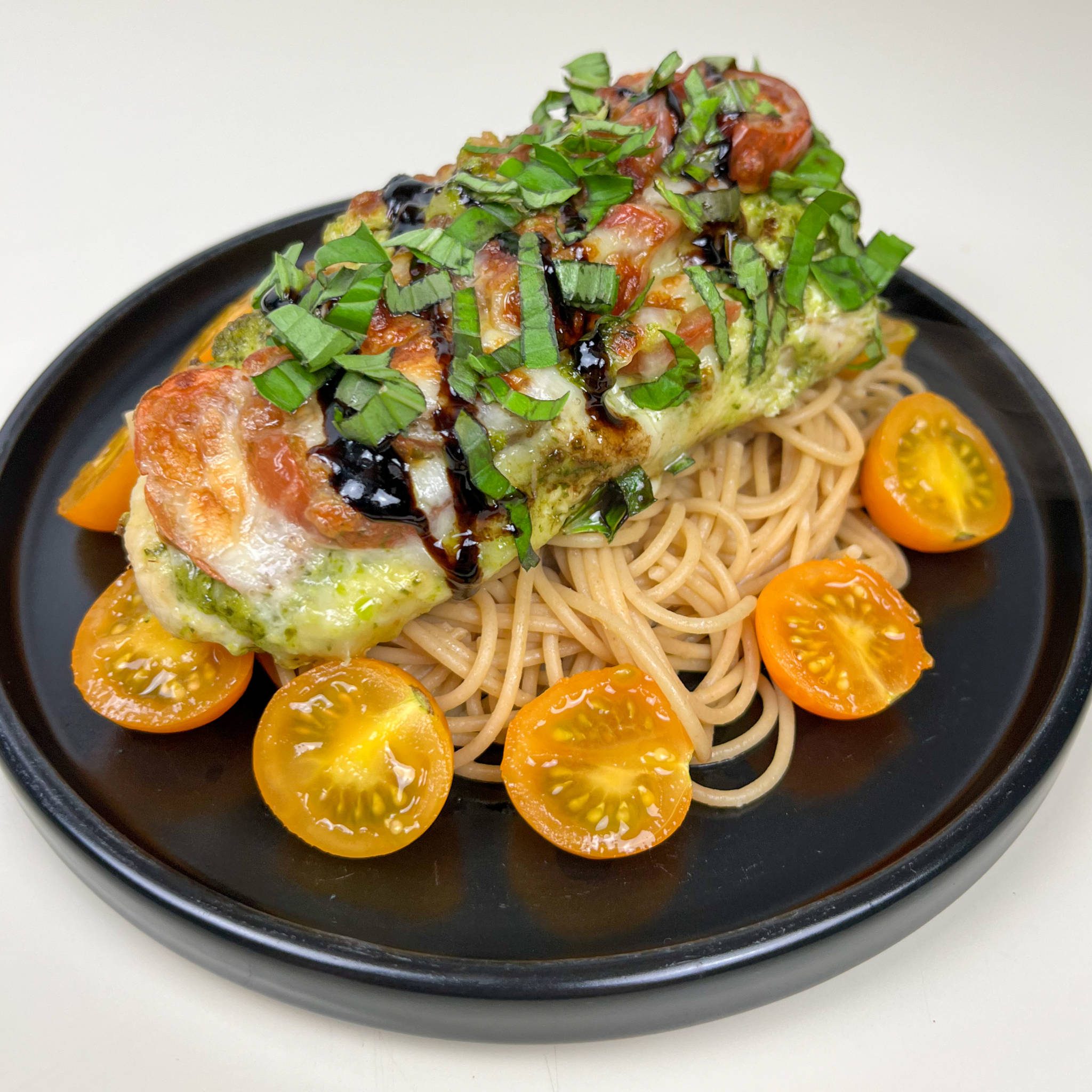 30 Minute Vibrant, Fresh, and Zesty Pesto Caprese Chicken
Total Cooking Time: 20 minutes Prep Time: 10 minutes Serves: 2-3
Pesto is one of those classic flavors that tastes great throughout the seasons. Versatile and fresh, pesto can be served warm or cold as a sauce for a pasta, pizza, or used as a dressing. However, basil can tend to succumb to the winter temperatures. Placing the plant on the south side of the Dome will prolong its season, but you might find that space better utilized in the winter months. So what can you do to make your basil last as long as possible? Make pesto of course! This Pesto Caprese Chicken also utilizes other ingredients that you may have in your Dome like tomatoes and garlic.
Ingredients:
3 cups basil
½ cup blanched almonds (or nut of your choice)
½ cup grated parmesan
2 cloves of garlic
1 tbsp lemon juice (½ lemon)
⅓ cup olive oil
Pinch of salt
2 chicken breasts
2 small sliced tomatoes
⅓ cup mozzarella cheese, shredded or sliced
Fresh basil leaves, julienned
Balsamic glaze
**See our newest article on how to grow basil for more information.
Preparation:
Add basil, almonds, parmesan, garlic, lemon juice, and salt into a food processor. While pulsing, slowly pour in olive oil. Blend until smooth.
Preheat the air fryer to 375 degrees F. Coat the chicken breast in pesto. Place chicken into the air fryer basket. Cook for 10 minutes. Flip and cook for an additional 8 minutes. Top chicken with tomato slices and mozzarella cheese. Cook for an additional 2 minutes or until the cheese is melted and the internal temperature has reached 165 degrees F.
Drizzle with balsamic glaze and top with fresh basil. Serve with a side of pasta, zucchini noodles, or salad.
Leftovers:
Pesto can be refrigerated for up to 2 weeks or frozen in an airtight container for up to 3 months! Adding lemon juice to the pesto will prevent it from oxidizing and losing its vibrant green color. I like to freeze my pesto in an ice cube tray, then seal the cubes in a freezer safe storage bag. This perfectly portions the pesto into 2 ounce servings that I can use in meals throughout the winter months.
---
Make this recipe? Tag us on Facebook or Instagram and use the hashtag #DomeGrownRecipe.
Check out other Growing Dome Recipes.
Join the Inner Circle
An exclusive place for year-round gardeners. Join us to receive our monthly newsletter, "The Happy Grower". In our newsletter we provide community stories, event updates, expert gardening tips, and exclusive offers.