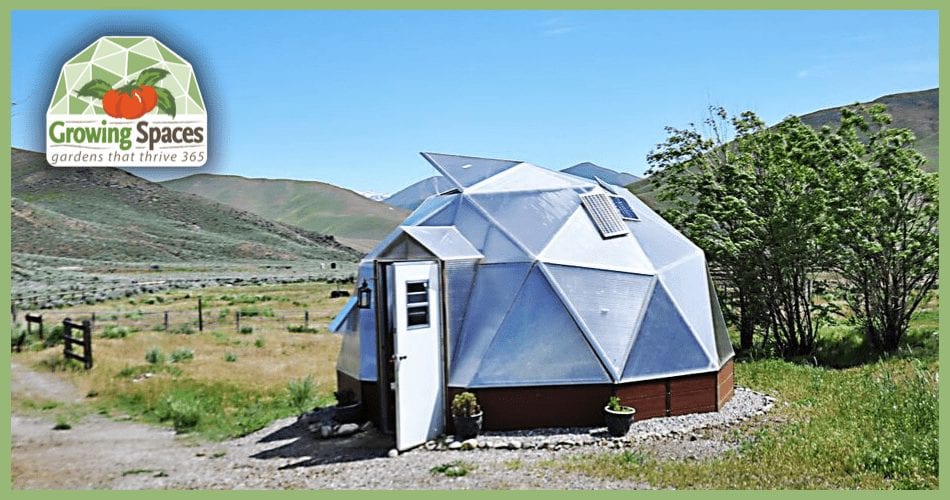 Jim & Cathy's Winter Growing Dome Greenhouse
October's Dome of the Month features an 18′ growing dome in Hailey, Idaho. Jim and Cathy bought their dome less than a year ago, right before the winter season hit. Because of this, they took the build as an opportunity to learn from the challenges of winter gardening.
Idaho experienced the worst winter in history following the installation of this 18′ growing dome. As they put it, "There was a big learning curve we had to overcome, buying a dome before winter." Needless to say, this winter dome has been put to the test. However, it has emerged from the freeze full of enough abundance to fill their freezers for winter 2019-2020!!!

What are they growing?
Jim and Cathy use their growing dome for crops that need protection throughout the year. For example, in the summer their 18′ dome houses cucumbers, tomatoes, citrus trees, and culinary herbs. They use their dome to start artichokes, snap peas, string beans, and potatoes that need more room to spread. After a few weeks of growth, they transplant them into outside beds. In fact, their outside beds were recycled from our shipping crates! :)

What are they up to now?
Jim and Cathy use this space as a time to connect with each other, relax in a tranquil environment, and align with what's most important to them. They even, on occasion, open their dome to the locals and have had upwards of 12 people in their dome at one time!
Show off your Greenhouse!
All of our Featured Growing Domes are highlighted in our monthly newsletter "The Happy Grower", on our social media platforms (Facebook and Instagram), and in our blog. At the one year mark of our newsletter, we will be creating a yearly calendar that includes every Dome of the Month. Apply here.
Written by: Desiree Rose. Desiree is a biodynamic gardener, content developer, artist, and embodiment coach. With a degree in Resiliency Leadership and Environmental Education, she's had the opportunity to study intensively under many thought-leaders in the fields of Environmental Agroforestry, Women's Embodiment, Ayurveda, Astrology, Life-Coaching, Curriculum Design, and Biodynamic Beekeeping. When she's not tending the gardens at Growing Spaces, she can be found rock climbing, highlining, and soaking in the hot springs in southwest Colorado.
Join the Inner Circle
An exclusive place for year-round gardeners. Join us to receive our monthly newsletter, "The Happy Grower". In our newsletter we provide community stories, event updates, expert gardening tips, and exclusive offers.