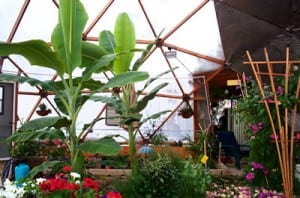 Hi Udgar, Puja, Nicky and Wirt,
I just wanted to take time to thank you for the Dome. We love it! It has been the best thing that we have done in years. We love to garden and our "Kansas Plains" climate is very inhospitable to many of the plants we love. We have very cold winters and hot, windy and sometimes very dry summers.
As soon as the dome was completed the first week in June, we started to work. First rototilling the ground and working in manure and peat moss. It just took on a life of its own…we dug a large pond and built a waterfall, and now have goldfish and koi enjoying the Dome too. Then we started planting about the 3rd week in June. 15 different kinds of banana trees, and nearly that many different gingers (some of both are edible). We also planted tomatoes and peppers and several kinds of herbs.
We have been eating the tomatoes & peppers for a couple of weeks now at least even though we got them in late. Even had a couple of meals with fried green tomatoes, one of our favorites.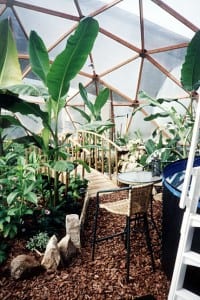 We continued planting the flowers we love throughout the summer, Hibiscus, Bougainvillea, Gerbera Daisies, Jasmine, Gardenias, Taro, Philodendron, Impatiens and many others. In the pond we have water lilies, lotus and pickerel. The banana trees have grown from 2′ to some over 12′ tall now and are providing enough shade that we have been able to introduce a number of ferns including several types of tree ferns.
We also ordered Zebra Longwing Butterflies from Florida to introduce as pollinators…incredible.
We usually have our morning coffee in the Dome and finish our evenings there. We are looking forward to the winter this year!
We decided to try the thermal tank as a swimming pool. We purchased an inexpensive filter/chlorinator and a double ladder and presto we have a great small pool that really takes no care since it is inside. We swim 3-4 times a week and the water is always just right (in the 80's).
I installed a misting system too since we do have the ferns, orchids and bromeliads. It is over each of the vents and helps to cool as well as add humidity.
The entire experience has been so wonderful. You have all been so great to work with. We loved the experience of sharing our home with you during the week of construction. It was also great that you let us be of some help… it made us feel a part of the project right from the beginning. I can't say enough good things or thank you enough.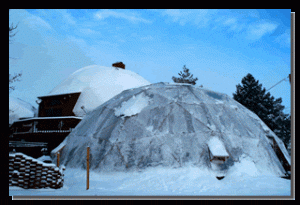 I have attached some photos so we can share our joy with you. They were taken about two weeks ago… so you can see how fast things have grown.
The service after sale has also been awesome. It is great that you call from time to time just to make every thing is going well. Thank you again… and
Warmest Regards
Larry and Debbie Jones