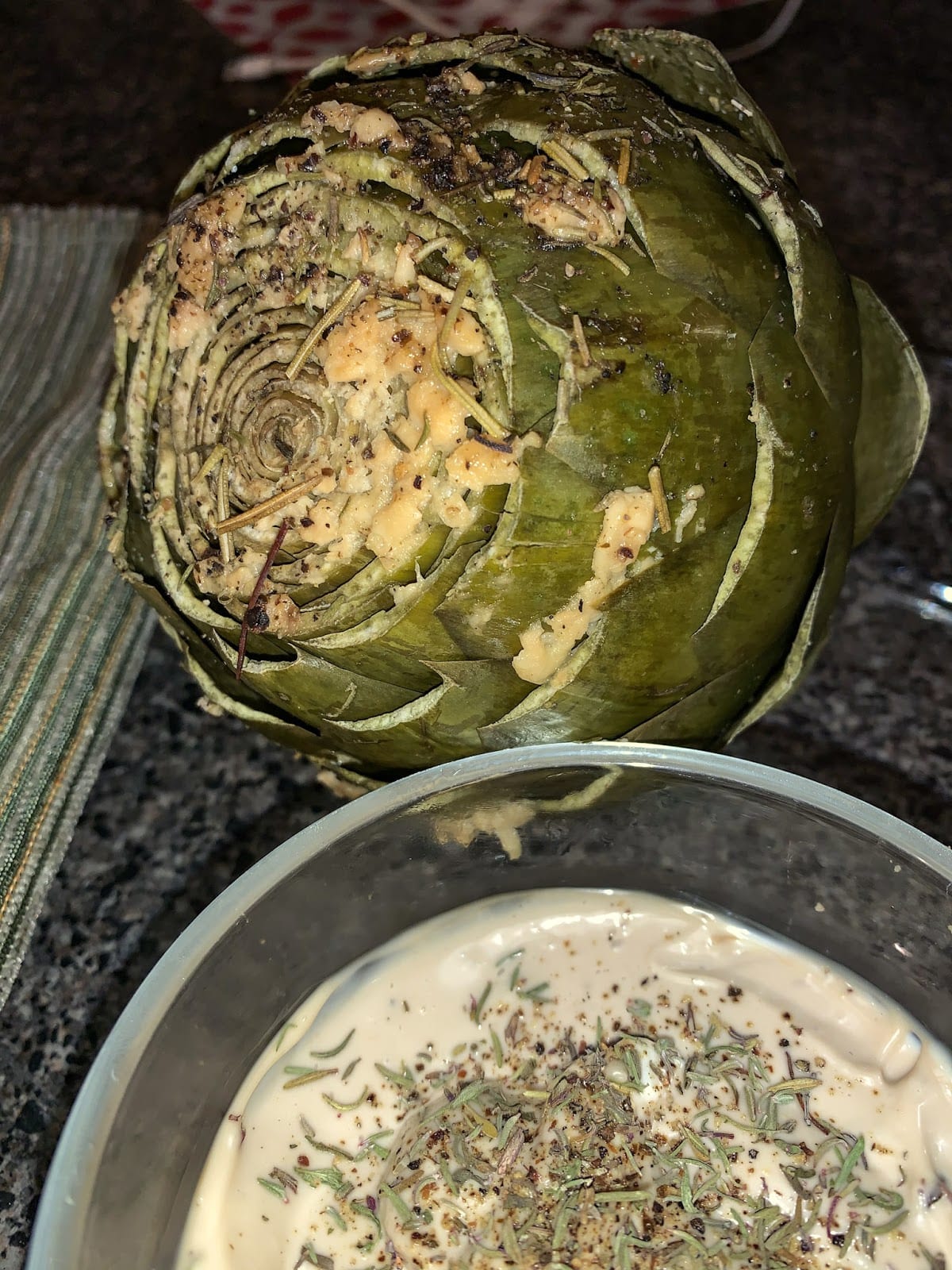 Total Cook Time: 35 Minutes Servings: 2 as an appetizer 1 as an entrée
Artichokes are a beautiful plant. Those who don't grow them may not realize that they are immature flower buds from the thistle plant. Appetizing? We don't know who decided first to try these odd little pokey guys, but we sure are glad they did. They come in many varieties, but the most common one that we use in cooking is called a globe artichoke. They can be intimidating, but I'm going to help you with that.
One of the most critical parts of this recipe is having the best artichoke possible. If you pick it straight out of your Growing Dome garden, size is the best way to tell if it is ripe and ready. The central bud known as the choke should be harvested between 3 to 5 inches in diameter. If you wait too long, the artichoke becomes tough. Harvest the secondary side buds when they get to be 1 to 3 inches in size.
If you are grabbing an artichoke from the store, look for a vibrant green and light green color—no splits or splinters in the leaves or the stem. You want leaves tightly packed together at the top and center but not too tight at the outside edges. It should feel heavy for its size and plump, not hollow.
The perfect artichoke will make a little kind of squeak when you pick it up in your fingers. When cooked perfectly and paired with the right herbs and dipping sauce, they are impossible to put down.
Instapot Artichoke Ingredients
1 sizeable global artichoke per person
1 or 2 large lemons
4-5 cloves garlic
Pepper, freshly ground
Dried or fresh rosemary
Dried or fresh thyme
Himalayan pink salt, freshly ground (with a grinder or mortar and pestle)
3 tbsp mayonnaise or vegenaise (if you are a vegan like me)
1 tbsp balsamic vinegar
Wash and Prep Artichoke
Wash your artichokes in a colander making sure to spray down into the base leaves. Cut half an inch off the very top of the artichoke with a sharp kitchen knife and then prune the leaves one by one with kitchen scissors. Finally, cut an inch off the bottom of the stem.
My new favorite method of cooking these, brilliantly, is in an Insta-pot.
Place artichokes in 2-3 cups of water or vegetable stock, stuff minced garlic into the cavities of the artichokes, season the outside and as well as you can and in between the leaves with rosemary, thyme, pepper, and salt, then squeeze one of the lemons over the top and into the pot almost crusting it. I usually add a couple of garlic cloves to the pan and some fresh rosemary, thyme, onion powder, fresh ground pepper, a couple of twists from the ground Himalayan pink salt shaker, and toss my lemon peel in.
Cook using steam cooker setting for 20 minutes or according to your instapot instructions. Place your artichoke back in a strainer, and allow it to cool slightly.
Artichoke Dipping Sauce
In a small dish, add the mayonnaise, half a tablespoon fresh lemon juice, pepper, and balsamic vinegar. Beat it together with a fork, then garnish with dried rosemary and thyme.
How to properly enjoy an artichoke
To enjoy properly, dip the ends of your artichoke leaves in sauce and scrape off the soft part of the choke with your teeth, discarding leaves in an empty bowl or plate.
Repeat until you reach the immature leaves. Scrape out the small piney leaves and fuzz-like part of the heart of the globe with a spoon. Then dip the remaining pieces of artichoke heart, including the stem if you like, into the dipping sauce. It can be a fantastic appetizer or an entire entrée.
Check out some of our other Dome Grown recipes.
---
Join the Inner Circle
An exclusive place for year-round gardeners. Join us to receive our monthly newsletter, "The Happy Grower". In our newsletter we provide community stories, event updates, expert gardening tips, and exclusive offers.