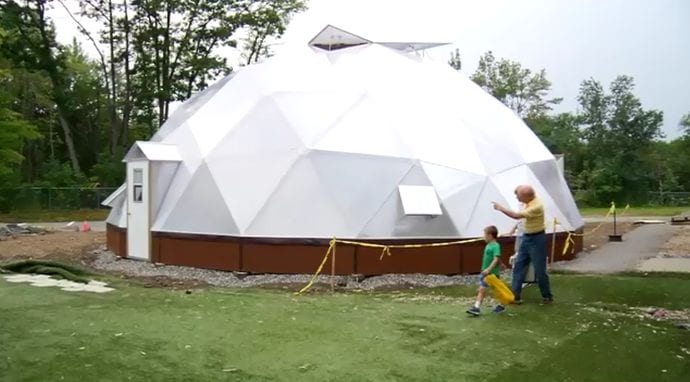 Here at Growing Spaces we live the life we promote, eating what we grow in our Growing Domes. We know the benefits, and we know it just WORKS! We can tell you about all the benefits many times over again, but sometimes it is helpful to just see it in action and hear about the inspiration it provides from our customers.
MAINE
We have Growing Domes in 14 countries and all over the US. Check out how this Youth Center in Maine used their inspiration with their Growing Dome Greenhouse! These At-Risk kids are not only getting fed high quality food, they are also learning to work together to create life sustaining skills. It also teaches them communication and interaction with each other in the real world.
Alfond Youth & Community Center Sustainable Gardens
CALIFORNIA
In South Lake Tahoe, California these lucky kids get to not only grow their own food in a Growing Dome Greenhouse, but also get to do taste tests! Elementary kids are at a prime learning point in their lives, and letting them get their hands dirty and be able to eat what they grow is essential to the future health of our planet. They also use the food they grow for school lunches – free from any pesticides or GMO's! They were able to do a plant sale and tours of the domes as part of a super fun day! Way to go guys! Big turn out for UCCE Plant Sale and Sierra House Grow Dome tours
Want to get your own Growing Dome? We can show you how! Click on a link below to get started. It's incredibly rewarding and beneficial to your health!
What a Growing Dome can do for you
What is a Growing Dome all about?