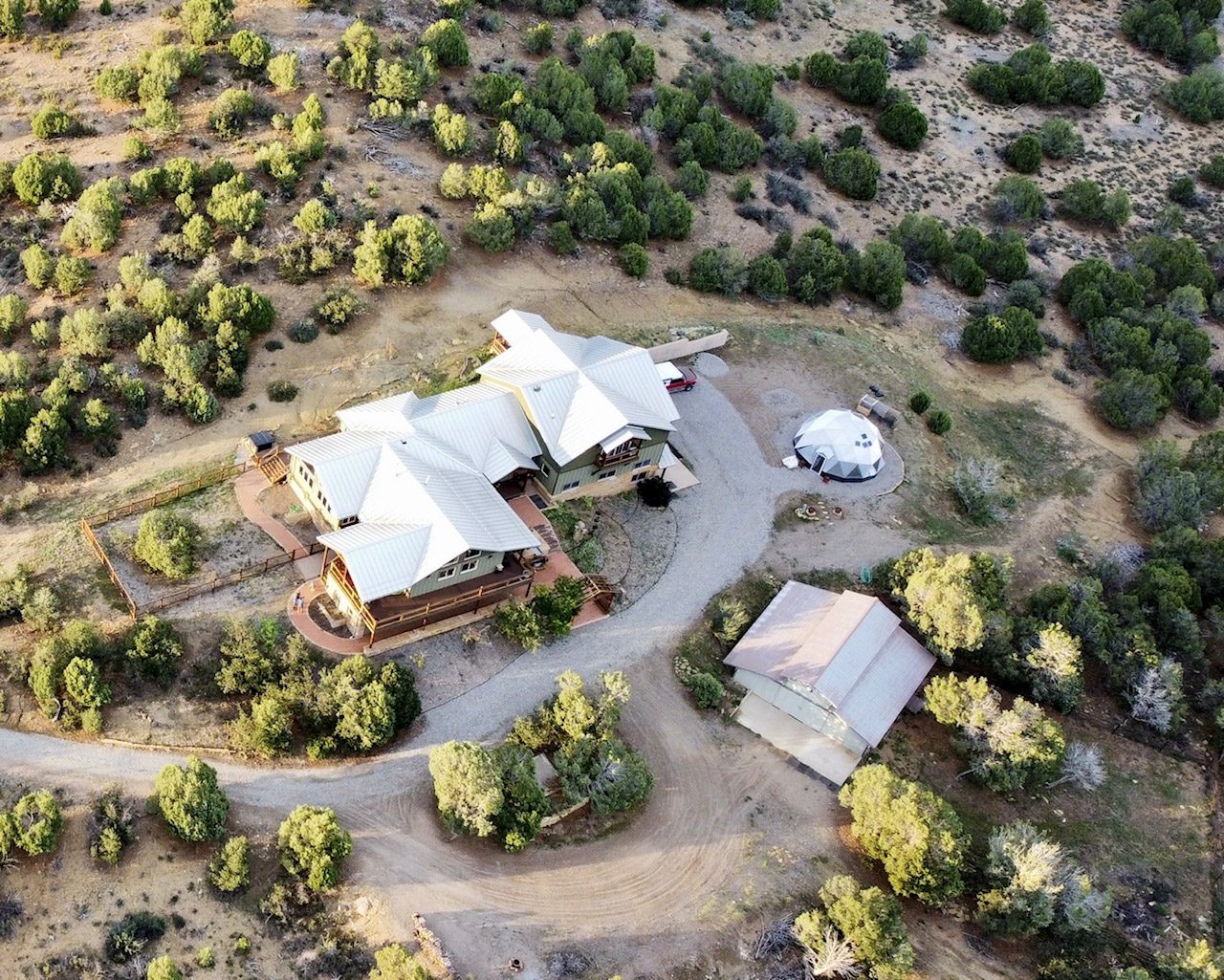 Deborah Rich & Mark Oppegard's 26ft Dome in Southwest Colorado
Deborah and Mark's year-round gardening adventure began in Denver, CO. Upon relocation to Colorado's western slope, Deborah found it difficult to fend off the critters and deer. Eventually, she stopped battling animals and searched for a year-round greenhouse that could withstand crazy weather.
"We saw your greenhouse on YouTube, and it just made so much sense, especially in Colorado with the heavy snow and high winds. That's when we decided to take a trip and visit them." The personal tour sealed the deal for Deb and Mark. They decided on a 26′ Greenhouse. The larger kit meant they would have plenty of room to grow food and space for relaxing with a glass of wine in the evenings.
After choosing a location, foundation, and installation options, the couple's next task was to get the Dome approved by their HOA. Getting approval was a cinch for them as the greenhouse would not be visible to the road. A board member also happened to be an engineer. He "liked that it was secured."
Building the Greenhouse Inside and Out
Their greenhouse kit was delivered in June of 2022 and installed by two Growing Spaces crew members (Supervisor +1), a Growing Spaces trainee, and Deborah's husband, Mark.
Deborah referred to the inside as a work in progress; however, we are genuinely astounded by their accomplishments in just four short months. They have installed their outer raised beds crafted from corrugated metal and wood. They plan to do a stacked stone raised bed in the center in hopes of retaining more heat.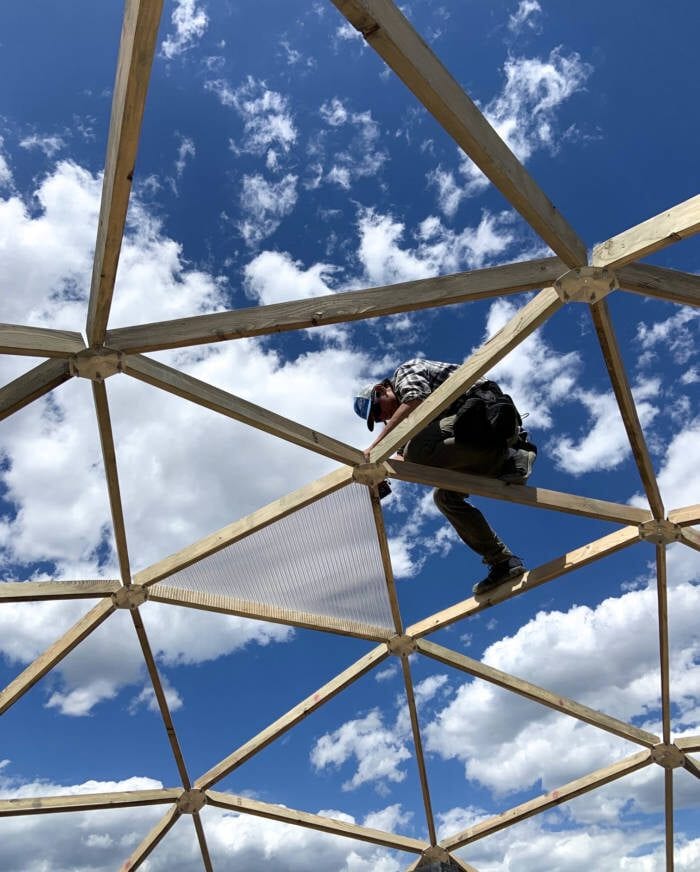 "We aren't to the point where we can focus on esthetics, rather than function. We're still in the planning stages, learning as we go. When we finish and plant the center bed and put in the flooring, it will be awesome. Because we're doing all the work ourselves, it will take time!"
Above Ground Pond
Like many new dome owners, the pond and greenhouse gardening in general were a whole new ballgame for Deb and Mark, but they have been doing lots of research and taking advantage of our gardening content on YouTube. Deborah is also a frequent poster in Growing Dome Enthusiasts and our Owners group, where she shares photos and asks questions.
Initially, Deb and Mark had a few struggles with their pond, mainly with the pond water and liner issue. Their water started with a pH of 9, but they have been able to get it down to around level 7 using pond care items such as catappa leaves and regular water tests. The water where they live tends to be on the alkaline side.
"Receiving the new pond liner helped a lot with our pond problems. We now have a lot of water plants in our pond, like water lettuce and duckweed." They are also hoping to add fish next spring.
Building a Hugelkultur Garden
Deborah was very excited to share how they implemented an age-old gardening practice called hugelkultur (German for hill culture). Put simply, hugelkultur beds are built from rotten logs and plant debris. The decaying wood in hugel beds supports beneficial fungi, bacteria, spiders, worms, and microbial growth, providing nutrients to your plants that can be used over time. It also retains water like a sponge and disperses it when the soil dries.
"It was a win-win situation for us. We had a ton of wood laying around the property." They experimented with varying depths of hugelkultur in different beds using "The Bomb Mix" from our partner Paonia Soil and wood they already had.
Mark and Deborah were inspired to add a Subpod® compost bin to their garden after attending Andrew Trujillo's vermiculture class at our 2022 Customer Appreciation Event. Worms and hugels are a match made in heaven.
Their summer in the greenhouse was a success. The Growing Dome makes enough food for two salads a day and then some. Deborah was kind enough to provide a list of plants from their Growing Dome. Almost all of these have been started from seeds she saved over the years.
Arugula
Aloe, blue
Basil
Bok Choy
Carrots
Celery
Chard
Cilantro
Collard greens
Dill
Fennel
Fig tree
Garlic
Hosta
Hyssop
Jalapeño
Kale
Key lime tree
Lavender
Lettuces, 3 kinds
Mache
Meyer Lemon tree
Marjoram
Mustard greens
Nasturtium
Oregano
Parsley, curled and flat
Peas (pods and snap)
Madagascar Periwinkle
Potatoes, golden and red
Radishes, 2 kinds
Rosemary
Sage
Savoy Cabbage
Savory (did not germinate, will try again)
Spinach (2 types)
Sweet Potatoes
Tarragon (did not germinate, will try again)
Thyme
Wild Lettuce
First Winter in the Growing Dome
Deborah and Mark hope to grow food this winter without the help of additional heat, using only the technology already included in the Dome's design. Right now, she is experiencing around a 20-degree difference in the Dome compared to outside. As a Growing Dome gardener, we say that the first winter is always the toughest, but Deborah already has experience keeping a winter garden. She has planted lots of cold hardy crops in preparation for their first winter and knows what to expect. Deborah is planning to use row covers and purchase a small propane heater, just in case.
Deborah and Mark have a lot of things planned for their Growing Dome, which they have nicknamed Firefly, but for now, you will find them living their dream, relaxing with a nice glass of wine in their dream garden.
---
You can find all of our Featured Growing Domes highlighted in our monthly newsletter, "The Happy Grower," on our social media platforms (Facebook and Instagram) and in our blog. At the end of the year, we create an annual calendar that includes every Dome of the Month. We send them to all Featured Dome participants, along with a gift of Growing Spaces gardening goodies! Apply here.
Join the Inner Circle
An exclusive place for year-round gardeners. Join us to receive our monthly newsletter, "The Happy Grower". In our newsletter we provide community stories, event updates, expert gardening tips, and exclusive offers.