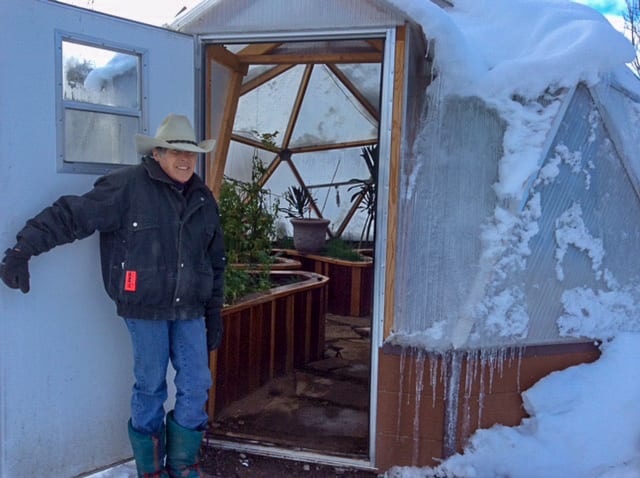 Why the Growing Dome is the most durable greenhouse.
The simple answer is decades. A greenhouse has to be strong. In any given year it will experience snow, hail, wind, rain, extreme heat, and even tornados. A durable greenhouse will be able to withstand these extreme conditions and provide an incredible return on your investment for years to come.

Just ask Growing Dome owner and long-time employee Josie. She has had her Growing Dome Greenhouse for over 25 years. In fact, it is known to be the first Growing Spaces® Growing Dome® ever built near our headquarters in Pagosa Springs.
Josie's Story
Josie first heard about Growing Domes in the mid-'90s when Growing Spaces creators Udgar and Puja Parsons joined her at her retreat, Spirit Rest Retreat. Over that short year Josie, Puja, and Udgar became close friends. Naturally, when they started filling Josie in on their idea for geodesic dome greenhouses, she thought it would be a perfect addition to her property for both the retreat and the people in her life.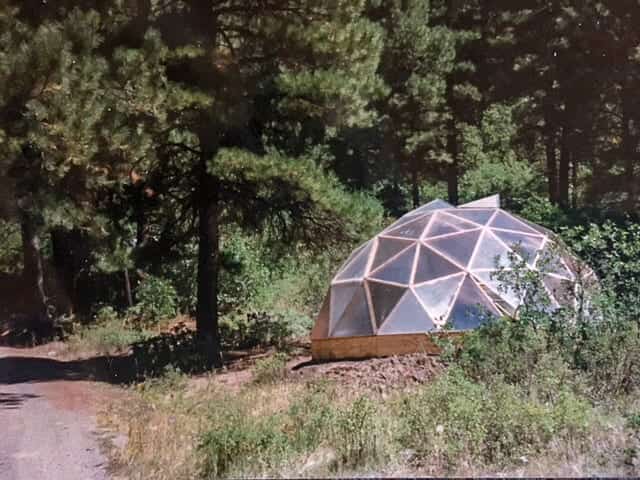 In 1996 Udgar, Puja, and Josie built the 22′ twin wall geodesic greenhouse (pictured above) on a beautiful plot of land tucked away in Pagosa Springs. After that Josie stayed involved with Growing Spaces even after the company sold to our current owner and fearless leader Lem Tingley. Today she helps measure, cut, and package all of the polycarbonate tiles and Reflectix insulation that makes up our greenhouses.
How does it withstand so much?
Surrounded by the rugged San Juan Mountains, Pagosa Springs has seen it's fair share of snow and extreme weather over the past 25 years. In that time Growing Spaces has installed over a hundred domes in the county alone, which has proven to be a perfect environment to prove the durability, longevity, and strength of the greenhouse. The seven unique features of the Growing Dome geodesic greenhouse have been continually improved to make it even more durable than Josie's dome. For example, we only recommend multi-wall (16mm) polycarbonate in Colorado and colder climates. We have improved the insulated foundation wall, upgraded the doors and added a snow-shed to help access your Growing Dome in the winter. If you live in a Wildfire zone, the Growing Dome also meets the criteria for Class A ignition resistant construction. Over the years the Growing Dome has proven itself to be the best greenhouse for wind, snow and extreme weather, and much more durable than other types of greenhouses.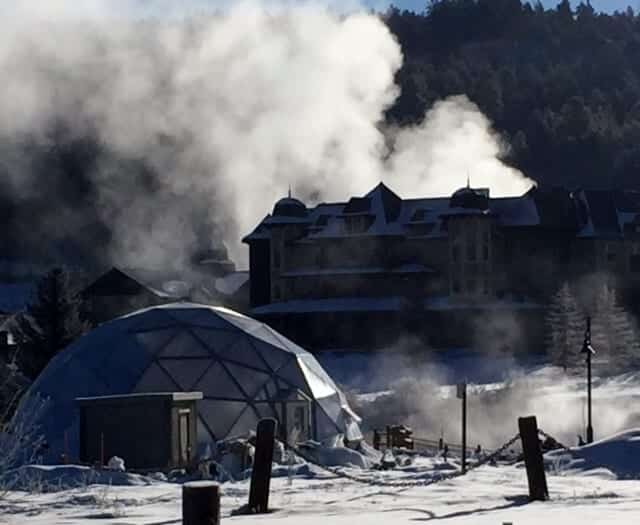 Regular maintenance is required to increase the durability of your Growing Dome Greenhouse. The Growing Dome® also comes with a 5-year warranty by Growing Spaces® against structural failure of the struts and hubs. The polycarbonate glazing is warranted by the manufacturer against hail damage and yellowing pro-rated for 10 years. Growing Spaces also extends all warranties for other parts of the Growing Dome from the manufacturer.
Unfortunately, Josie's retreat is no longer in business, but the 22′ Growing Dome is still providing fresh produce for Josie, her friends, and her family. We love talking about what she is growing while chumming around the shop. Josie is also a vegan and often shares vegan recipes with Kesy to use for her Dome Grown segment in our monthly newsletter.
We would love for you to come to visit us in Pagosa Springs, meet Josie, and tour all six sizes of Growing Dome Greenhouses. Schedule your visit ahead of time, and we will also provide you with two complimentary passes to locally owned Overlook Hot Springs Spa.