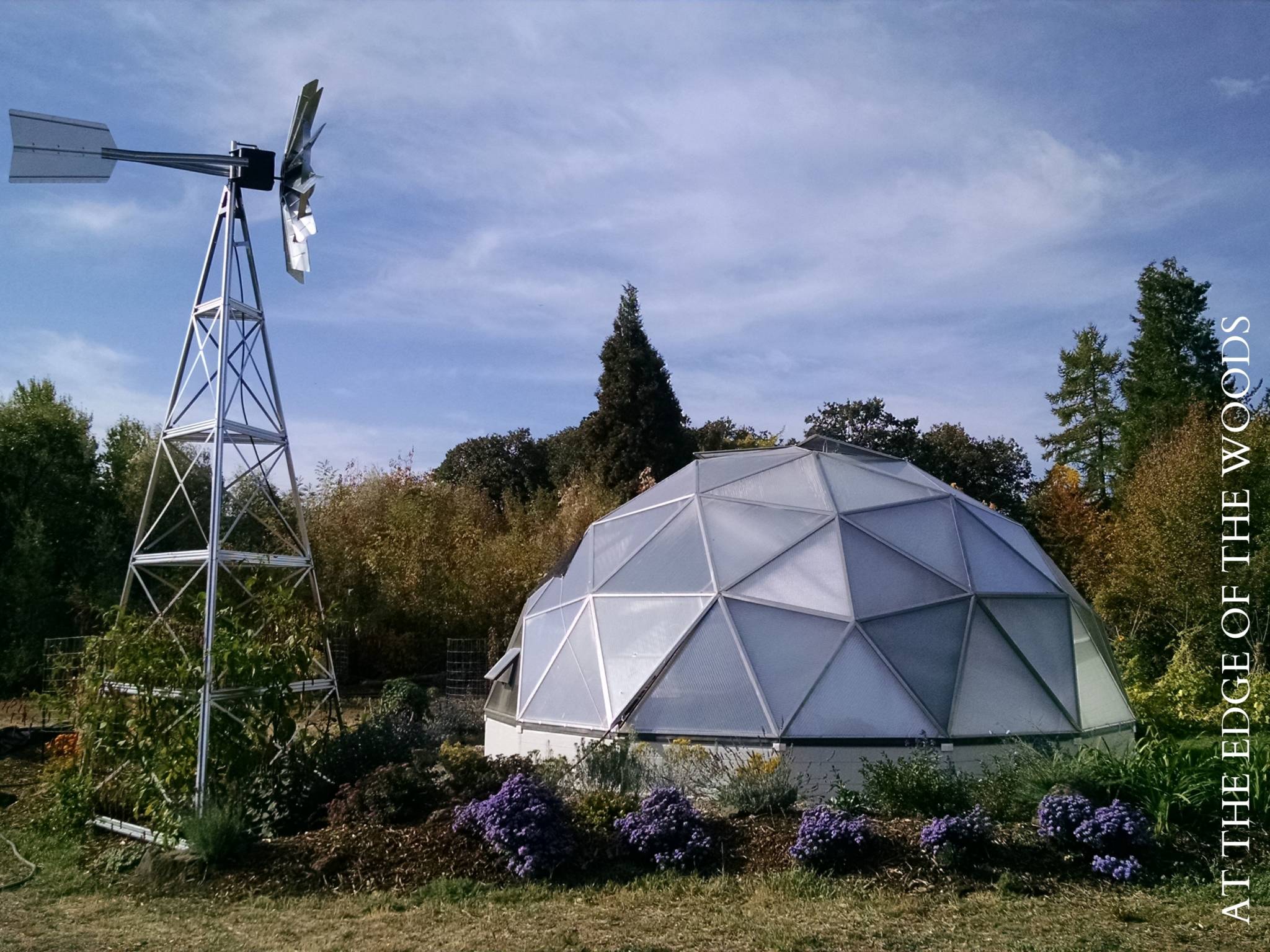 Homesteading is a dream for so many in the Growing Spaces community. A step back in time when life was simpler. Riding your horse and carriage into new territories, staking your claim to a piece of fertile land, and planting seeds that will root down into your new lifestyle. It is about self-sufficiency, living off the land, healthy livestock, and sustainable agriculture.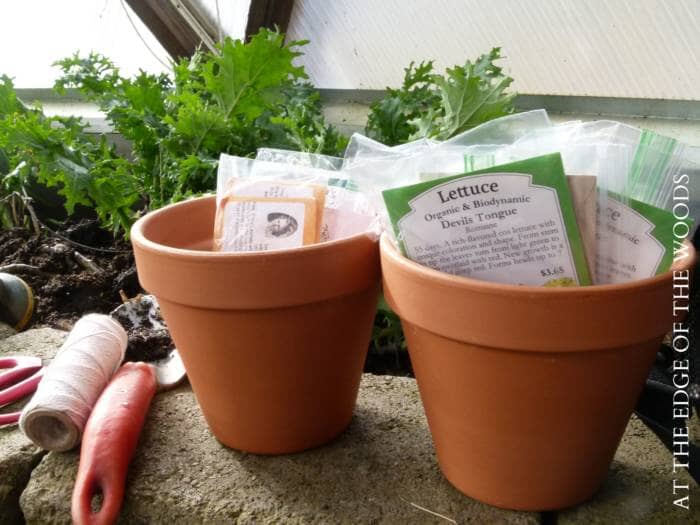 At the Edge of the Woods has made that dream a reality. Surprisingly, their homesteading journey "started with the greenhouse" — their 26′ Growing Dome, that is. Emily has been documenting their homesteading experience in her blog since 2018.
Although they have lived "At the Edge of the Woods" for quite some time and have always been interested in gardening, their family has had to compete with a short growing season. If the winter temperatures or the hot sun didn't take their vegetable garden, the elk herds would chomp it to bits.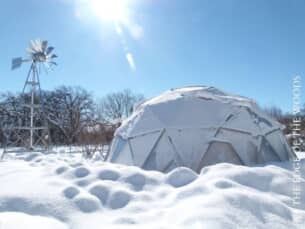 They needed to build a greenhouse that would withstand "a land of extremes, from single digits with feet of snow to scorching heat without a drop of rain. Something that would last," as described on their website. In 2014, Emily's parents purchased a 26′ Growing Dome Greenhouse, the biggest-sized greenhouse kit they could install themselves. They called it a "50th wedding anniversary gift to themselves," a gift that was purchased about 20 years before their actual anniversary. Instead of waiting until their actual 50th wedding anniversary, they got themselves something they could use and enjoy together now. Like many other things on the homestead, building their new gardening space was a group effort, and we have no doubt that the greenhouse will still be thriving on their actual 50th anniversary!
"Although the four of us weren't able to complete it in three days, the install was great, and it went really smoothly."

Emily – At the Edge of the Woods Homestead
Building the Perfect Off-Grid Homestead Garden
Emily and her family are using permaculture strategies to make the systems on their farm work together and work with the land. They are incorporating techniques such as deep mulch, microclimates, and plant guilds. Emily said they are doing this "to strive to make our little piece of this valley thrive with limited external inputs."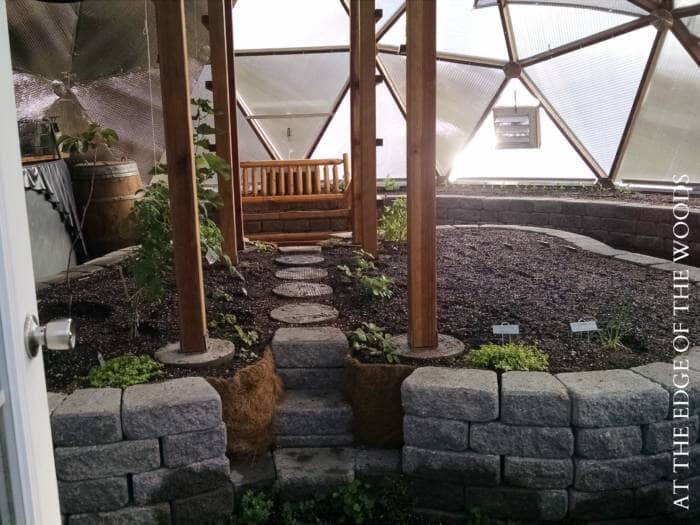 One of the most appealing aspects of a Growing Dome for their homestead was their ability to extend the growing season without having to heat a greenhouse. Although the above-ground pond acts as the greenhouses' main thermal mass source, they added an additional source of thermal mass using stacked stone walls for their raised beds. During winter, the stones will absorb heat from the sun, dispersing the warmth back into the greenhouse, and in the summer, the stones can be sprayed with water to evaporate cool, humid air. The hot air will also escape through the automatic roof vents.
Growing Plants in their Homestead Garden
Although gardening later in the year normally depends on how harsh the winter is, Emily loves "being able to have salads in the winter, and strawberries so early in the spring."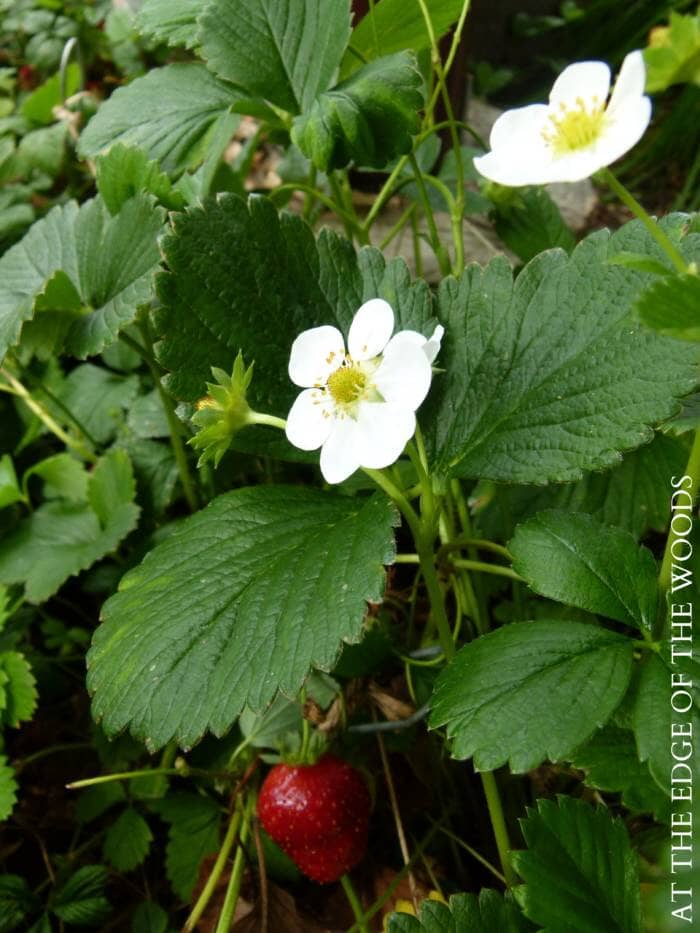 "One of the great blessings of having a Growing Dome Greenhouse on our homestead is that it allows us to grow several types of perennial trees that would otherwise be too tender (frost-sensitive) for our climate. There are few experiences as delightful for the winter greenhouse gardener as being able to trudge through the snow to the winter greenhouse and be met by a bountiful crop of Meyer Lemons."
Emily stated that "the goal is to grow as much of our own food as possible." Enough to feed their homestead of six people.
Sharing the Knowledge of a Homestead Gardener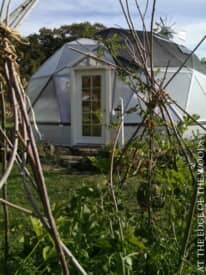 Over the past few years, they have done a lot to "learn what works, growing food that will withstand hot summers and cold winters." Emily is passionate about "sharing those skills and the lessons she's learned with others, as well as using her camera to capture the beauty of the mountain foothills in which they live." In her blog, At the Edge of the Woods, Emily shares her homesteading knowledge and things such as winter happenings in her growing dome. Livestock is also a major aspect of homesteading, and Emily shares her experiences with hens, roosters, milk cows, and other animals on their homestead.
"I have often thought that if heaven had given me choice of my position & calling, it should have been on a rich spot of earth…no occupation is so delightful to me as the culture of the earth, & no culture comparable to that of the garden."

Thomas Jefferson, Aug. 20, 1811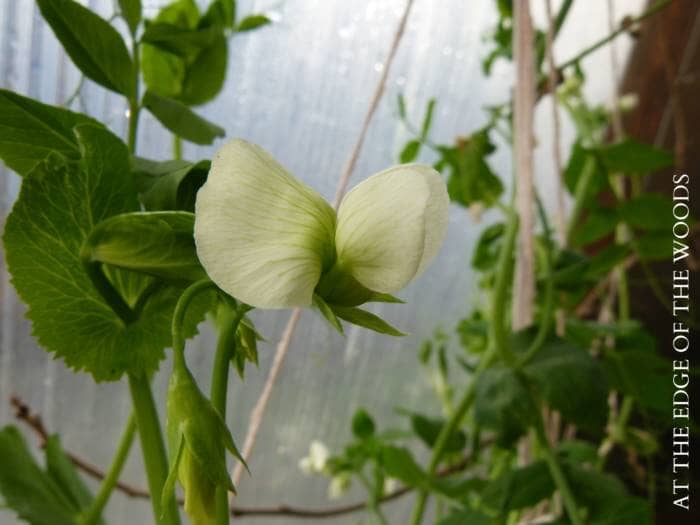 If you are interested in learning more about Emily and her family's Growing Dome, we recommend joining her blog or connecting with her on her website.
---
You can find all of our Featured Growing Dome's highlighted in our monthly newsletter "The Happy Grower," on our social media platforms (Facebook and Instagram), and in our blog. At the end of the year, we create an annual calendar that includes every Dome of the Month. We send them to all Dome of the Month participants, along with a gift of Growing Spaces gardening goodies! Apply here.
Join the Inner Circle
An exclusive place for year-round gardeners. Join us to receive our monthly newsletter, "The Happy Grower". In our newsletter we provide community stories, event updates, expert gardening tips, and exclusive offers.