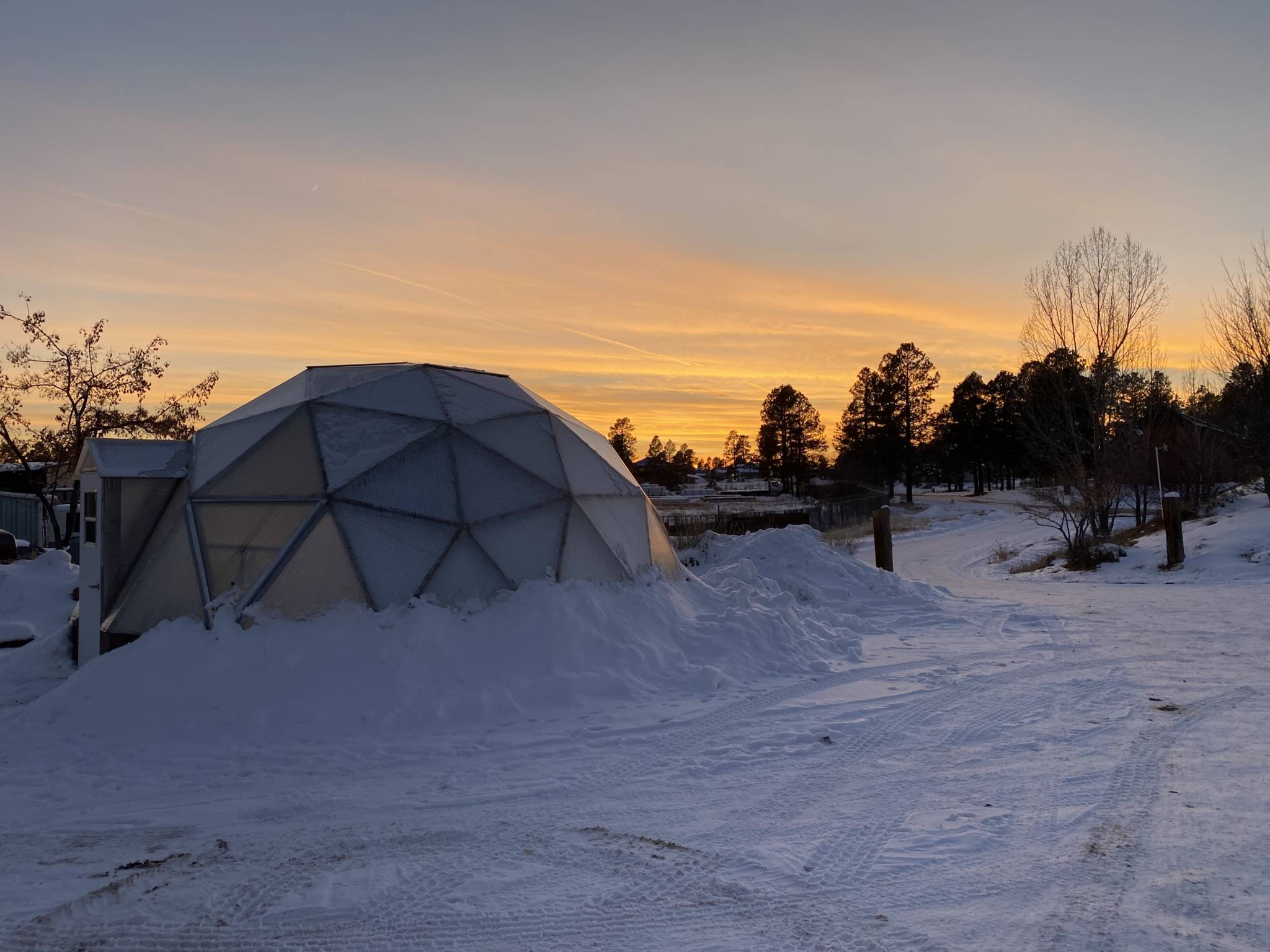 The Growing Spaces Mission has never been as important as it is now
"We believe everyone should be able to reliably grow clean, healthy food all year round. No matter where they live."
Udgar and Puja grew the mission for 30 years, and Liz and I have worked to continue the journey in many different ways over the past three seasons. Design improvements, installation efficiency, gardening advice, international partnerships and food security projects have all enabled more people to grow organic food year-round all over the world. We want to give you a look back at 2020, and a glimpse forward into our plans for 2021.
New Installation Instructions for Customer Self-Installs
We know installation costs and crew travel can be significant expenses to building your Growing Dome, and with the added travel restrictions and home quarantine, we encourage self-installation as much as possible. So in 2020 Growing Spaces released updated Installation Instructions for all of the self-install Growing Domes (15′, 18′, 22′ and 26′). The intent was to simplify the instructions and eliminate any discrepancies between the instructions and the videos. Many other improvements were found during the process, and we hope that it makes the self-installation process easier and more enjoyable. We also found opportunities to reduce the costs of Owner-Supplied items.
New videos are also being released as they are available to complement the installation instructions. But the written instructions should be primary, with the videos offering more visual aids and helpful tips.
Growing Spaces crews are still available, and we are working to add a third crew for the 2021 season. Outside of Colorado, we also encourage you to reach out to local contractors to avoid travel costs and support your local economy. We can provide tech support over the phone to you or your local crew if needed. We would also like to thank Rodney Volkmer for providing 24/7 phone support this past season, and hope to have him back in 2021!
Raised Bed Designs
Growing Dome Owners now have access to a variety of different Raised Bed Designs for their size dome. Whether you want to optimize growing space, add extra space for relaxation, or require ADA access. Our plans include 3D drawings, hardware lists, and optimized cut lists to reduce scrap.
New Custom Pond Liner is more durable and easier to install
The above-ground pond now includes a custom made pond liner that fits directly into the sheet metal frame. No pleating required! It is also made of a durable 30 mil PVC, up from the 20 mil of the previous liner. It fits and looks beautiful!
Undersoil Ventilation System
We have recently upgraded our standard Geothermal Ventilation System. We replaced the 70 CFM fan with a 125 CFM reversible bilge fan and located it behind the water tank to save valuable growing bed space. It increases the efficiency and reliability of the undersoil climate control system, and also reduces the time and cost to install. It is also easier to reverse the direction of the fan in the winter to get more heat from the south side of your dome to the pond.
Longer Lasting Tape
With help from our partners at Lane Supply, we have sourced a new, thicker, longer-lasting aircraft adhesive used to seal the Growing Domes. It is UV rated for 10 years, up from 8 years on our previous tape, and equivalent to the 10-year warranty of the polycarbonate. Made by Berry, this adhesive is used by Boeing on their aircraft. It has been rigorously tested to our specifications in environmental chambers and on our Growing Domes in Pagosa Springs, CO.
Solar Waterfall
While we feel that having fish and aquatic plants in your above-ground pond is important to maintaining a clean tank, some filtration can also be very helpful. We have updated the Solar Waterfall to include a spillway, filter pads, and BioBalls for increased filtration in your pond. The Solar Powered Water Feature upgrade now consists of an underwater pump, an 8″ Spillway, two filter pads (fine and coarse), 200 BioBalls to promote the growth of beneficial bacteria, a solar panel, tubing, electrical cords, on/off switch, and all connecting hardware.
Growing Dome Upgrades
We are now including many greenhouse accessories that we felt were critical to Growing Dome operation as standard features. The Drip Edge Flashing and Windy Weather Package are now included standard. The Solar Attic Fan is now included with the 33' and 42' domes, as active ventilation is required for the larger domes. We are now including a magnetic trap door for the solar attic fan to make it easier to insulate it during the winter and open it without a ladder when the weather gets warm.
We always encourage customers to add additional ventilation options to their dome, depending on their climate. We continually make improvements to the vents and fans, and will be adding a CFM calculator to help you optimize ventilation for your environments.
Gardening Advice
We also know that once you get your Growing Dome delivered and installed, the journey towards growing healthy organic food is really just beginning! Throughout the year, our lead gardener Heather Gray has been developing video and blog content to help all greenhouse gardeners achieve their year-round gardening dreams! This has been very popular, so we will continue to add gardening content throughout 2021!
Claudia Stover also held a series of virtual classes for maintaining your water tank. It is filled with great information to create a beautiful and functional eco-system in your above ground pond. She allowed us to record one of the sessions, and we recently posted it on YouTube.
Food Security
As soon as the pandemic hit, Heather and her team transformed our five Growing Domes in Pagosa Springs to optimize food production and grow food for the community. She has been providing fresh produce for the Food Coalition 4 Archuleta County ever since. We also donated produce from our 26′ Growing Dome in Golden, CO to the Golden Backpack Program.
Growing Spaces supports many other organizations working to fight food insecurity. We donated two Growing Domes this year to Mattersville Vets and Chi Shi'e Farms at Navajo Nation, and recently announced an Urban Farming Grant for 2021. (The Mattersville project has been delayed due to permitting issues, but we will update you on that project in the spring.)
Looking Ahead to 2021
2020 did offer significant challenges for us to keep up with the increased demand. Many components were on backorder, and we saw substantial price increases on some materials. We anticipate 2021 will be no different, so we have already placed orders for the entire year to hold pricing and maintain supply. In the spring of 2021, we will also have access to 5,000 more square feet of manufacturing and office space to help improve capacity.
New Metal Glazing strips are currently being tested on our Growing Domes, and if all goes well will release in the summer. They include an outer hub that will better secure the strips to the Growing Dome. The purpose is to increase the longevity of the tape for well over the 10-year lifespan and reduce maintenance.
We know there is so much more to do, and we are excited to announce that Liz Tingley will be taking a more active role in Growing Spaces which will allow me to spend more time on R&D projects, manufacturing efficiency, and installation improvements. We are excited to have her years of Operational Excellence experience full time!
Liz and I would like to thank the entire Growing Spaces team for their hard work and dedication during this time, as well as wish everyone a Happy New Year and a Safe and Healthy 2021!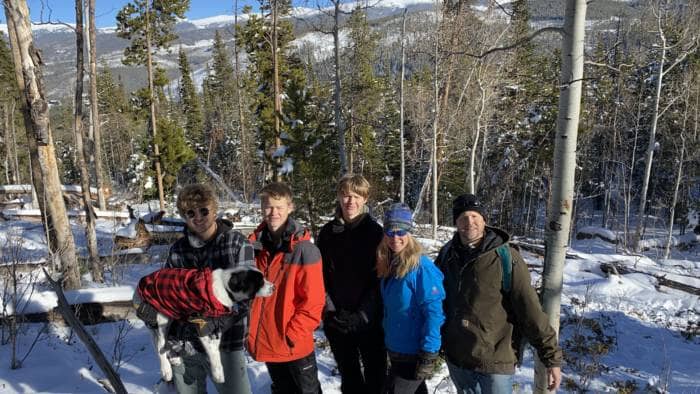 Growing Spaces founders Udgar and Puja Parsons also send their best wishes and appreciation to the entire Growing Spaces community. They happily spend their time in retirement supporting the Geothermal Greenhouse Project in Pagosa Springs and spending more time in their two Growing Domes.