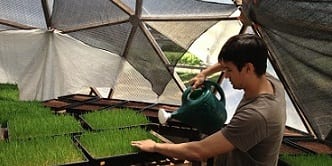 Solar Living Institute
Update: Unfortunately due to COVID the Solar Living Institute closed it's doors in October 2020. They are still offering on-line classes.
Recently we received an update from the Solar Living Institute in Hopland, CA of the 26′ Growing Dome greenhouse built in 2012.
"The Growing Dome is one of the main attractions at the Solar Living Institute. Generously donated by Growing Spaces (located in Pagosa Springs, CO), it allows us to grow vegetation that needs a more stable environment than what the Mediterranean chaparral provides. We are currently growing wheatgrass, sunflower sprouts and even a lemon tree – something that couldn't be grown otherwise! The crop is used to feed the interns and volunteers and provide the local co-ops with fresh, organic produce to distribute in the community. Come check out the Growing Dome at SolFest 2013!"
As always, we are so honored to collaborate with such a resource and learning rich organization that is so keenly in line with our values. We gifted the Solar Living Institute with an in-kind grant award in 2011 as part of our mission of education in sustainable practices AND our commitment of contributing to charitable works.
To learn more about the Solar Living Institute go to: http://www.solarliving.org/