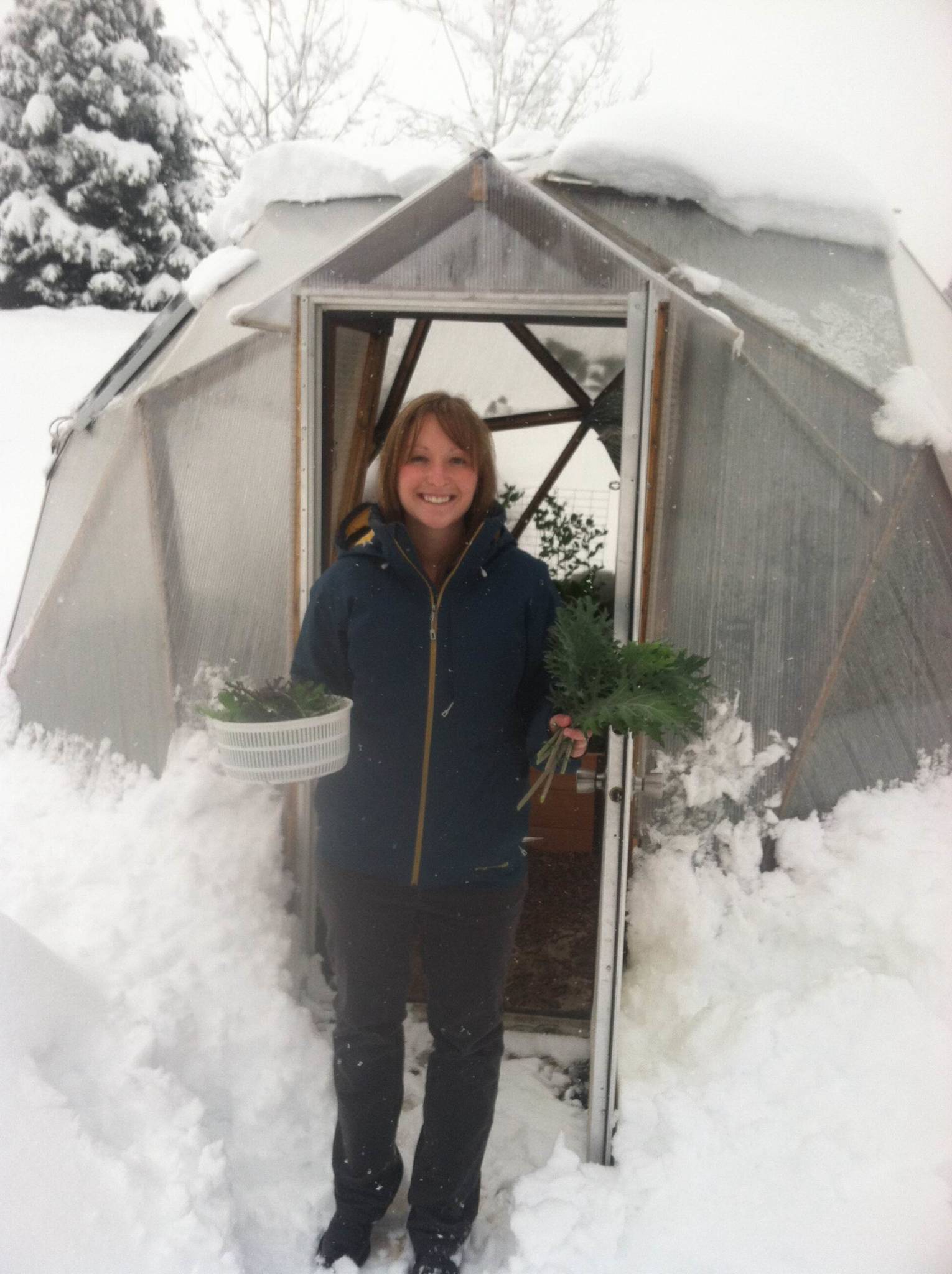 Just over a week ago, Pagosa Springs received some much needed snow. Overnight, more than a foot of wet snow blanketed trees and mountains surrounding our little town. It's unusual for Colorado to receive such wet, heavy snow, and much of the town actually shut down for a snow day!
Although county employees and teachers got the day off, our 15′ Growing Dome continued to work hard, protecting the beautiful green garden at Growing Spaces. I knew that day would be the perfect day to show off what the Growing Dome can do, so I headed out to film with our shop manager, Jason, early that morning.
The Growing Dome in Snow
The geodesic shape of the Growing Dome has a twofold benefit when it comes to snow. First, it's strong geometry allows for even distribution of live loads like snow and wind. Second, the geodesic shape allows snow to easily slide off the structure so there is rarely a heavy live load pushing down on it. Since Jason and I headed out to the 15′ Growing Dome early, the snow had yet to start sliding off, but the dome was holding up extremely well. In fact, Growing Domes can handle up to 60 pounds per square foot of snow somewhere between 4-5 feet of medium-wet snow at once! Geodesic shapes are so strong because:
They are made up of triangles, a very strong shape due to fixed angles.
Fixed angles allow for even distribution of weight because pressure applied to one point is balanced by tension along the opposite side of that triangle and then transmitted to adjacent triangles.
A cascading distribution of pressure allows for efficient distribution of stress along the entire structure.
So, all that snow pressure from the top of the Growing Dome is actually being effortlessly supported by all parts of the structure. Now that's some pretty cool geometry!
Growing Dome Greenhouse Temperature Monitoring
The snow and cold got me thinking about sharing how I've been monitoring greenhouse temperature in the 15′ Growing Dome. Since I visit the Growing Dome almost every morning, I elected to use manual temperature monitors with built in minimum and maximum temperature reading features. An automated remote weather station could also be used.
To get an accurate picture of how the Growing Dome allows for 4-season growing, I use two thermometers, each with two components. When deciding where to locate and house my temperature sensors, I kept a couple general rules in mind:
Avoid placing temperature sensors in direct sun as then you measure the hotter temperature of the sensor itself, instead of the ambient air temperature.
Place the temperature sensor somewhere where it receives good airflow.
The small size of the 15′ Growing Dome, made it difficult to follow these guidelines exactly, but I took them into consideration and got creative, selecting the best spots to place the thermometers, recognizing some of the limits presented by the locations.
The first thermometer is an indoor/outdoor LaCrosse thermometer. The outdoor sensor is currently housed about 3 1/2 feet off the ground housed in a protective covering on the north side of a wooden structure supporting a solar panel. Originally, I had placed it on the north side of the Growing Dome itself, only about 2 feet off the ground and decided that radiant heat from the above ground pond inside the structure may skew temperature readings, so it has been relocated. The main part of this unit is located inside the Growing Dome, mounted on a growing bed, facing north, about 1 foot off the ground. The unit collects outdoor temperature data and ambient air temperature data from inside the Growing Dome. Each morning, I record 24 hour minimums and maximums, then reset the thermometer.
Since the above ground pond is the thermal heat pack of the Growing Dome, I also set up a General brand  aquarium thermometer to monitor water temperature and air temperature directly above the water. To avoid direct sun, this sensor is housed in a small electrical box, open on one side to allow for air flow, mounted on the supporting cross bar of the pond. This thermometer also records maximum and minimum temperatures, giving a picture of how temperatures are changing throughout the day and overnight.
Although I have yet to fully organize and interpret the greenhouse temperature data I'm collecting, it's fun to check temperatures because I see how cold it gets overnight while standing amidst a lush garden filled with healthy chard, arugula, kale, broccoli, spinach, carrots, peas, radishes, microgreens, mustard, cabbage and more! The sun really does do a good job of greenhouse heating. In fact, on the day Jason and I filmed our video, it had reached -2F overnight and even without using the propane heaters we have on hand for extremely cold nights, our garden was protected!
Want to know how to make kale chips or check out some of the ways I'm planning on using those delicious winter peas? Check out this recipe for Kale Chips, and also these great recipe ideas for snap peas.
Enjoying our 15′ Growing Dome series? Let us know what you think in the comment section below! Don't forget to ask questions, and even to share how you monitor and record greenhouse temperature for your own Growing Dome!