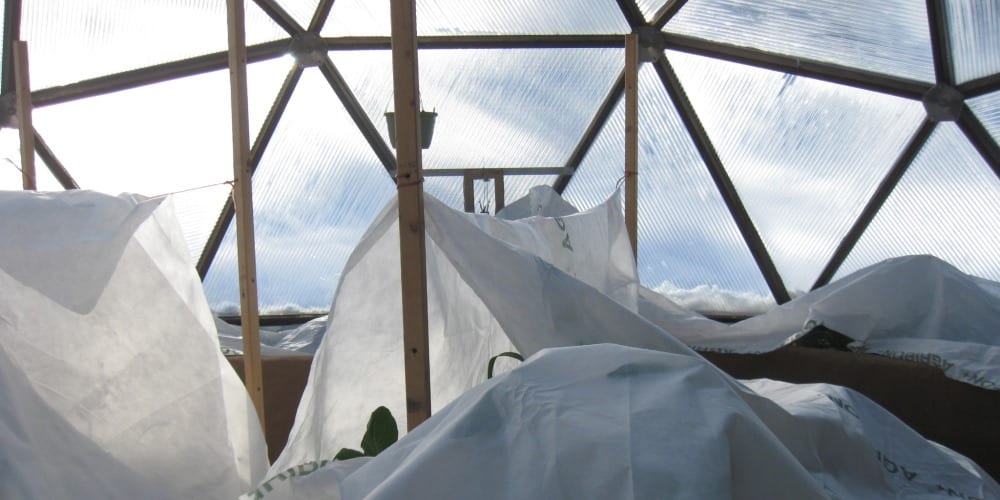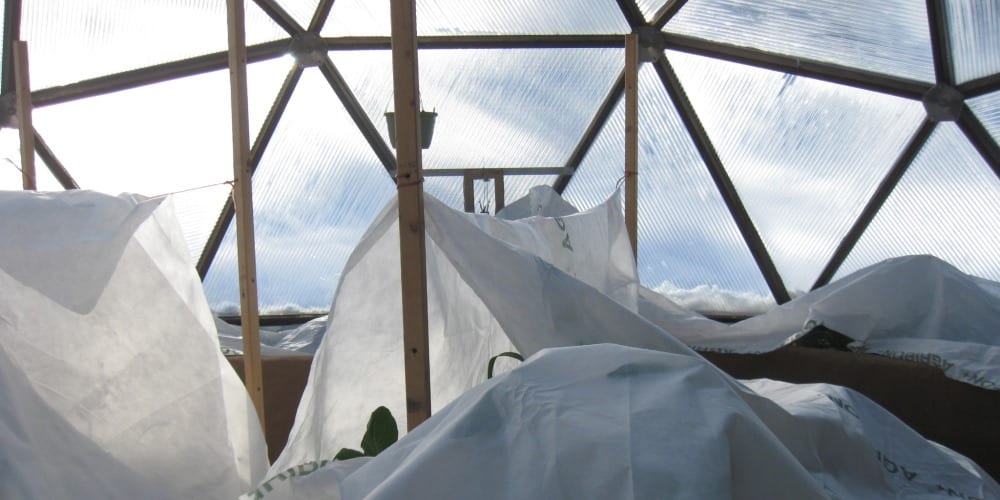 It's been an especially cold winter for many parts of the country. We here in Colorado had the brunt of it during December and now the Midwest and Northeast are experiencing exceptionally cold temperatures. We've received a flood of questions about when and how to heat the Growing Dome. It largely depends on the amount of sunshine you receive and secondarily depends on exactly how cold it's getting. With 4-5 hours of sunlight on average per day your Growing Dome® Classic Kit with the 5-wall polycarbonate glazing panels will typically stay 30 degrees F above the outside temperature over night. This keeps everything plenty warm for the majority of winters with this winter of sub-zero temps being the exception. What this means is that on these very cold nights (below zero F) and/or after a series of cloudy cold days you may need to supplement with some form of additional heat. For more on heaters visit this page: Heating Your Greenhouse
The question behind all of this really is not about heating, but rather about creating a safe environment for your cold hardy plants. The good news is that there is more you can do before you turn that propane heater on and it involves saving money and saving on fossil fuel use. Many outdoor gardeners are familiar with the idea of floating row covers, but they don't think to take them into the greenhouse. Here are some pointers on how you can utilize this important tool:
Floating row covers with a frost protection rating of 8 degrees below freezing are the best because they offer the most protection overnight. The light transmission isn't important because you'll be uncovering your plants during the day. The lightweight covers can be cut to size with a pair of scissors and then laid directly over your seedlings and young plants to protect them. (Plants featured in foreground: Swiss chard, Kuroda carrots, perpetual spinach, and winter density lettuce.)
You can build "tents" for the larger plants by draping the cloth over strings tied between your trellising posts. The ends of the tents can be sealed off with a simple clothes pin. Be sure to not leave the cover on during the day because the plants will most definitely overheat. The Growing Dome typically gets up to 60-70 degrees inside on a sunny day. On a cloudy day you should uncover the plants anyway to allow ample circulation which helps control pest problems. (Plants covered here: dwarf Meyer lemon tree, broccoli rabe, Brussels sprouts, shallots and kale.)
Re-purposed wire that was initially used in a horse corral now is used to hold the row cover off of this larger Romanesco plant. Those tomato cages you have laying around from last summer would work great too. It's important to make inexpensive, temporary structures to hold the row cover because you'll need to resize them as the plants grow.
Make sure the row cover reaches down to the soil all around the plants to trap the heat of the soil in over night.
Want to know where to buy this stuff? We purchased enough to cover all the beds but the one closest to the water tank in the 26′ Growing Dome for only $30. This brand is "Agribon" and can be purchased from www.GrowOrganic.com
If you want even more protection that will heat the soil and help your seeds germinate quickly, we recommend building cloches. Check out this YouTube video to learn more: Cover Crops and Cloches