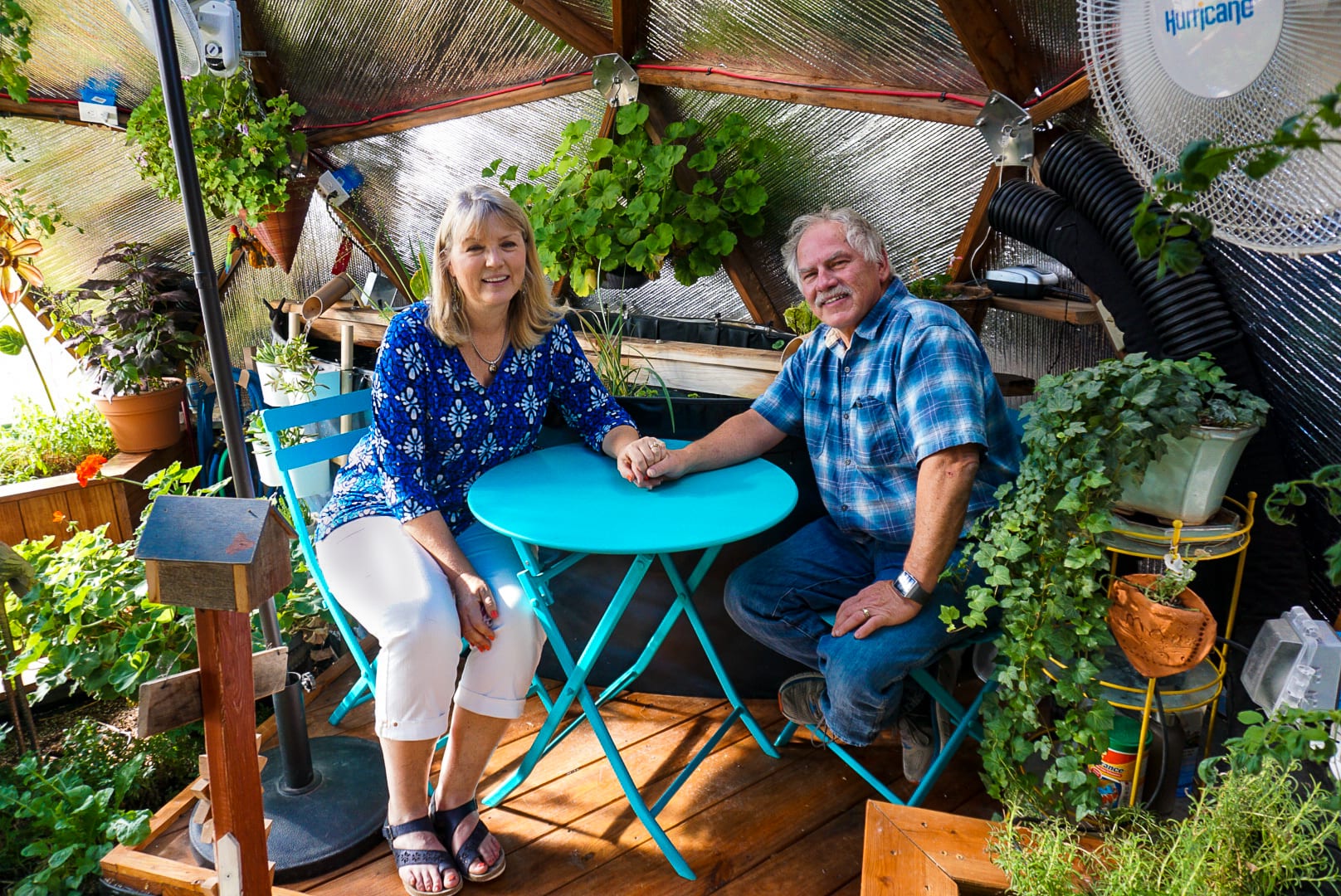 The Swank's 18′ Greenhouse
Caroline and Richard's 18′ Growing Dome is not their first greenhouse rodeo. They originally settled on a basic greenhouse from Home Depot. Unfortunately for them, it didn't last very long. It was destroyed by wind and hail during the first big storm.
Caroline said it was "a waste of money. It functioned as more of a storage shed than a greenhouse garden."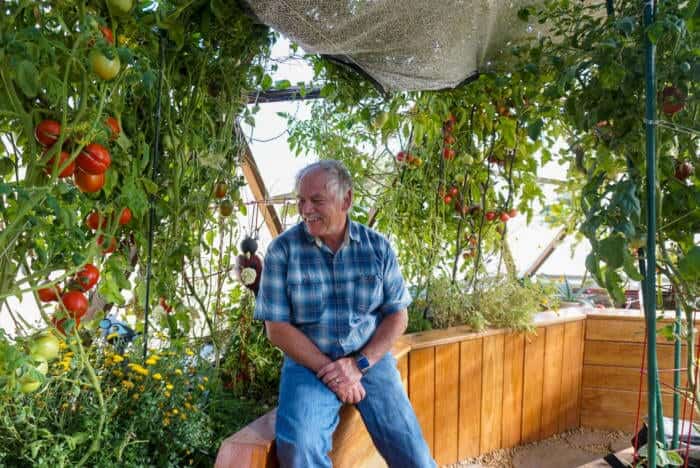 Shortly after the incident, on a trip out of town, they overheard a woman bragging about Growing Domes and got to chatting with her. After researching the benefits of geodesic greenhouses, and comparing different companies it was obvious that a Growing Dome Greenhouse Kit was the right choice. Aside from basic geodesic features Caroline she said "We could tell Growing Spaces is a company with good values. The hard part was deciding what size to get."
Planning their Custom Greenhouse Kit
As a somewhat beginner greenhouse gardener, who is also a full-time teacher, Caroline wanted to maximize greenhouse space without feeling too overwhelmed. Visiting Pagosa Springs, and touring all six sizes, helped them decide that the 18′ Growing Dome was a perfect size for them. Even though 255 square feet isn't exactly a small space, when we saw Caroline recently she said "If we ever move we are going to buy a smaller house with a bigger Grow Dome!"
They customized their Growing Dome kit with five-wall UV protected polycarbonate glazing, a Desert Cooling Package for the hot summers in Centennial, Colorado, and a Solar Water Feature for the above-ground pond. Following that visit, Richard and Caroline joined us on several group tours over the summer while they waited for their Grow Dome to be delivered and installed by Growing Spaces. Visiting other Growing Domes in the area helped the Swank's get a feel for what other Growing Dome owners have done to customize their greenhouse design.
Customizing the Inside
Richard went the extra mile to ensure the garden greenhouse is a place to be admired. He added beautiful wooden raised beds, stepping stone flooring, and electric-powered oscillating fans for additional ventilation. A light breeze will stimulate plant growth, so an oscillating fan is a great addition if you have electricity in your greenhouse.
Shortly after completing the beds, Caroline expressed her desire for a place that she could sit and enjoy her garden. So Richard did what any good handyman would do…he ripped some out and started again. He somehow managed to add a raised deck without compromising too much garden space complete with additional hidden storage.
To further maximize greenhouse space, they have added potted plants and hanging baskets throughout the greenhouse. Over the years they have added a variety of beautiful garden ornaments and fun accoutrements to make it feel like a relaxing home garden. Richard also makes custom metal garden markers with his CNC Laser.
Their Greenhouse Right Now
Today, Caroline still wouldn't call herself an expert gardener, but she will tell you that she has learned a lot about gardening in the Growing Dome. It has become her "saving grace after online school." This year she had huge success with her tomato plants grown from seed, and her small dwarf fig that they named Mrs. Figgy.
Her advice to future Growing Dome Owners is to remember "your soil is important and don't stress if something doesn't go right…it takes time."
Although we would argue that the Swank's greenhouse is already gorgeous inside and out, next growing season they would still like to add some raised beds surrounding the outside of the Dome. We look forward to seeing the pictures!
---
You can find all of our Featured Growing Dome's highlighted in our monthly newsletter "The Happy Grower," on our social media platforms (Facebook and Instagram), and in our blog. At the end of the year, we create an annual calendar that includes every Dome of the Month. We send them to all Dome of the Month participants, along with a gift of Growing Spaces gardening goodies! Apply here.
Have questions about a high altitude gardening? Send us an email to info@growingspaces.com.
Join the Inner Circle
An exclusive place for year-round gardeners. Join us to receive our monthly newsletter, "The Happy Grower". In our newsletter we provide community stories, event updates, expert gardening tips, and exclusive offers.