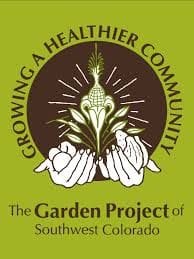 The Garden Project of Southwest Colorado
"Growing your own food is a revolutionary act." -Vandana Shiva
Gardening is Revolutionary. Your garden is significant. Gardening creates a better world, bringing health to your body and health to the planet. It cultivates a quality of beauty that merits direct experience for full appreciation. Even a humble backyard garden plot causes a ripple effect reaching out to the rest of the world. Imagine harnessing the ripple, and giving it more power. More influence.
Have you ever thought about involving yourself in community gardens? If you've ever wondered how, The Garden Project of Southwest Colorado can help.
Community Gardens

We can extend the "little food shed" of our backyard garden plot to reach out and take root across generations and community spaces. The joys and benefits of gardening and growing our own food belong in our cultural narrative. Whether we realize it or not, we long to have our feet planted firmly in the soil.
Imagine garden harvest parties, stories and surplus shared among friends and family – food growing in every neighborhood.
Sometimes, however, the cultural veil seems impenetrable. Sometimes it feels like we garden in our own little fantasy land of chard, cherry tomatoes, worm castings and pill bug hunting. The garden is a wonderful place, and sometimes it can feel lonely, like nobody else really notices. The cultural context of our day and age doesn't seem to cultivate a burning desire for the long held tradition of growing your own food.
"The first supermarket supposedly appeared on the American landscape in 1946. That is not very long ago. Until then, where was all the food? Dear folks, the food was in homes, gardens, local fields, and forests. It was near kitchens, near tables, near bedsides. It was in the pantry, the cellar, the backyard." ― Joel Salatin, Folks, This Ain't Normal: A Farmer's Advice for Happier Hens, Healthier People, and a Better World

We value the idea of our own little "food shed," but how far does it extend? Why do we garden and grow our own food? Does it reach beyond having control of the quality of our food? Does it branch out into our neighborhood and community? Can gardening bridge the gap between generations?
Sustainability is great. It's become quite the buzzword. But what about regeneration? What is beyond sustaining a thing? Is the Power of Growing Our Own Food being Regenerated in our communities and across the generational divide.
Yes. It is. It is regenerating across the cultural landscape. There is cause for celebration, thanks to folks like this.
The Garden Project of Southwest Colorado
The Garden Project of Southwest Colorado is sort of a Growing Spaces neighbor, based out of Durango, Colorado and it's inspiring when you see your neighbors doing great things. They are a 501(c)3 nonprofit "that has been growing a healthier community in Southwest Colorado since 1998."
The Garden Project has helped nearly 8,400 youth and 4,000 adults reconnect to the power of growing their own food. They provide educational garden programs for schools, community gardens, and backyard gardens.
Their Mission and Vision
The Garden Project's mission is to grow a healthier community through support and development of school/community garden programs that promote health and wellness, environmental stewardship, and a healthy local food system. Join us for educational workshops or potlucks!
"We envision a thriving healthy community, where people are connected to their land, their food and each other through gardens."- The Garden Project of Southwest Colorado
They have been busy creating a cultural context for a local food network by providing services to schools and organizations.
Building raised beds and

compost bins.

Transplanting seedlings.
Mending soil.
Companion planting.
Integrating gardens with school curriculum.
They have started over 20 community gardens in the last 18 years. They know a few things when it comes to involving community with gardening.
They have an impressive list of places where they have helped organize and implement community and school gardens. You might not be familiar with the following names if you don't live in Southwest Colorado, just know that they are all prominent places in the cultural landscape here.
The Garden Project: Community Gardens
Durango City Hall Garden
Ohana Kuleana Community Garden
Other community gardens they have helped create and facilitate include:
Boys and Girls Club of La Plata County (2011-2012)
911 Communications Center (2011)
Mata Backyard Garden (2011)
Durango Senior Center (2008- 2011)
Manore Family Backyard Garden (2009)
Commons Garden (2009)
Sunshine Gardens (2005)
Riverhouse Children's House (2004-2006)
Durango Housing Corporation South (1999-2005)
Durango Housing Corporation North (2000-2005)
Prugh Residential Garden (2004-2005)
Smiley School of Arts and Education (1998-2000)
Riverbend Center for Youth (1999)
School Gardens
And of course there are the school gardens. Community gardens intimately engaging children with healthy food from soil to plate.
Miller Middle School
Needham Elementary
Riverview Elementary School
Park Elementary
Furthermore, The Garden Project consistently offers workshops and events within the local community, covering a range of gardening and healthy eating topics and making it accessible to people who might not otherwise have the opportunity. After school programs, summer camps, workshops, healthy eating on a budget, healthy cooking on a budget, preparing healthy lunches, vermicomposting, square foot gardening, supplying fresh grown food to soup kitchens and families in need and they are supported by a wide range of local businesses and grant organizations.
They are valued by this community.
How do they do it?
If you're like me, the work and success of The Garden Project is inspiring. Why is my town not doing this? They have shown us what is possible. It is valuable and needed. Thankfully, they have traveled down the garden path before us, so to speak. And they have done an excellent job of sharing what they have learned, effectively pointing the way for others. We don't have to do it all, or do it all at once. Let's just get started with baby steps.
If you have ever thought about being involved in a school garden, or community gardens, then seriously check out The Garden Project's Resources. They provide a full range of resources for getting started and keeping going. They give detailed steps on How to Start a Community Garden, by easing your way into it. Ease sounds good to me.
Or if your interests involve schools and children, make sure to read their School Garden Resource Guidebook. (Update: As of June 2023 their School Garden Resource Guidebook is no longer available on the internet.)
Growing Spaces is truly impressed with the work and dedication of The Garden Project of Southwest Colorado. We are grateful to have them as neighbors, and confident they can help us all as we garden forward, reigniting that burning desire for our communities to be rooted in the soil.
Who will tend the garden when I'm gone?
Will the beds lie fallow, leaving our children, and our children's children eating only out of boxes and cans and neat little cellophane wrapped imitations of food?
No. The answer is no. They won't lie fallow. They will be tended. Our local "food sheds" will not disappear. Not when people and organizations like this are around and full of fire.
Thank you The Garden Project of Southwest Colorado. (Update: As of June 2023 their website is no longer available.)