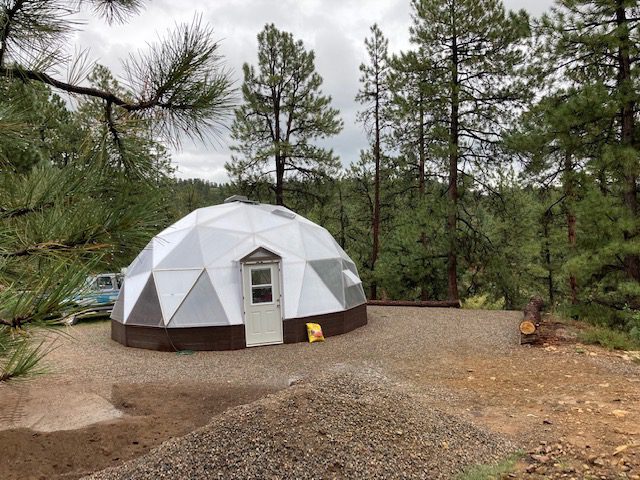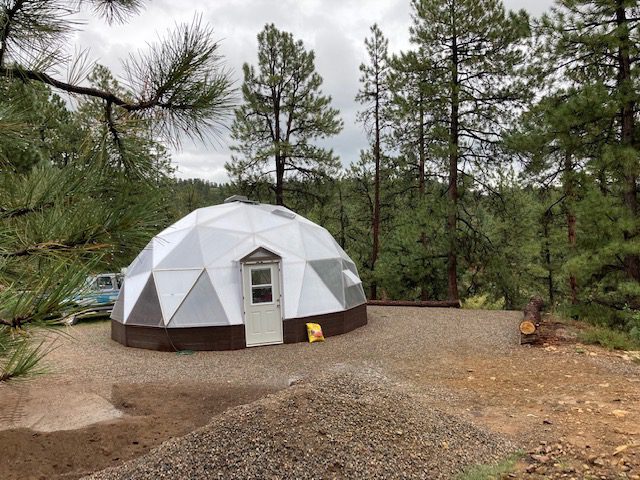 From Amateur Gardeners to Backyard Greenhouse Gardeners
Being a gardener in Colorado is tricky. Especially at a high altitude (7,600 ft) just east of Bayfield, where amateur gardeners Bob and Radel McKibben have made their home. If it is not wind or hail destroying their outside garden, it's critters and cold weather. That is until 2020 when they fell in love with a Growing Dome greenhouse after hearing of it from a friend and taking a tour in person—deciding to purchase a 26′ greenhouse kit as a 50th wedding anniversary gift for each other.
"It was a two-pronged decision for us. The virus was raging. It was our way of helping keep local small businesses afloat and providing food for ourselves. I guess you could say it was a win-win for us." – Bob McKibben.
The passive solar greenhouse design allows them to be entirely off-grid, and the multi-wall glazing provides protection from crazy weather.
Getting their Colorado Greenhouse Garden Started
Bob and Radel immediately made the space their own after the Growing Spaces crew finished a complete installation, including redwood-raised beds, in May 2021.
"The Growing Spaces crew did an excellent job!" – Radel McKibben.
Step number one was filling their raised beds with the best soil possible. As we say, you are what you eat. Your plants eat nutrients in the soil. Good soil = happy plants.
The topsoil came from a local excavation company in the upper Animas Valley. We hired six people to mix the topsoil with horse manure that I had been stockpiling. All in all, they were able to finish filling the beds in about 5 hours.

Bob McKibben
First-year gardening in Colorado
When they first started gardening, Bob thought they would never be able to grow food in Colorado. Radel had tried gardening outside several times, continuing to work at it year after year until their first season in the greenhouse. Now, they have tomatoes, okra, black-eyed peas, and so many more vegetables thriving in their garden. 
"I am more of a flower guy, so my wife and I have been finding a good balance between growing food and growing decorative blooms. For the first time, we haven't needed to fight the grubworms eating our garden goodies, and we are trying to transition to eating all fresh veggies out of our greenhouse. It is kind of cool to have fresh sautéed zucchinis straight out of the garden for dinner," said Bob McKibben.
Following the advice from Growing Spaces, Bob and Radel have already gotten a head start on their winter garden, planting green beans, cucumbers, and hardy lettuces. They hope to go all winter long without the addition of extra heat but have purchased a small propane heater just in case. 
Advice for future Colorado Greenhouse Gardeners
"All in all, we have had pretty good success for amateur gardeners, although I have had a little trouble with soil management. Mainly overwatering. So we have decided to put in a drip irrigation system in hopes I will stop drenching our plants." – Bob McKibben.
In addition to the drip system, Bob and Radel also opted to add an additional door to their Growing Dome. It has helped with airflow.
"The solitude the Growing Dome brings you is not comparable to anything you will get in your outside garden. Two years ago, we had no idea Growing Spaces even existed, and now it is giving my wife a little bit of sunshine to keep things going in our retirement. We have been extremely happy with it and highly recommend giving Growing Domes a shot if you haven't already." – Bob McKibben.
---
You can find all of our Featured Growing Domes highlighted in our monthly newsletter, "The Happy Grower," on our social media platforms (Facebook and Instagram) and in our blog. At the end of the year, we create an annual calendar that includes every Dome of the Month. We send them to all Dome of the Month participants, along with a gift of Growing Spaces gardening goodies! Apply here.
Join the Inner Circle
An exclusive place for year-round gardeners. Join us to receive our monthly newsletter, "The Happy Grower". In our newsletter we provide community stories, event updates, expert gardening tips, and exclusive offers.