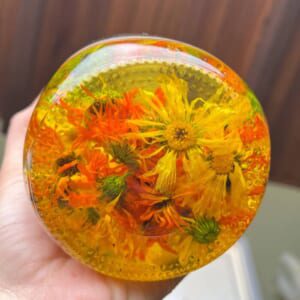 Calendula is an amazing herbal medicine that has been used for centuries. From skin healing salves and lotions to tinctures and teas this plant will quickly become a staple on your modern homestead. Plus it is easy to grow and simple to turn into everyday items! From how to make calendula oil, to making this easy calendula lotion recipe, to creating an absolutely natural bug repellent – this article has all the information you need to get started.
Calendula Infused Oil
Start by harvesting your calendula flowers. You will want to do this during mid-morning when the petals have fully opened, but after any dew has dried. The resin in the base of the flower where all of the natural magic is held. I used garden shears for a clean cut, but you can also use your fingers. Don't be afraid to remove most of the flowers. Removing the flowers will actually prompt the plant to make more!
Then, wash and dry these blossoms. You can air dry the flowers on a wire rack, but this takes a considerable amount of time. I like to use my food dehydrator on the lowest setting. For my model, that is 95 degrees Fahrenheit. This still takes time, so have patience. I filled one tray and dried it for a 24 hour period. The amount of time will depend on how much resin is in your flowers. You want to make sure that the flowers are dry, like bone dry, to prevent any mold.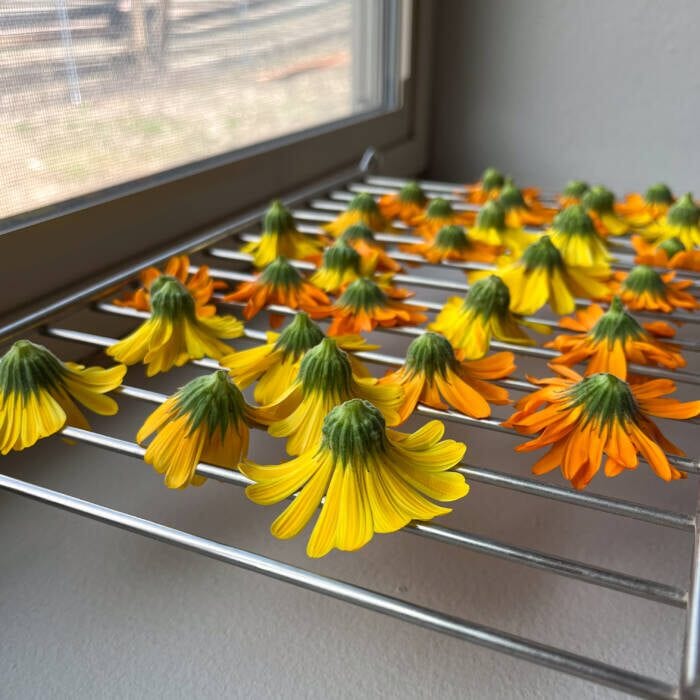 Next take a clean jar and fill with the dried flowers. Then top with a carrier oil of your choice. I use grapeseed oil as it is suitable for use on the face and is readily available in my local stores. There are many options, so find one that you like! The oil should come up ½ to ¼ higher in the jar than the petals. Make sure that the petals are fully submerged, label your jar, and store in a cool dry place for at least 3-6 weeks before use. This gives the mixture enough time to fully infuse. Your oil will last as long as your carrier oil is shelf stable (up to 1 year!).
When you are ready to use the oil, simply cut a piece of cheesecloth the size of your jar. Remove the lid, place the cheesecloth down, and tighten the band down. Measure out what you need and leave the rest to continue infusing!
PRO TIP: Squeeze out the flowers to get all the infused oil out.
Calendula Lotion
When visiting Angela and Frederik Pferdt, Angela was kind enough to share her Calendula lotion recipe with me. She was inspired by Rosemary Gladstar's famous face cream recipe.
Ingredients
Makes approximately 12oz
2 tbsp cocoa or shea butter
1 heaping tbsp beeswax pastilles
4-6 drops lavender essential oil (or essential oil of your choice)
To Make
Melt calendula oil, cocoa or shea butter, coconut oil and beeswax over a low heat. Let cool completely. Add cooled mixture into a blender. In a separate measuring cup combine aloe vera gel, water, and essential oils. Turn on the blender and slowly pour in the water mixture. You should begin to see a thick and creamy lotion forming. Pour lotion into jars or containers of your choice and store for up to one year! Trust me, it won't last that long. This stuff is good! While intended to be a face cream, I apply this to my hands and it immediately melts into the skin. No oily residue left behind, just soft nourished happy skin! Us gardeners need all the lotion that we can get, and making your own is both cost effective and rewarding.
---
**Commercial aloe gel works best due to its stability.
To make your own aloe vera gel: Take a small piece of aloe and use a vegetable peeler or knife to carefully remove the outer skin. Scrape the gel like inside of the aloe into a blender and blend until a smooth gel forms. The only problem with homemade aloe gel is that it does not have a long shelf life, about 1 week refrigerated in an airtight container. Adding in a few drops of vitamin E or C can help to extend the shelf life to up to 2 months if stored in the refrigerator. Having a mini skin care fridge in your bathroom is what all the cool kids are doing now, so this is an option if you want to make this cream as homemade as possible. Just keep an eye on what it looks like and toss it if it starts looking or smelling strange.
Calendula Bug Repellent Salve
Both citronella and castor oil are commonly found in "natural" commercial bug repellents. This homemade salve uses these ingredients without all the extra chemicals and additives. You can feel confident applying this to yourself knowing exactly what is in it!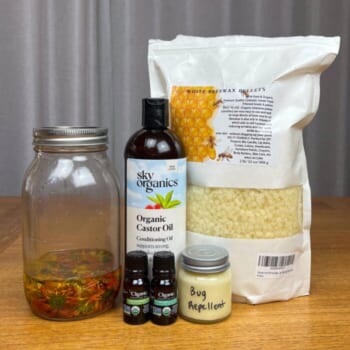 Ingredients
Makes approximately 3 oz
1.5 tbsp beeswax pastilles
7-8 drops citronella essential oil
7-8 drops lemongrass essential oil
To Make
Melt the beeswax pastilles with the calendula oil over low heat. Remove from heat and allow to cool slightly. Stir in castor oil and essential oils. Pour mixture into a container of your choice and store in a cool dry place. Apply to the wrists and ankles to keep the skeeters and other pesky bugs away!
---
Calendula is also known to ease the itch associated with bug bites! You can make this salve or lotion without the essential oils, and apply to itchy areas. Essential oils should not be applied to irritated skin. If you do make these recipes fragrance free they are also great for dogs! Whether in salve or lotion form, the healing properties of calendula are as good for Fido as they are for us.
Join the Inner Circle
An exclusive place for year-round gardeners. Join us to receive our monthly newsletter, "The Happy Grower". In our newsletter we provide community stories, event updates, expert gardening tips, and exclusive offers.