Cabbage Rolls: A More Nutritious Gluten-Free Version of Lasagna
Total Cooking Time: 30 minutes Prep Time: 15 minutes Serves: 2-4 GF-Keto Friendly
You might ask why deconstruct the cabbage roll? What is wrong with the traditional cabbage roll? The answer is simple; it is easier to make because you do not have to roll the individual leaves and more nutritious because you do not need to blanch the leaves. It is a win-win! Think of it kind of like a lasagna without noodles. Super yummy, nutritious, and budget-friendly.
Harvesting Ingredients
Here at Growing Spaces, we believe that a recipe with freshly grown ingredients always tastes a little better (maybe even a lot better). For this recipe, we used fresh green cabbage. You could also use fresh tomatoes and herbs, but in this instance, it is still early spring, and our tomatoes are not quite ripe yet.
Cabbage growing tips: "In the dome, you could really plant cabbage at any time, but it would probably like it best if planted in August and grown through the winter months. It could be harvested in the spring. Alternatively, it could be started in the spring and harvested in early summer. It can tolerate hot temps but prefers cooler weather. Like carrots, a light frost makes them sweeter." – Growing Dome Advisor Kyle Brookens.
Ingredients for Deconstructed Cabbage Rolls
1 head green cabbage
2 cloves garlic
2 lbs. ground beef or turkey
2 cups shredded mozzarella cheese
1 large can tomatoes or spaghetti sauce
**Parsley, oregano, and pepper to taste if you are using stewed or fresh tomatoes from your greenhouse.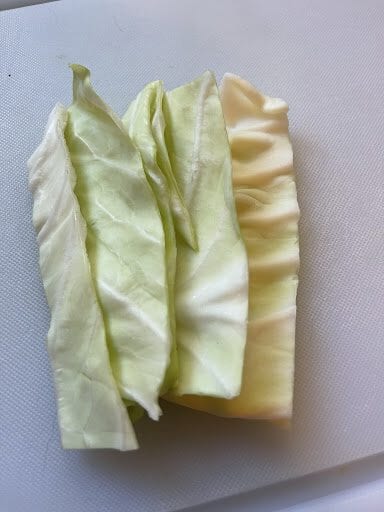 Preparation
Brown the beef or turkey in a large skillet over medium, strain any water, oil, and fat out with a colander. Add tomatoes, garlic, parsley, oregano, and pepper or spaghetti sauce. Cover and let simmer over low heat for at least 15 minutes.
Prep the cabbage, rinse, cut it into strips and devein. Think of it like a lasagna noodle. You will need a few strips for each layer and enough for 3 layers. Build the layers, meat mixture first, then cabbage, and then a thin layer of cheese. Then repeat until the lasagna pan is full. Preheat the oven to 375 degrees Fahrenheit. Place the casserole in the oven and let it bake for 30 minutes. Cut into serving pieces and serve hot.
---
Make this recipe? Tag us on Facebook or Instagram and use the hashtag #DomeGrownRecipe.
Check out other Growing Dome Recipes.
Join the Inner Circle
An exclusive place for year-round gardeners. Join us to receive our monthly newsletter, "The Happy Grower". In our newsletter we provide community stories, event updates, expert gardening tips, and exclusive offers.