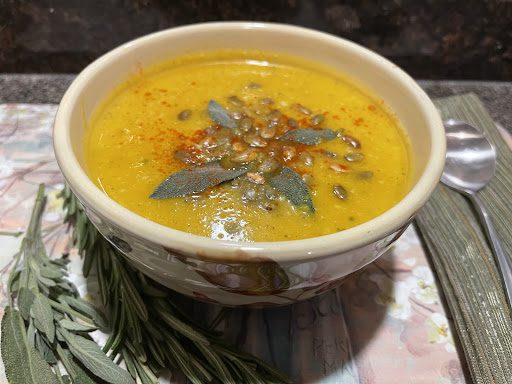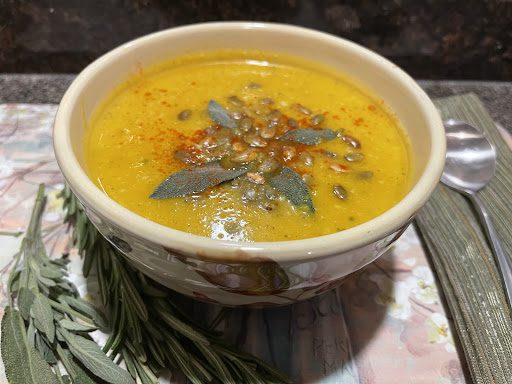 This is the time of year that we are all looking for those soothing, warm us up type recipes, to help acclimate to the changing cold temperatures outside. This soup says fall flavor as much as pumpkin spice!

This butternut squash soup is creamy, vegan, nourishing, and is full of cozy fall flavors. It's the ultimate comfort food to keep you full and warm you this season. It can be frozen or stored in the fridge for up to a week. If you do have any leftovers, it's easy to reheat for a quick lunch on a cold afternoon.
Simple 10 Ingredient Butternut Squash Soup
1 medium to large butternut squash (3 lbs.) from your garden or local market, peeled and cubed
3 cups vegetable broth
1 medium yellow onion, diced
4 cloves of garlic, minced
1 tsp fresh ginger, grated
1/2 tsp rosemary
1 tsp fresh sage
2 tbsp extra-virgin olive oil
Black pepper and Himalayan pink salt (to taste)
Easy Butternut Squash Soup Directions
First, dice the onion. Then sauté the onion until it becomes translucent in the olive oil. Peel and chop the squash into cubes. Add the squash and ¼ tsp of each salt and pepper, less or more depending on your preference. Cook on medium-high heat for 8-10 minutes.
Next add in the rosemary, sage, garlic, and ginger. Cook for approximately one and a half minutes. Then add your vegetable broth. Cover and let simmer for 20 to 30 minutes.
Remove mixture from heat and let rest and cool down slightly. Then use an immersion blender to puree the soup into a thick consistency. You can use a regular blender if you do not have an immersion blender. You may have to do it in batches depending on the size of your blender.
For a garnish, you can use roasted pepitas, parsley, sage, and even a dash of sriracha or smoked paprika. This scrumptious butternut squash soup goes great with sourdough bread or oyster crackers.
Check out some of our other Dome Grown recipes.
---
Join the Inner Circle
An exclusive place for year-round gardeners. Join us to receive our monthly newsletter, "The Happy Grower". In our newsletter we provide community stories, event updates, expert gardening tips, and exclusive offers.