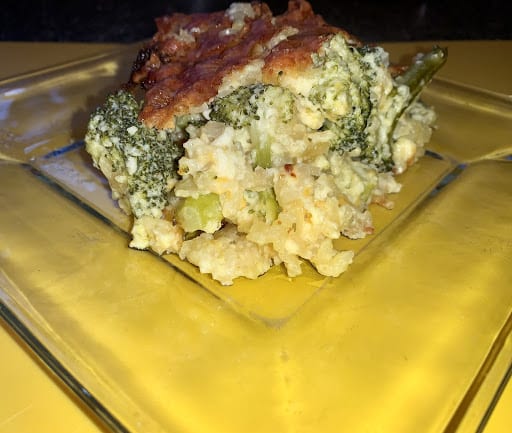 The Perfect Side Dish
Total time: 1 hour. Serves 6-8 as a side dish.
I started making this creamy southern comfort food in 2007. My friend owns a southern, Mardi Gras-themed comfort food restaurant. She gave me the recipe because I was obsessed with how yummy it was!
I've been making this exact broccoli casserole dish for holiday gatherings and potlucks ever since, and people always want more! My family loves it.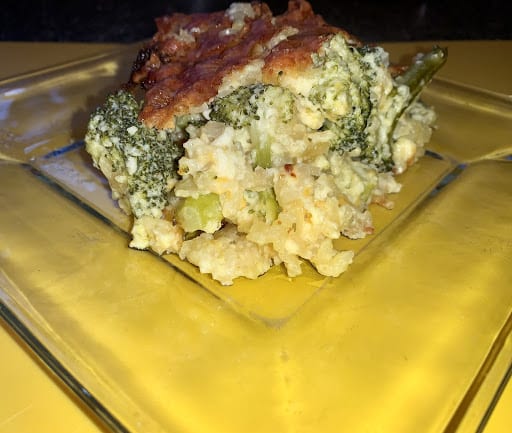 Ingredients – Broccoli Casserole Recipe
This is the real "best broccoli casserole recipe." There is no sour cream, melted butter, or canned cream of mushroom soup. Enjoy!
1 large bunch of broccoli, chopped and steamed
2 cups grated Colby cheese (It is way better than sharp cheddar cheese!)
1 1/2 cups blue cheese dressing (Ken's Steakhouse Brand or your favorite)
1 1/2 cups mayonnaise
2 packages chicken flavored ramen noodles and seasoning, smashed into small pieces
2 eggs
How to prepare Broccoli Cheese Casserole
Preheat your oven to 375°F. Lightly steam the broccoli florets. "Lightly" is key because they still have to cook in the oven, and no one likes mushy broccoli.
Using a 2 quart casserole dish, add all of the wet ingredients and 1 ½ cups cheese, then mix thoroughly.
Then add the smashed-up Ramen noodles and seasoning packs to your prepared baking dish/casserole dish.
Immediately after the broccoli is steamed add it to the casserole dish, tossing thoroughly until your broccoli is fully mixed in.
Finish your dish by topping the whole thing with 1/2 to 3/4 cup remaining cheese and bake for 40-45 minutes.
Take a peek! Cut a small slit to make sure the ingredients are cooked through.
Check out some of our other Dome Grown recipes.
---
Join the Inner Circle
An exclusive place for year-round gardeners. Join us to receive our monthly newsletter, "The Happy Grower". In our newsletter we provide community stories, event updates, expert gardening tips, and exclusive offers.