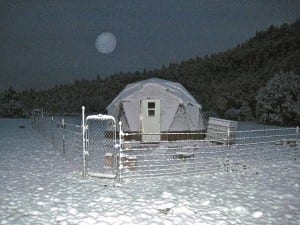 As we find more and more ways to connect with fellow gardeners around the country we are amazed at the overwhelming number of backyard gardeners, homesteaders, professional landscapers and school gardeners that are out there writing about their experiences. It's so fun to see a the virtual garden blooming and growing. We would like to do our part and water the seeds planted by these talented bloggers, so we've decided to join in the Blog Party movement started by the gals at #gardenchat and take some time out to feature one of our favorite bloggers.
We would like to feature Bridget at "The Nickel and Dime Ranch". She has a lovely, fun and escapist style that takes you right away into her Northern New Mexico ranch. Her posts are full of beautiful photos and fun antidotes about her curious dog and thieving steers. She's also a wonderful quilter and shares vibrant photos of patterns and fabrics. Bridget shares favorite recipes and eateries too. There's a little bit of everything. We first met Bridget back in March 2012 when she purchased her Growing Dome from us and, of course, we enjoy the updates on her garden the most. As we check in on occasion to find an update we find ourselves reading about the other things going on in her life and enjoying those posts just as much. Thanks Bridget for giving us a window into your world!
Nickle and Dime Ranch Blog: http://northernnewmexicoranchito.blogspot.com/
For more information on favorite bloggers of other gardeners visit: @thegardenchat here.