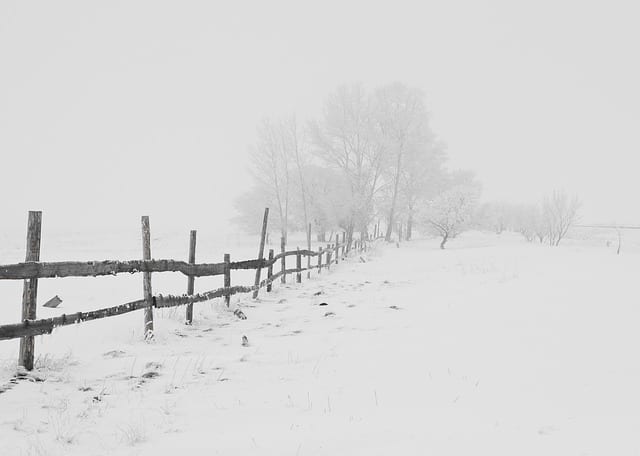 The Snow and Cold are Here!
Until a few weeks ago, the Growing Spaces team and all of Pagosa Springs, CO was still waiting for our first big winter snow. Impatience for this important seasonal event ended just a few days before the Christmas holiday when the clouds finally dumped a good amount of fluffy snow on our tiny town. The snow is very important here, as a number of rivers originate in our mountains, traveling to quench the thirst of a good portion of the Southwest. Of course, we also enjoy all of the recreation and welcome brightness it brings.
With the snow also comes the cold. Due to the very dry Colorado climate, clouds rarely stick around for long, moving on or dissipating quickly after releasing their bounty. This means that it's very sunny despite the cold and snow. This is great news for the plants in our 15′ Growing Dome, because the sun keeps them warm and helps them keep growing! The heat storing ability of the Growing Dome is critical during this season, because sunny days often means extremely cold, clear nights.
Two Types of Frost
Did you know frosts can be categorized into types that affect outdoor gardens differently?
The cold clear nights we often experience here in Colorado characteristically produce radiation frosts. This type of frost occurs when conditions are clear and still, often results in temperature inversions and can easily damage an unprotected garden.
Advective frosts can also injure plants, although they are generally less severe because they come with cloud cover that provides insulation, trapping radiant heat from the earth. Of course, the protection of a Growing Dome is useful for either during any frost event, but is especially critical during cold, clear nights.
Tracking our Harvest
The ideal, sunny growing conditions created inside the 15′ Growing Dome have allowed all of our cool season crops to grow and mature. In fact, everything is growing so well that we have begun to harvest more and more greens and are looking forward to harvesting turnips, carrots and other root crops in the coming months. At the outset of this new project, we wanted to see just how much food could be grown in a little 15′ Growing Dome, so it's important to start tracking harvests. In order to do this, we've developed a harvest tracker using Excel:
It is an annual tracker and will total up the weight of each type of produce harvested over the course of 2015. Now, whenever we harvest produce from the Growing Dome, we'll weigh the harvest, taking separate weight readings for each type of produce. As new crops are sown throughout the year, new rows can be added to the tracker for those vegetables and herbs.
We will make recordings every time produce is harvested from the Growing Dome, categorizing totals by month for easy tracking. We'll also visit the local grocery store each month and note prices for comparable organic produce so the Growing Spaces team can get a good idea of the value of the produce we grow. Tracking by month first, and then converting to annual values will be useful because organic produce prices fluctuate throughout the year. The food scale we use for weighing measures in ounces, but most produce prices at the grocery store are expressed in $/lb., so we'll convert all of our numbers to pounds.
Not only will this tracker allow us to estimate the value of the organic produce and herbs we are growing, it will help us to figure out the weight of produce grown per square foot of gardening space in the Growing Dome.  Approximately 100 square feet of garden space are currently being used to grow produce and herbs in the 15′ Growing Dome. Not only will the annual weight per square foot number show us the potential of the space, it will also help us better understand what worked best as far as garden planning goes, and what we might change in 2016.
What about Your Harvest?
Since tracking our harvest this way is new to us, let us know if you if you are curious about additional information or if you have tracked your garden harvests in the past. The Growing Spaces team would love to know:
Have you ever used a garden tracker to see how much you grew?
If you have, how did you measure the harvest (per tomato, per weight)?
Also, if you've used a tracker, did you ever take note of grocery store prices for comparable produce?
If you've never used a garden harvest tracker, what has stopped you?
We want our project to be as useful to you as possible and aim to both provide useful gardening tips as well as information about how the Growing Dome successfully harbors a year-round garden in a four-season climate. We are sharing our journey of inquiry with you, and would like your feedback! Tell us what you like about the project, what you think we could change, and which gardening topics you are most curious about.  Who knows, your question could inspire our next episode!